The humble but versatile potato gets an exciting Indian makeover, served as Halwa.
By Priya Sreeram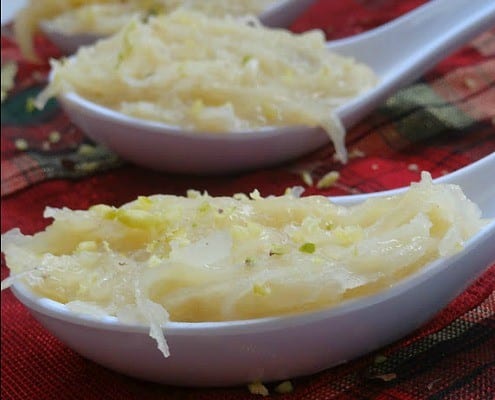 Potatoes are 80 % water and they're packed with nutrients. Of-course they're not as healthy if all you love is the fried version of this versatile tuber. Instead, go for baked or boiled potato and enjoy the health benefits.
See Also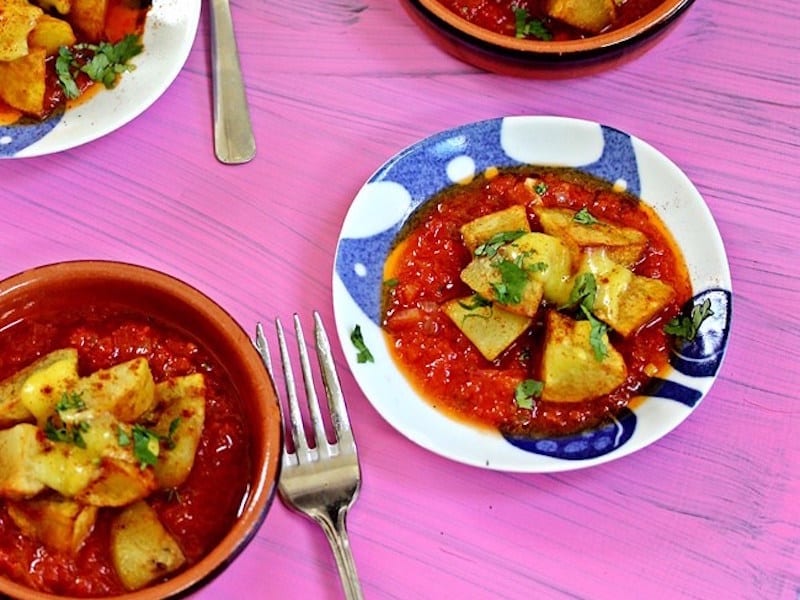 Or try this recipe – here the humble potato gets an Indian makeover, served as Halwa. Sugar + Khoya (Milk Solids) + Condensed milk does wonders when they meet the starchy spud. 
Delightfully sweet and rich dish with potatoes -a sure party- rocker! Tasted divine after refrigeration.
Author:
Priya Sreeram, recipe based on a similar dish created  by the chef of SRM Hotel
Ingredients
Potato - 3 - large (app 400 gms) - scrubbed, peeled and grated
Milk - 300 ml
Water - as required for blanching and a little to add to the milk initially
Khoya (Milk Solids) - 200 gram (approximate)
Sugar - 250 to 300 grams - to taste
Condensed Milk - 200 grams - approx
Ghee (Clarified Butter) - 15 to 20 ml.
Cardamom Powder - ½ tsp
Cinnamon Powder - ¼ tsp
For Garnish
Ghee - 1 tbsp
Nuts - Cashews, Pistachios, raisins - as required
Instructions
Wash the grated potatoes a few times and keep them immersed in water to avoid discoloration till cooking.
In a vessel, bring adequate water to a simmering boil and drop the grated potatoes. Let it cook for a good 3 to 4 minutes before you drain it off and keep it aside. This not only helps in avoiding a raw taste of the potatoes but removes any chance of the milk curdling while making the sweet.
In a heavy-bottomed pan add a little water and then the milk and bring it to a boil.
Pep it up with cinnamon & cardamom and tip in the khoya. Let it mix well and then add the sugar.
Let the sugar dissolve and thicken for a few minutes before tipping in the blanched potatoes.
Let the mix simmer for 5-10 minutes on a low-medium flame till it thickens considerably. Keep stirring it regularly so that the contents don't stick to the bottom and start to blacken.
Add the condensed milk and let it cook further for a few minutes till it gets the required thick consistecy of a Halwa.
In a separate skillet, warm the ghee and roast the nuts till the cashews sizzle and gets browned in a rich hue while the raisins plump up. Dunk the nut mix in to the Halwa
Serve hot or cold.
Notes
It can stay fresh refrigerated for a week.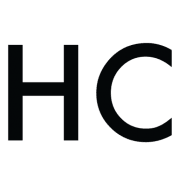 Priya Sreeram
Priya is an enthusiastic foodie who loves to experiment with different types of cuisine. She chronicles her heart and hearth adventures on the blog Bon Appetit, which has recipes ranging from simple to exotic.