SPONSORED STORY – BROUGHT TO YOU BY CASTELLO ALPS SELECTION
An easy potato gratin made with vegetable stock and sharp cheese makes the perfect comfort food.
By Erin Mahoney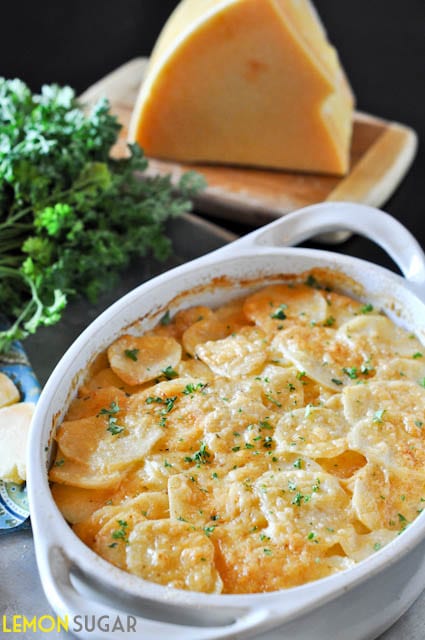 There's just not much better than this. Warm, gooey potatoes, oozing with cheese? You guys, come on. This is the ultimate comfort food.
You can make a Potato Gratin with pretty much any variety of cheese, but I love a dry, crumbly cheese like Hirten to offset the mild potato flavor. It's sharp, with a nice little bite that just works.
So, so good.
A traditional Gratin might be made with a cream base, but I love this recipes use of vegetable stock. It just takes the flavor to a new level, which is completely unexpected and really quite pleasant.
And, apparently cooking with delicious Swedish cheese makes me say things like "quite pleasant."
Now, don't be intimidated by this dish, it's a very easy recipe. After peeling and slicing the potatoes, it's just a matter of layering the ingredients. While it's baking, the potatoes absorb all of the flavors, the cheese melts and the top kind of bubbles and forms a crispy crust.
When it comes out of the oven, don't burn your fingers trying to sneak a taste of that crispy crust. Don't be like me.
This makes the perfect side dish for chicken and fish dishes. On a day like today, an unseasonably cool and rainy July day, it's sure to warm you up.
Win a Castello Alps Selection Cheese Tasting
Potato Gratin with Hirten Cheese
An easy potato gratin made with vegetable stock and sharp cheese makes the perfect comfort food.
Ingredients
1 clove garlic, halved
1 and ¼ cups (300 mL) grated, hard cheese (such as Castello Hirten)
¾ tsp (4 mL) salt
¼ tsp (1 mL) ground nutmeg
¼ tsp (1 mL) white pepper
7 medium/large Yukon Gold potatoes, peeled
¼ cup (60 mL) butter
1 and ½ cups (375 mL) vegetable stock
Instructions
Preheat oven to 350 degrees (F).
Rub the sides and bottom of 9 x 9-inch baking dish with cut side of garlic; discard garlic.
Spray dish with cooking spray and set aside.
In small bowl, combine cheese, salt, nutmeg and pepper.
Using mandolin or slicer attachment on food processor, very thinly slice potatoes.
Arrange one-third in overlapping layers in dish.
Dot with one-third of the butter; sprinkle with one-third of the cheese mixture.
Repeat layers once.
Arrange remaining potatoes over top, pressing lightly.
In microwaveable liquid measure, microwave stock at high for 2 minutes or until hot; pour evenly over potatoes.
Dot with remaining butter; sprinkle with remaining cheese mixture.
Cover with foil; bake for 1 hour.
Uncover and continue to bake until tender and knife inserted in bottom pierces potatoes easily, about 45 minutes.
Allow to cool slightly before serving, and enjoy!
Erin Mahoney
Erin Mahoney is a food blogger from the Kansas City area. With a day job in the TV business and two little girls at home, this busy Mom spends her very limited free-time experimenting in the kitchen. While her culinary efforts tend to fall on sweet treats and comfort foods, her focus is on real, from-scratch food for her family and friends. Her blog, Lemon Sugar, is full of whimsical recipes and anecdotal stories that will warm your heart and make you hungry.