A creamy egg-free mayo with a hint of garlic and five colorful variations.
By Carol Egbert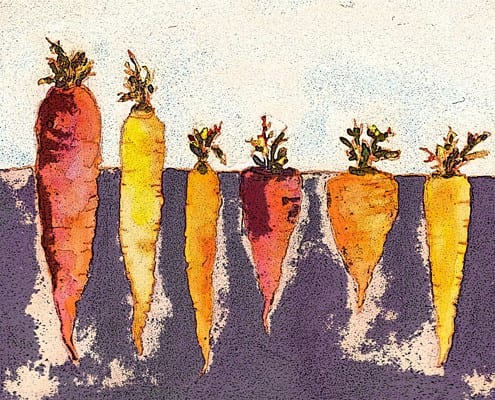 It may be  too late to make  a New Year's resolution to go to the gym three times a week, or to sort out the extra clothes at the back of my closet, or to re-read at least one classic before the daffodils appear but there is still time to resolved to have an empty fridge when it's time for us to to travel to Italy in March.
The first step is to dispose of all of the half-filled jars of mystery sauces that have accumulated since we returned from Italy last spring. The second, and perhaps more difficult part is resisting the jars of exotic sauces at the market. I will make do with only three jars of sauce, mustard, ketchup and mayonnaise. The mustard is grainy Dijon mustard, the ketchup is what remains of the homemade ketchup I made as a Christmas gift for Charles, and I will make mayo as we need it and use it as a base for pink ginger mayo, golden curry mayo, dilly green mayo and sunny lemon mayo. The dilly green mayo is lovely as a dip for carrots.
Usually, mayo is made with either an egg yolk or a whole egg but recently I made Maionese de leite, a mayonnaise that comes from Portugal. This creamy, egg free sauce, made with milk and flavored with a hint of garlic is less sticky and bit more watery than traditional mayo but it can be substituted for traditional mayo. An immersion blender is necessary to make it. Here's how I did it:
Portugese Milk Mayo from a Vermont Kitchen
Creamy egg-free mayo with a hint of garlic and five colorful variations. An immersion blender is necessary for this recipe.
Ingredients
⅓ cup cold milk
1 teaspoon fresh lemon juice
½ small garlic clove
pinch of cayenne
½ cup canola oil
¼ cup olive oil
pinch kosher salt
Instructions
Combine milk, lemon juice, garlic and cayenne pepper in a tall, 2 cup container.
Whip with an immersion blender for 45 seconds, until frothy.
Combine oils and, with blender on high speed, slowly add oil to milk mixture, gradually increase quantity of oil. Move blender up and down to incorporate the oil.
Continue whipping until mixture is thick.
Season with salt to taste.
Milk mayo will last up to a week in the fridge.
Notes
Mayo Sauces Pink Ginger Mayo - Combine 1 teaspoon ketchup, 1 heaping teaspoon minced pickled ginger and a pinch of cayenne with ¼ cup mayo. Lovely with steamed shrimp. Golden Curry Mayo - Saute ½ teaspoon black mustard seeds and 1 small onion, diced, in 2 teaspoons vegetable oil for 4 minutes, add ½ teaspoon curry powder and ½ teaspoon turmeric, cook 1 minute more. when mixture is cool, combine with ½ cup mayo. Combine with cooked chicken and grapes for chicken salad. Rosy Tomato Mayo - Combine equal parts mayo and ketchup for a zesty sandwich spread. Dilly Green Mayo - Combine 1 teaspoon of minced fresh dill, minced flat leaf parsley, and chopped capers with a rounded tablespoon mayo. Thin with lemon juice. Top steamed new potatoes for a quick potato salad. Sunny Lemon Mayo - Add 1 teaspoon grated lemon zest and 2 teaspoons fresh lemon juice with ¼ cup mayo. Perfect for poached fish, steamed broccoli or in Waldorf salad.
Homemade mayonnaise is delicious whether it's traditional egg based mayo or creamy milk mayo but, if your New Year' resolution was to spend less time in the kitchen, mayo from the grocery store is the right choice for you.
Carol Egbert
Carol Egbert is a writer, painter, graphic designer and cook. Her studio is on a country lane in rural Vermont. During mud season she escapes, for a couple of months, to a flat in Sicily overlooking the Ionia Sea. Her newspaper columns, magazine articles and blog are illustrated with her watercolor paintings – Honest Cooking means beautiful food.