Portuguese Caldo Verde Soup
Served with a big hunk of rustic bread, this simple, savory soup is a great alternative to a stew or chili.
By Kara and Marni Powers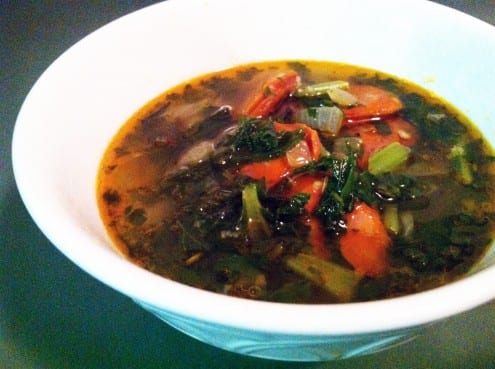 Portuguese Caldo Verde Soup
Served with a big hunk of rustic bread, this simple, savory soup is a great alternative to a stew or chili.
Author:
Kara and Marni Powers
Ingredients
2 T Extra virgin olive oil
2 links chorizo, sliced into ¼-inch coins
½ Spanish onion, chopped
2-3 garlic cloves, minced
2 red potatoes peeled and cut into ½-inch cubes
2 c unsalted chicken broth
1 c water (if the soup gets too thick, you might need to add more)
½ bunch kale thinly slices and chopped
generous salt and pepper throughout
Instructions
In a dutch oven, heat the olive oil over medium-high. Add the chorizo and cook until browned. Remove the chorizo to a paper-towel lined plate, and add the onions to the pot.
Lower the heat to medium and saute the onions until translucent, about 5 minutes. Add the garlic and cook an additional minute or two. Add the potatoes and stir for an additional minute.
Add the broth, water and potatoes to the pot and bring to a boil.
Once the liquid is at a rolling boil, reduce the heat and add the kale. Once the kale and potatoes are fork tender, add back the chorizo and additional spices.
Season to taste with salt and pepper.
Kara and Marni Powers
Kara and Marni Powers are twin sister cooks, dining and blogging their way through Boston's North End and beyond. They see the act of cooking and entertaining as a form of creative expression, an art that encourages the mixing of flavors, spices, techniques and stories. Their interest in cooking dates back to their Greek grandmother's open-arms approach, letting them taste her savory creations like her famous spanakopita. Kara and Marni's fascination with food and culture continued during their travels abroad in Europe where they saw firsthand the limitlessness of cooking.