A ridiculously simple Mixed Mushroom Bruschetta, with a hint of port, is perfect for a little entertaining.
By Martyna Candrick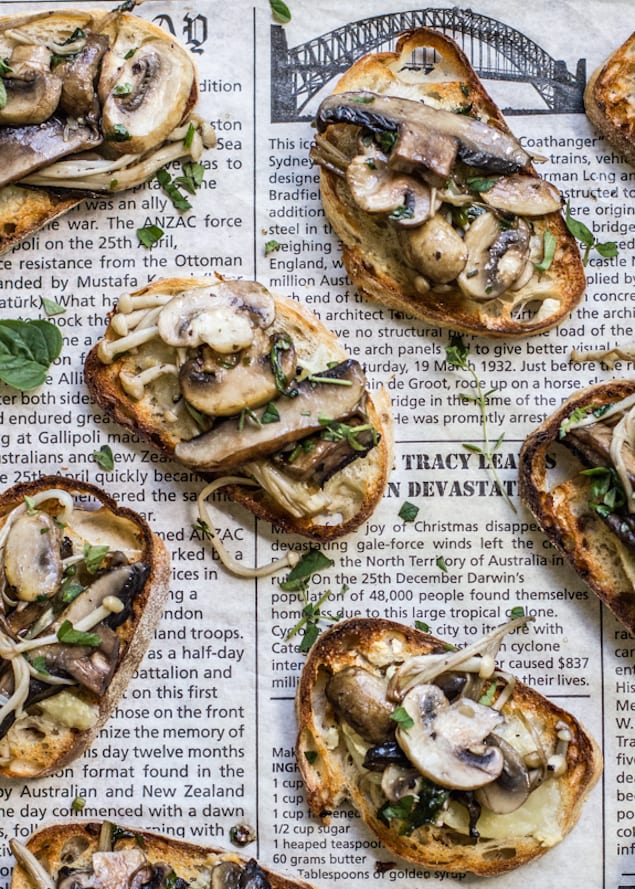 The mushrooms are a mix of button, flat Swiss and a slight hint of an Asian influence in the enoki. Port, optional but highly recommended, adds an extra layer of flavour and fresh herbs help entertain the taste buds further.
Perfection in every bite.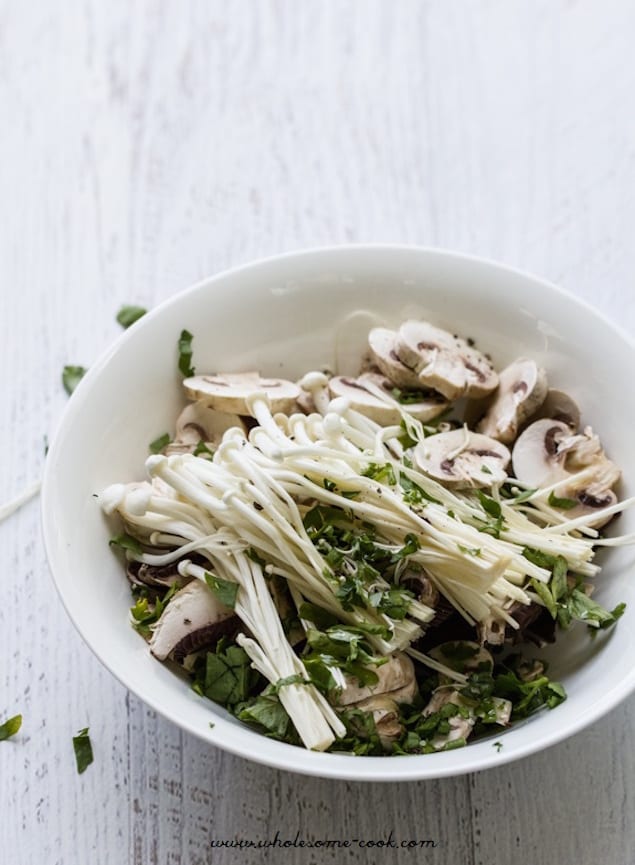 6 Interesting Facts About Mushrooms
1. Mushrooms and pepper go hand in hand because of their unique savoury flavour called umami, similar in taste to salt.
2. There is no need to wash or peel a regular (champignon) or swiss brown mushroom. Just brush off any residual compost. The only variety that requires some peeling is the Slippery Jack (the skin is peeled off the cap).
3. Raw mushrooms do not freeze well, but once made into a sauce or stew, they can be frozen for up to 6 months.
4. Mushrooms are neither a fruit nor vegetable, they come from the fungus family and are gluten-free.
5. Compounds such as lectins and other unique proteins, glucans and other special carbohydrates found in mushrooms, all have the potential to inhibit cancer formation and growth. They are said to reduce the risk of breast and prostate cancers.
6. By exposing mushrooms to the sun you can increase their vitamin D content? Just like our bodies, mushrooms produce their own vitamin D when exposed to UV light. A serve of 3 small mushrooms can provide our daily recommended intake of the same vitamin without the risks associated with skin-to-sun exposure.

Port-Cooked Mushrooms on Bruschetta with Brie
While I use sourdough in this recipe, feel free to use your bread of choice. Goat's brie is available from most good delis but you could use cream cheese or goat's cream cheese instead. For a vegan and dairy-free version, you could use cashew cheese with some nutritional yeast flakes added. If using square (toast) bread, use 5 slices and cut them in half. I used a small sourdough baguette, so I got 9 slices in total.
Ingredients
6-8 slices bread of choice (see note above)
150g (5.2 ounces) goat's brie (see note above, or cashew cheese for a vegan, dairy-free version)
70g (2 flat) Swiss brown mushrooms
70g (6 small) button mushrooms
70g (2.5 ounces) enoki mushrooms, woody ends trimmed
2 tablespoons freshly chopped herbs (I used parsley, oregano and thyme)
3 tablespoons olive oil, extra to drizzle
1 tablespoon port, optional
freshly ground black pepper, to taste
Instructions
Preheat oven grill to medium hot. Spread bread on a baking tray lined with baking paper and top with thin slices of the cheese. Place under the grill for 3 minutes, or until the cheese is melted and the bread golden.
In the meantime, slice Swiss and button mushrooms finely. Toss all the mushrooms, including the enoki, as well as the herbs and 2 tablespoons olive oil in a bowl. Heat a medium pan over medium heat. Add the mushrooms and stir-fry for 3 minutes or until the slices are golden and the mushrooms begin to wilt. Add port, if using and stir through. Sprinkle the lot with freshly ground black pepper, to taste.
Remove the grilled bread from the oven and top with the mushroom mixture. Drizzle with extra oil if you wish. Serve the bruschetta warm or cold.
Martyna Angell
Martyna is a Polish-born Australian recipe developer and food blogger. Her creativity and passion for good food shines through in many of the delicious and easy to prepare meals which she cooks, styles and photographs for her blog, Wholesome Cook. Fresh cream-filled eclairs are her only weakness.