This recipe is inspired by Czech sweet plum and poppy seed pastries.
By Nancy Lopez-McHugh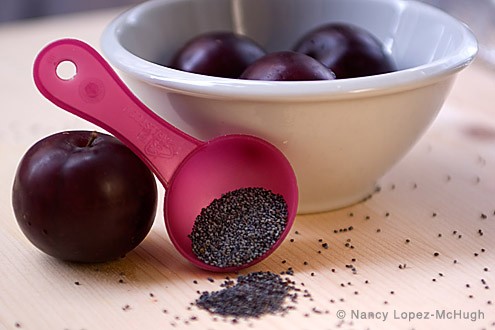 For a very long time I would not touch poppy seeds. I don't really know what my problem with poppy seeds was, they don't taste or smell bad. Sorry poppy seeds for discriminating against you, shame on me. Those discriminating days are long gone and now I quite like them. These little blueish black seeds, which also come in a white variety, are commonly used by many people around the world. But if you've ever traveled to slavic countries you will notice that poppy seeds are very popular in the local cuisines, particularly sweet pastries.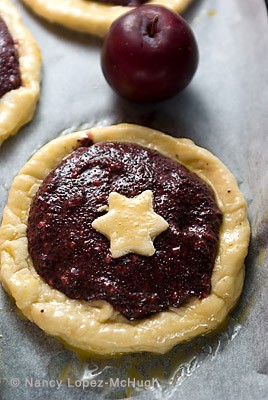 One day after hearing a friend go on about how delicious a plum pastry she had eaten the day before I finally decided to give poppy seeds a try. It was the same little round yeasted bread with a sweet center filling of plum and poppy seed that my friend spoke about. I couldn't believe how great it tasted, boy had I really been missing out. The filling was sweet like jam and a little texture came from the ground up poppy seeds. There was also a taste and texture of nuts. From that day forward I was hooked and will dive into those pastries any chance that arises.
This recipe was inspired by those Czech plum pastries but it is not a traditional recipe. I have been pushing myself to become as comfortable with baking as I am with cooking savory dishes so to me that calls for experimentation. While these do not taste exactly like the pastries which got me hooked they aren't too bad, if I do say so myself. These little pastries were really a combination of two different tarts that I remember tasting. Next attempt I will either hunt down a Babicka to give me her secret family recipe or there's always the internet. Please feel free to play around or suggest modifications to the recipe.
Poppy Seed Plum Tarts, Czech Inspired
Inspired by Czech sweet plum and poppy seed pastries.
Author:
Nancy Lopez-McHugh
Ingredients
Dough:
15 grams or 1 Tbs. fresh yeast
1 tsp. white sugar
2 Tbs. warm milk
⅔ cup / 125 ml warm milk
31/4 cups all purpose flour
¼ cup /60 grams white sugar,
pinch of salt
2 eggs
3 Tbs. Sunflower oil
½ tsp. Almond extract
Poppy Plum Filling:
100 grams Poppy seeds
1 Tbs. ground Cinammon
3 cloves or pinch ground
300 grams dark plums,(weight is whole fruit)
4 tbs. Sugar
¼ cup / 10 grams ground almonds (leftover from Almond Milk)
1 Tbs. Rum
2 Tbs. Whole Milk
2 Tbs. Butter
Instructions
Proof the yeast - warm the milk and mix in the yeast and sugar and allow to froth.
In a mixing bowl combine the flour,sugar and salt until well mixed. Make a well in the center and add the milk, extract and yeast proof. Stir and knead the dough until a smooth elastic dough. Set aside allowing to rise.
Place the poppy seeds, cinnamon and cloves in a blender and process until the poppy seeds are broken up. Pour the poppy seeds onto a separate bowl. Rinse the plums, cut in quarters and discard the pit, then place inside the blender. Add the rum and process for a couple of seconds, only to break up a bit, pour the poppy seed mixture back into the blender. Blend for a couple of minutes.
Melt the butter in a pan then pour in the milk, sugar and poppy plum mix stirring until well combined. Next add the finely ground almonds to the pan, again mixing well. Leave the sauce to simmer and thicken under low heat, stirring now and then.
In the mean time, divide the dough into equal sized balls and roll out into flat circles about ¼ inch or just over ½ centimeter thick. Press a jar or glass in the center of each rolled out circle to form a small well in the center of each circle. Place on baking sheet and fill the center well with poppy plum filling. Brush the edges with egg wash and bake.
Bake for 15-20 , depending on size of the tarts, or until the edges are golden brown.
As you can see the tarts are a yeasty bread with a sweet fruity center. They are great as a dessert with a cup of tea or coffee but they also taste great as a breakfast pastry. What is your favorite ways to use poppy seeds?
Nancy Lopez-McHugh
Nancy Lopez-McHugh is a food blogger, photographer and published author. Most recently she has published "Yummy Pics: A Food Blogger's Guide To Better Photos".