Let Pomegranate be the Cinderella of Thanksgiving – the uninvited beauty crashing the ball and stealing everyone's hearts.
By Ruby Moukli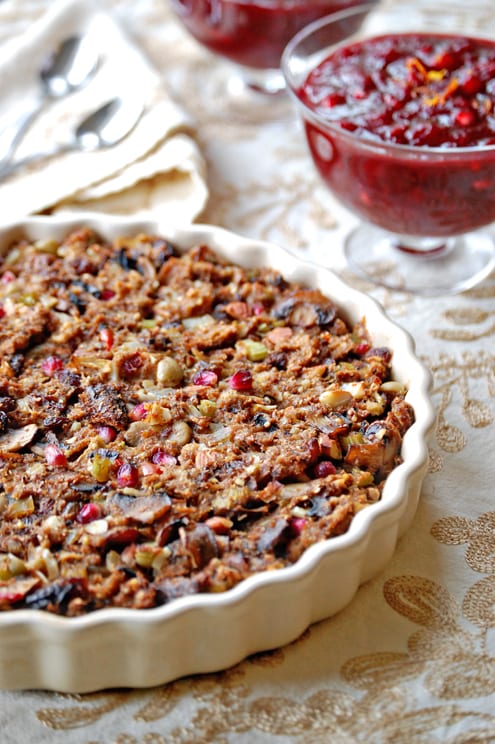 My Thanksgiving theme last year was pomegranate and I fully intend to make it a tradition. Like the best of kitchen experiments, it happened organically – I had one in the fruit bowl and it caught my eye as I was making the cranberry sauce. I had a bottle of Pom in the fridge and some pomegranate syrup in the cupboard. Now that I look back, it all seems predestined, don't you think?
Pomegranate in the cranberry sauce was an easy fit, but I decided to also include it in my dressing. That may not sound right to you, but I was making my dad's legendary stuffing recipe, which is heavily Mediterranean in flavour. Pomegranate was my Cinderella – the uninvited beauty crashing the ball and stealing everyone's hearts.
Now, I'm a fan of odd numbers, so I was subconsciously looking for the third place to insert some pomegranate fabulousness. At the last minute I found it: my 'welcome' margaritas. I just mixed in some Pom, which turned the 'ritas a gorgeous ruby colour (very apropos), and answered the door.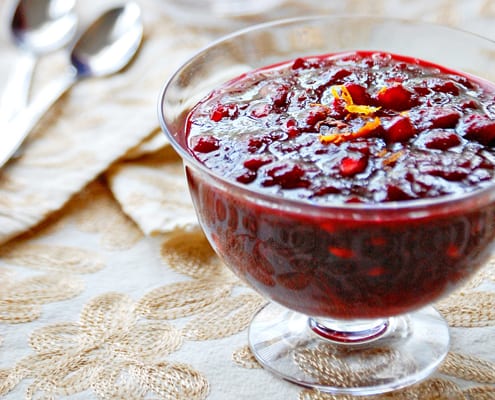 Pomegranate Cranberry Sauce
Makes about 4 cups (1 litre)
Ingredients
500 g cranberries (fresh or frozen)
1 cup (250 ml) orange juice
1 cup (250 ml) pomegranate juice
2 cups sugar (400 g) (I used Demerara but any caster is fine)
Zest of 1 orange (reserve a small amount for garnish)
2 cinnamon sticks (or 1 tsp ground)
3 whole cloves (or ½ tsp ground)
3 Tbsp port or other fortified wine (or use a triple sec for more intense orange flavour)
2 Tbsp pomegranate syrup (optional)
1 cup fresh pomegranate seeds
Instructions
Throw it all in a pot (except the fresh pomegranate seeds) and bring to a boil, then simmer over low heat until the berries have mostly all popped and it's thickened (about ½ hour). It will thicken more as it cools, so don't cook too long.
Taste as you go and add more sugar if needed (this will depend on your berries). If it gets too thick, simply add more booze!
Once it's cooled enough to touch, remove cinnamon sticks and cloves (if you can find them in the sauce), then add pomegranate seeds.
Sprinkle a little of the reserved orange zest on the bowl when you serve.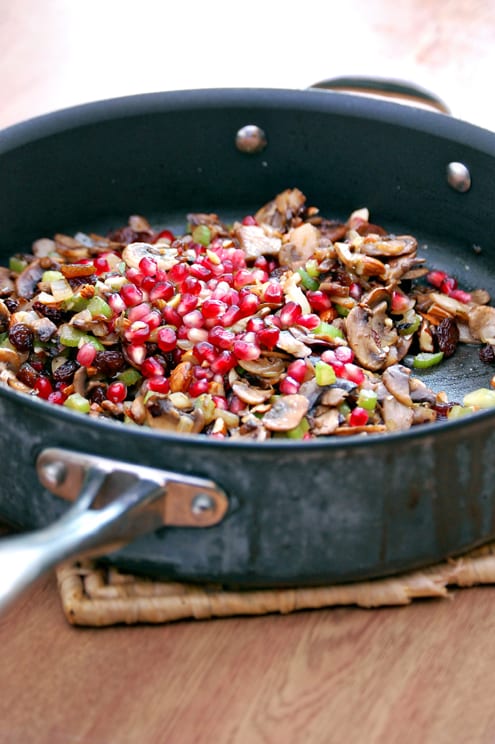 For the stuffing/dressing recipe, I'm going to refer you to an old email of my dad's. This is his 'recipe' (all quantities approximate, depending on the size of your crowd), with my addition of a couple of generous handfuls of pomegranate seeds at the last stage (just prior to baking). My notes added in bold:
I could not find the e-mail which I sent to you last year. Please keep this for next year. DO NOT compare the ingredients of this year to last year's. This is part of my secret to eternal success (hush). Here we go:
The Stuffing :
Toasted bread; – cubed at 3/4 inch (about half a loaf)
Yellow onion; – diced at 1/2 inch
Celery diced at 3/4 inch
Mushroom, fresh or canned – halves
Olives, green or black – whole or halves
Raisins, white are better (he means golden)
Walnut pieces (I use chopped almonds)
Salt and pepper
Garlic powder and hot pepper – optional
Chicken broth – one to two cans
Saute the onion, celery and mushroom in butter till yellow. Add olives, raisins and walnuts. Saute a little longer. Add salt and pepper (garlic and hot pepper) if desired. Add bread. Mix while on the stove. Add the chicken broth and leave on low heat for 10 – 15 min. (If you're stuffing a bird, that's what you do now. If you're making this as dressing, like I do, then press it gently into a lightly-greased baking dish and bake it at medium heat for about 20 minutes. You just want it to dry out a bit and for the top to get crusty.)
(Thanks Dad.)