Our version of Pollo a la Brasa (a classic Peruvian Roast Chicken) makes a fantastic weeknight dinner. We marinate chicken thighs in garlic, soy sauce, lime juice and spices, then roast them until the skin turns golden and crisp. Serve it with an irresistible tart green sauce, made with chilis and cilantro.
Growing up in New York City, you learn a few very useful things. One, never get into the empty carriage of an otherwise packed train. Two, don't even try to find a yellow cab between 4:30 and 5:30pm. And three, the very best food is usually the cheapest. For example, back in the day, you could get a roast pork bun from Hop Shing for less than $1. A big bowl of curried vegetables with roti from Punjabi Grocery & Deli went for a whopping $4. And at Pio Pio, a quarter of a golden-skinned Pollo a la Brasa, with aji verde sauce and a few maduro (sweet fried plantains), was about $7 (I'm sure it's more now, but probably not much).
But the one bad thing about living in a cute Hudson Valley town is there are no funky little Peruvian chicken joints nearby (although we hope soon to get over to Machu Picchu, a Peruvian restaurant over the river in Newburgh). So when we get a craving for these flavors, the only thing left to do is make our own version.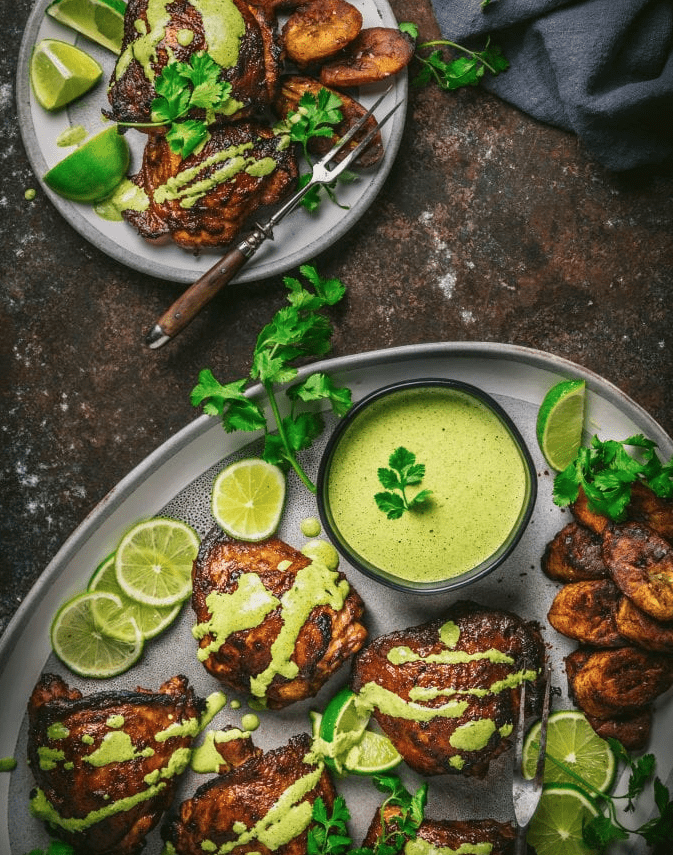 Traditional pollo a la brasa is a whole marinated chicken cooked on a rotisserie, which we don't have. So we kept the flavor and turned it into an easy weeknight dinner by marinating and roasting chicken thighs. You could use breasts of course, or a whole cut up chicken, but thighs are our favorite because they bake juicy and full of flavor, and are a lot less susceptible to overcooking.
The marinade is really simple and uses ingredients that you likely have in your pantry right now: garlic, soy sauce, lime juice, and a few spices like cumin and paprika. If you have the time, let the chicken marinate for a full 24 hours, though as few as 4 hours will still deliver great flavor. Once they've soaked up all that deliciousness, lay them on a wire rack set on top of a sheet pan and roast them in a hot oven until the chicken cooks through and the skin crisps and turns deep golden brown. It can take 30 to 40 minutes for thighs, but start checking breasts at about 20 minutes. As always, the best way to tell if chicken is done is to use a good thermometer (we like Thermapen). You want the thickest part of the meat (close to the bone but not touching it) to read about 165ºF (a few degrees under is fine because the temperature will continue to increase a little as the chicken rests).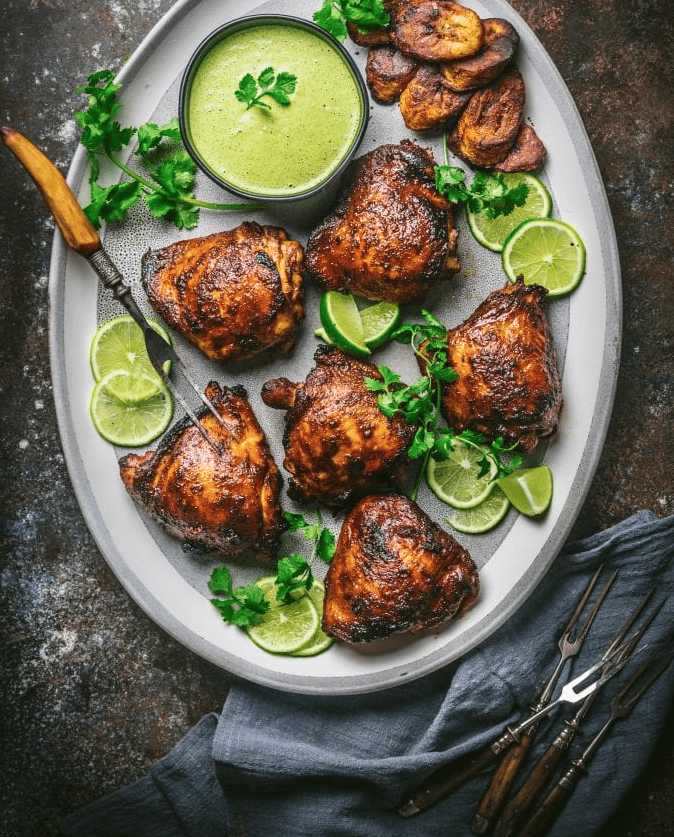 While the chicken is cooking, go ahead and make the sauce. Actually, while anything is cooking, make this sauce. It's so freaking good, you'll want to dip potato chips and cucumber spears in it. You'll want to mix it into scrambled eggs. You'll want to drizzle it on avocado toast. It's that tasty – as long as you like cilantro. If you don't like cilantro, this sauce is pretty much your version of saucy hell, but don't fret, you can use basil instead.
In a blender or food processor, add lots of herbs, a full packed cup of roughly chopped cilantro (or basil) leaves and tender stems. Then in goes a little garlic, some lime juice, a jalapeño or two, a bit more cumin and a few other seasonings. The only ingredient that may be difficult to find is Aji Amarillo Paste which is a moderately spicy chili paste from Peru. We couldn't find it locally and had to order it from Amazon but, honestly, you could leave it out without a big impact in flavor. If you want the sauce spicier, add another chili or a pinch of cayenne.
The cilantro, chilis, spices and lime juice get processed in a blender or food processor until smooth (if your blender has trouble with the herbs, add just a tablespoon or so of water, to get it going). Once the paste is smooth, add the mayonnaise and blend just until combined. Don't blend the mayo for too long or the heat of the blades could make it separate. Taste the sauce and adjust it with salt and lime juice until it tastes right to you.
You can serve Pollo a la Brasa with fried yuca or rice, but we pan-fried a couple of sweet plantains (maduros), which were delicious dipped in the tart green sauce. Cooking the plantains is so easy, I won't insult you with a recipe: just look for very ripe plantains (the skin should be completely black). Peel them, cut them into rounds and pan fry them over medium-high heat in a little vegetable oil until they're soft and deep golden brown on both sides. Sprinkle them with a little kosher salt and bring them to my house so I can eat them.
Click HERE for the sauce recipe.
Pollo a La Brasa: Peruvian Roast Chicken
Emily Clifton
Ingredients
For the chicken:
6

medium garlic cloves

peeled

1/3

cup

soy sauce

1

tablespoon

Worcestershire sauce

2

tablespoons

fresh lime juice

about 1 lime

1

teaspoon

finely grated lime zest

about 1 lime

2

teaspoons

smooth Dijon mustard

2

teaspoons

honey

2

teaspoons

ground cumin

2

teaspoons

paprika

3/4

teaspoon

kosher salt

½

teaspoon

freshly ground black pepper

1

tablespoon

vegetable oil

8

bone-in

skin-on chicken thighs (or mixed parts), about 3 lbs
For the sauce:
Click the link above for the recipe.
Instructions
Blend the garlic, soy sauce, Worcestershire sauce, lime juice, lime zest, mustard, honey, cumin, paprika, salt, pepper, and oil in a blender. Place the chicken in a large sealable bag and pour in the marinade, then move the chicken around to ensure all the pieces are coated. Seal the bag and refrigerate for at least 4 and up to 24 hours. Turn the bag occasionally to ensure even marinating.

Heat the oven to 450ºF and set a rack in the middle. Line a baking sheet with foil and set a wire rack on top (you can also lay chicken directly on the foil if you want). Remove the chicken thighs from the marinade set them on the tray with a little room between each piece. Drizzle about a teaspoon of the marinade over each piece.

Roast the chicken until the skin is golden and the temperature at the thickest part reaches 165ºF on an instant read thermometer, 30 to 40 minutes (if using breasts, check them after 20 to 25 minutes). Remove from the oven and let them rest, covered loosely with foil, for at least 5 minutes before serving.

While the chicken is cooking, make the sauce. In a blender or food processor, add the cilantro, jalapeños, garlic, lime juice, scallions, salt, mustard, aji amarillo paste, honey, and cumin. Blend until smooth. Add the mayonnaise and blend until just mixed. Taste and adjust with salt or lime juice, as needed.

Serve the chicken with the sauce and lime wedges on the side.
Notes
*Prep time does not include marinating time which can be from 4 to 24 hours.
Emily Clifton
I love to cook and learn about food. I was born and raised in New York City and I was exposed to a lot of different food cultures as a kid though I was weirdly picky. I hated mashed potatoes but I loved kim chee. Hated fish, loved escargot. I said I was weird, don't judge me. My mom is a great cook but I definitely don't have any "passed down from grandma" types of recipes. Both my grandmothers were horrible cooks. I mean really, truly bad. I give my mom a lot of credit for knowing that string beans are not actually supposed to be gray. In real life I'm a film/TV editor which just might be the most fun job in the world. Occasionally it can be the most annoying job in the world which is why I really appreciate it when I get to take a break and do my other favorite things which is cook, take photographs and write.