Polenta Pizza with Spinach, Mushrooms and Ricotta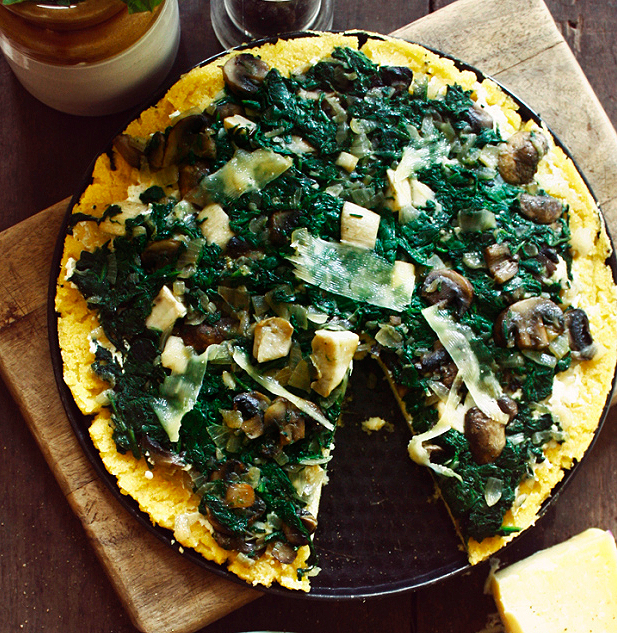 The basic polenta base can be a used as a base for many topping combinations. Tomato sauce, white sauce, ricotta in this case, the options are unlimited.
By Pallavi Gupta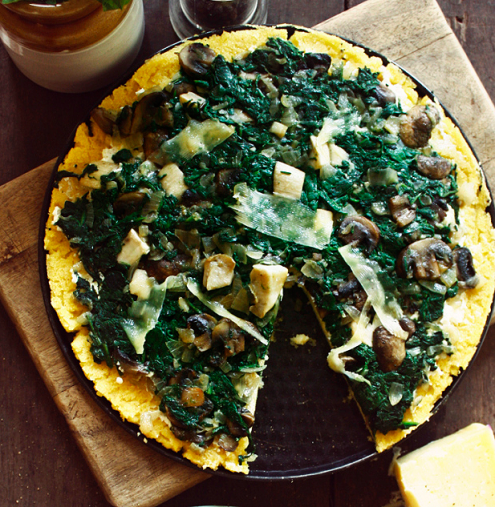 Today's post is for all you Gluten Free lovers. Whether you are allergic to gluten, cant eat it for some reason or following a specific diet plan – this pizza will hit all your taste buds. Its not only gluten free but also has the nutrition from spinach.
Polenta Pizza with Spinach, Mushrooms and Ricotta
The basic polenta base can be a used as a base for many topping combinations. Tomato sauce, white sauce, ricotta in this case, the options are unlimited.
Ingredients
1 cup polenta
2½ cups water
¼ cup Parmesan cheese, shredded
1 onion, chopped
2 cups mushrooms, chopped
2 bunches of fresh spinach or 2 cups frozen spinach
few cloves of garlic
2 tbsp olive oil
salt & pepper
extra oil and balsamic vinegar for drizzle or drizzle with some balsamic & honey reduction
Ricotta cheese to spread
Instructions
Preheat the oven at 350 F.
In a deep saucepan heat up the water.
Once it comes to a boil, slowly add polenta in one stream while whisking continuously.
Add parmesan and continue to stir till it absorbs all the liquid.
Let cool for a few seconds and then using a spatula spread it on an 8 inch pizza plate. Level the polenta with the spatula.
Bake for 20 minutes. Remove from the oven and let cool.
Skip this step if using frozen spinach: Remove the stems of the spinach and roughly chop them. Blanch it in hot water and keep aside in a colander to drain the water. Once cooled, press it in between your palms – you need to get rid of all the excess water from the spinach.
In a saute pan, heat the olive oil and saute onions till they turn transparent.
Add garlic, salt and pepper, stir.
Add mushrooms and and cook till all the water is released from the mushrooms and they start turning golden.
Add spinach and cook for a few minutes stirring to mix everything well. keep aside, let cool.
Smear some ricotta cheese on the polenta pizza base.
Spread the spinach mixture liberally, grate extra parmesan (optional) – bake on broiler for 5 minutes.
Drizzle with some extra olive oil/balsamic vinegar/balsamic & honey reduction and serve hot.
Pallavi Gupta
Pallavi is a vegetarian globetrotter, who currently lives in the southern part of India. Past ten years of her life includes living in six cities in three different countries. It has added to her vast exposure of cuisines from different parts of the world which is now reflected in her cooking. She shares her knowledge of vegetarian and vegan recipe from around the world via her blog Veggie Zest. When not cooking or photographing, she does graphic design.