This savory pie is not strictly a pizza, because the chewy crusty dough is missing. However, it's Italian to the core, featuring aromatic Pancetta, pungent Gorgonzola cheese, roasted pepper strips and pine nuts.
By Yuliya Childers

I usually am not a fan of dishes when one thing is passed off as another one — veggie burgers, mock crab meat, tofu — that's just not my cup of  tea.  I say, if you are going to eat a burger, for Pete's sake, just eat the dang real meat. But sometimes, curiosity just takes over, and you end up with things like this one.
Meet the fake pizza. The nerve! Passing something completely different off as pizza, insanity at it's worst! But don't be in a hurry to shrug it off. The thing (I am still working on a name) turned out to be something quite interesting. My family didn't appreciate the blue cheese flavor taking over, but if you are not a fan of pungent cheeses, you can always go in a milder direction and switch to goat cheese, or a young mozzarella. The key is to layer the thing nicely and present it in such a way, so that unsuspecting victims don't realize they've been fooled until they actually sink their teeth into it.
Here is how it goes. You make a batch of polenta — whichever way you like it — with stock or milk or water. And you make it quite thick. You spread the polenta on a baking sheet atop of greased parchment or foil, to make a crust about 1/2 in thick. You let the crust cool until it's nicely set. Then you bake the crust until done, preparing your layers in the mean time.
As soon as the crust is done, pull it out of the oven, sprinkle your toppings in layers, arrange them in a pretty way and bake for a few more minutes to lightly brown.
See Also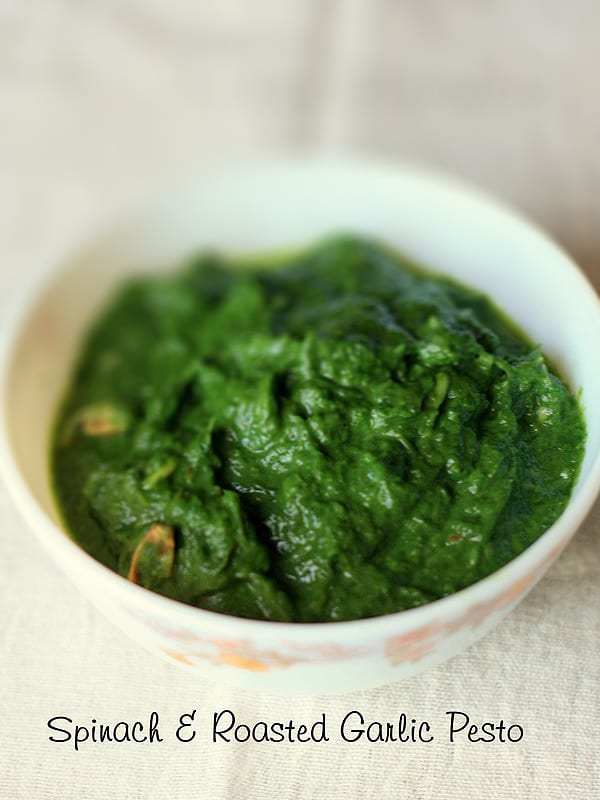 Slice the thing like a pizza, or cut into squares if you wish, and enjoy.
Since polenta started this all, I decided to go into a fully Italian direction and use all the typical Italian ingredients — pancetta, gorgonzola, pignoli, sweet peppers, shallots, garlic and olive oil. For our green-of-the-day (we are on a 30 day challenge of eating green with every meal), I added sauteed baby spinach.
Polenta Pizza With Pancetta, Gorgonzola & Pignoli
This savory pie is not strictly a pizza, because the chewy crusty dough is missing. However, it's Italian to the core, featuring aromatic Pancetta, pungent Gorgonzola cheese, roasted pepper strips and pine nuts
Ingredients
2 cups water
1 cup milk
¼ cup olive oil, plus a bit more for sauteing and drizzling the baking sheet
½ tsp salt
1 cup yellow corn meal, coarse grind
3-4 oz pancetta, diced
1 large shallot, finely chopped
2-3 cloves of garlic, slivered
3 oz (or more if you are a fan) crumbled blue cheese such as gorgonzola, can be substituted with goat cheese or fresh baby mozzarella
½ lbs baby spinach
1 bright colored sweet bell pepper, cut in half, seeded and sliced not too thin
a handful of pignoli (pine nuts)
Instructions
Make polenta first. In a saucepan, bring water, milk, ¼ olive oil and salt to a boil. Reduce heat immediately, and pour in the corn. Stirring very frequently, simmer corn for about 15 minutes, until very thick.
Line a baking sheet with foil or parchment, and drizzle a bit of olive oil on it. Spread polenta on the sheet evenly, to about ½? thickness, and shape into a circle, just like a pizza crust. Let cool until nicely set.
Heat the oven to 425F. Sprinkle polenta crust with freshly ground pepper, and bake for 30 minutes, until nicely browned around the edges. Keep the oven on.
While crust is baking, prepare the toppings. In a skillet, heat 1 tbsp olive oil. Saute pancetta, shallots and garlic for about 7-8 minutes, until nicely golden and very fragrant. Don't overcook.
Remove the pancetta topping into a bowl and set aside.
Heat a bit more oil in the same skillet and saute baby spinach until wilted and dark green, for about 3 minutes or so. Again, remove the spinach and set aside.
Add pepper slices and saute for a couple of minutes until they are nicely wilted, for about 3-4 minutes.
Layer your toppings atop polenta crust, starting with cheese crumbs, followed by pancetta mix, spinach, peppers, and finally pine nuts. Arrange everything in a pretty way. Drizzle just a few drops more of olive oil, and put back in the oven for 4-5 minutes.
Slice like a pizza or cut into 3 inch squares. Serve immediately.
Nutrition Information
Serve Size:
1 slice
Calories:
339
Fat:
25
Carbs:
18
Sugar:
2
Sodium:
485
Fiber:
3
Protein:
11
Cholesterol:
30
Yuliya Childers
Yuliya Childers is a self-proclaimed cooking and writing addict born and raised in a cosmopolitan city of Odessa on the Black Sea coast. She started cooking at quite an early age and learned most of her skills by watching others and reading cook books. Made-from-scratch naturally grown food is her passion. Yuliya believes that truly good food either creates or invokes memories. Her blog Eat Already! is focused on everyday creative yet un-pretentious cooking that anyone with basic skill can replicate. Yuliya's recipes are usually accompanied by childhood memories or family stories related to the dish in some way. Her recipes are honest, eclectic, multi-cultural, imaginative, and often outside the box. Currently she's into artisan breads, traditional cooking, and everything fermented… Yuliya is cooking and writing about it from Alabama.