Quince is a sweet, supple fruit, and has a lovely rosy hue when cooked.This galette, a rustic form of pie, is a wonderfully aromatic and simple conclusion to a meal.
By Sara Clevering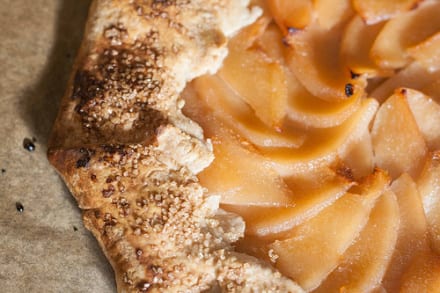 Besides the rarity, quince have a good backstory. The Romans would stuff them into jars and pour over honey, where their tannic, acrid fruit would soften over time, producing both a candied fruit and a fragrant syrup. I've even read that they may have been the fruit that got Adam and Eve cast out of the garden of Eden (though since you can't eat quince raw, that story may be, perhaps, apocryphal. Straight off the tree, in fact, I doubt it would have been all that tempting). Quince are also, surprisingly, the fruit that originated the marmalade (the Portuguese name for the fruit is marmelo) and you may have seen it at the cheese counter in the form of membrillo, which pairs perfectly with manchego.
So yes, you'll often find that you need to poach quince before using it. While this is a dreaded extra step, it's quite easy: just put in the oven for a few hours and relax while your home fills with a warm perfume. The poached slices keep in their fragrant syrup for around two weeks in the fridge, so you can really space things out. Prepping the quince is a bit tricky–while much like slicing apples, the seeded core of the quince is hard and must be cut out. This, along with the slicing, must be done gently–not surgery here, but not as quick as slicing apples for pie. The flesh is slightly grainy (only when raw) and the slices otherwise have a tendency to break on you. Imagine a very dry apple. Nonetheless, this is mainly an aesthetic consideration, and isn't meant to scare you off! It's going to look pretty, and taste great, no matter what.
Extra poached quince could be spooned over oatmeal, eaten straight, or used in other recipes.
Print
Poached Quince Galette
Poached Quince
¾

c sugar

3

c water
juice of

one

lemon

½

vanilla bean or

1

t vanilla extract

4

medium quinces (

1½

pounds), peeled, cored, and sliced.
Galette
1

disc of pie dough–use your favorite. (I used spelt flour mixed with all-purpose here).
Poached quince (from above)

2

T sugar
melted butter or half-and-half

1½

T sugar (preferably sanding or turbinado sugar)
Instructions
Poached Quince
Preheat the oven to 300F.
Put all ingredients into a baking dish and cover with foil or a lid, and bake for 1½ hours until rosy and tender. Your kitchen will be warm and perfumed.
Let cool and store the quince in its poaching liquid.
Galette
Preheat the oven to 400F.
Roll the pie dough into a 14-inch circle.
Starting in the middle, arrange the quince slices in a spiral. When you have a rough 1½ to 2 inch border, fold this over. (It's going to overlap here and there and double over itself–that's fine).
Brush the crust with melted butter, cream, or half-and-half and sprinkle with sugar.
Bake on the bottom of the oven for 45-50 minutes, until the crust is golden brown. Remove from the oven and cool on a rack.
Sara Clevering
Sara sees cooking and baking as a delicious way to connect with the past and travel the world from her kitchen. She is commited to preparing homemade, unprocessed meals for her family and is always looking for tricks to fit this into a busy schedule. Sara is currently in the Boston area after several years living in London, Spain, and the Czech Republic, and travelling extensively in Eastern and Western Europe, always making sure to experience local culture through food. She also blogs with her sisters at www.threecleversisters.com