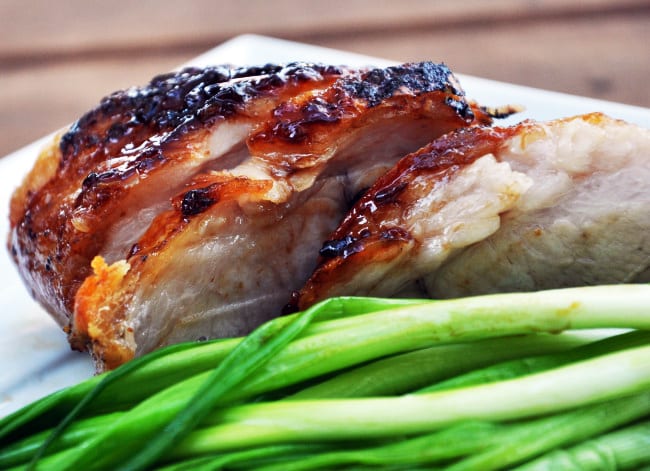 Use Damson plum jam if you can find it as the tartness will cut through the richness of the pork belly.
By Alisha Lumea & Polly Legendre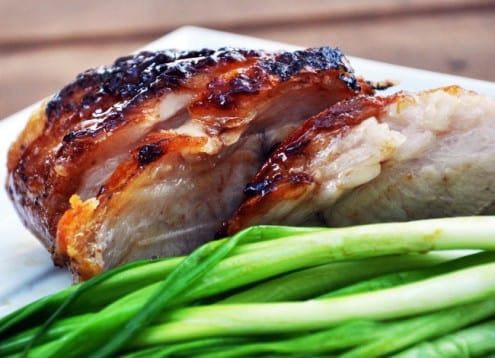 Plum-Glazed Pork Belly
Use Damson plum jam if you can find it as the tartness will cut through the richness of the pork belly.
Author:
Alisha Lumea & Polly Legendre
Ingredients
Glaze
¾ cup plum jam (about 6 to 8 oz)
3 tbsp soy sauce
1 tsp minced ginger
fresh ground black pepper
Pork
4 lbs pork belly
1 yellow onion, chopped
2 large carrots, peeled and chopped
4 cloves garlic, peeled
1 large sprig of thyme
2 bay leaves
1 tbsp fennel seed
1 tbsp sea salt
fresh ground pepper
Instructions
Mix all glaze ingredients together.
Preheat the oven to 325F.
Cut the pork belly into two equal pieces. Rub all sides of the pork with the sea salt, fennel seed, and ground pepper. Place the chopped onion, carrots, garlic, thyme and bay leaves in the bottom of the pan. Set the pork belly on the vegetables, fat side up. Roast the pork for 30 minutes, then add 2 cups of water to the pot. Cover and continue cooking for 3 hours total.
When the meat is done, it will be very tender and juicy. Remove the belly from the pan, then pour off the pan juices and set aside.
Turn the oven up to 425F. Place the pork belly into a shallow baking dish. Place back in the hot oven, fat side up, for 10 minutes so that it begins to develop a crispy layer. Spoon half of the glaze over the pork belly and return to the oven for 5 more minutes. Spoon the remaining glaze over the pork, and return to the oven for another 5 minutes.
When the pork is glazed, gently remove it from the pan and place in a serving dish. Add the pan juices from cooking to the glaze in the bottom of the pan. Stir with a spoon until the pan juices and the glaze in the bottom of the pan are mixed. This is your finished plum sauce.
Serve the braised pork belly thinly slices with the plum sauce on the side.
Alisha Lumea & Polly Legendre
The first American to graduate from the Ecole Supérieure de Cuisine Française, Polly cooked for nine years in some of the top Michelin-starred kitchens in Paris, and then as a private chef back in San Francisco. Alisha earned a Grand Diplôme in Pastry Arts from the French Culinary Institute and founded the artisanal chocolate company CocoaVino. Named a "Tastemaker" by Food & Wine Magazine, Alisha's work as a confectioner has been widely recognized in the media, including: Gourmet, New York Times, Wall Street Journal, Washington Post. They write on their blog Scotland Distilled: a culinary journey to the soul of whisky to explore the undiscovered bounty of the culinary landscape they've fallen in love with. When not in the kitchen, Polly and Alisha run the firm Polish to help food entrepreneurs around the world.