Discover fine dining in a small town of Cape Cod, were The Glass Onion serves up fantastic New England Fare.
By Marnely Rodriguez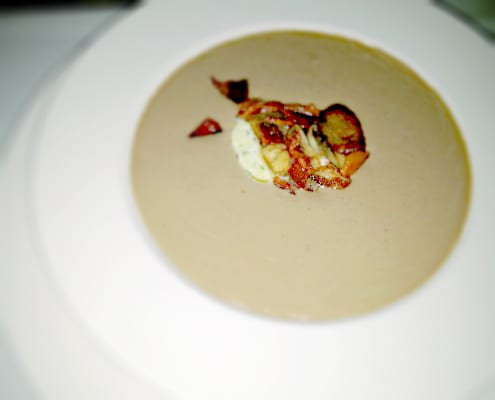 If you're visiting Cape Cod this summer, be sure to make The Glass Onion in Falmouth your one and only fine dining spot. Located in the center of Harwich, one of the classic and ever-loved towns on Cape Cod, The Glass Onion awaits for culinary lovers from all over New England to visit her. As you take your first step inside, you can sense the attention to great service and detail.
We started our meal with a Mushroom Bisque with Pancetta, and Chèvre Chive Compound Butter. Creamy doesn't even do this bisque justice! It's smooth and earthy, with a touch of saltiness from the pancetta and creaminess from the compound butter. My spouse had the Lobster Strudel that was stuffed with mascarpone, oyster mushrooms, and drizzled with a rich lobster butter sauce. As their signature appetizer, the Lobster Strudel is the star of the start of our meal. It's decadent without being overwhelming, with a touch of luxury that makes the night feel like a million dollars.
After pondering for a few minutes over our menus and listening to the nightly specials, we decided on Grilled Atlantic Swordfish and Cider Brined Pork Tenderloin. The swordfish tasted so fresh, paired with local littlenecks in a tomato and chorizo broth served with Haricot Vert, and fingerling potatoes. The combination of the delicate fish with hearty chorizo made it a broth to slurp up!
Now, the Cider Brined Pork Tenderloin was out of this world tender. Serve atop cheddar grits and Tuscan kale with a coarse grain mustard demi-glace drizzled over it, it's one of the most comforting dishes we've ever tasted. As for desserts, we had the classic Carrot Cake modernized with spun sugar and cardamom spices.
The Glass Onion
37 North Main St., Falmouth.
New England
Marnely Rodriguez-Murray
Marnely Rodriguez-Murray is the author of the food blog Cooking with Books. A graduate of The Culinary Institute of America, she has worked as an Overnight Bread Baker in Colorado, a Chocolate Maker in Virginia as well as a Pastry Cook on the whimsical island of Martha's Vineyard, just to name a few. She currently resides on Martha's Vineyard with her chef-husband, where they are both on an endless search for Caribbean flavors, new culinary trends and gastronomic inspiration.