This seemingly ordinary storefront in one of Nice's grittier neighborhoods is a diamond in the rough. Save for the delicate blue and green Middle Eastern tiles around the door frame, Sidi Bou Said blends in with the discount clothing stores and light bulb shops around it, but the humble doorway is a portal to a world of Tunisian delights.
By Katie Beck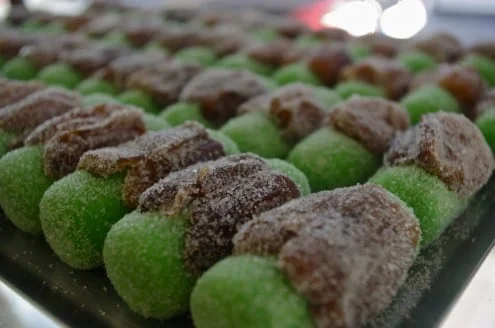 The Said family have been making beautiful Tunisian confections in this location for 45 years and a pair of brothers now run the bakery their father started when they were little boys. The cafe consists of one room decorated with murals of Tunisia painted on the walls and has just a handful of tables.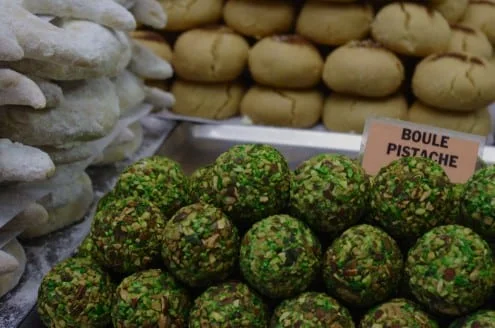 In the center of the room, there is a large square counter heaving under the weight of huge mounds and trays of Tunisian sweets. Brightly colored green rounds of pistachios mingle with pastry cones filled with nuts and drizzled with syrup, and ropes of golden pastry soaked in honey.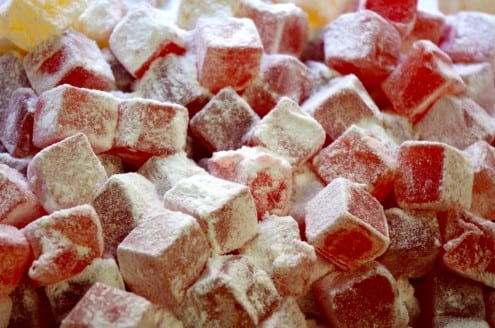 But the real draw here, are the hot, fresh beignets that they fry up each afternoon at 4:00 pm. As the hour nears, the tables start to fill up and the cafe is overcome with enticing aromas as the dough is heated and dusted with sugar. Paired with a hot, sweet, mint tea served in beautiful Tunisian glass tea cups, it is the perfect afternoon snack. And at €1.50 each, you'd be hard pressed to find a better deal.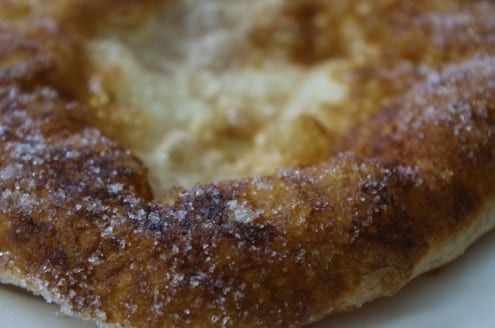 As he stretched the dough in his hands, standing behind a bubbling vat of oil, Mr Said told me that it takes six hours to prepare the dough. They start early each morning mixing the flour and by four in the afternoon it's ready for frying.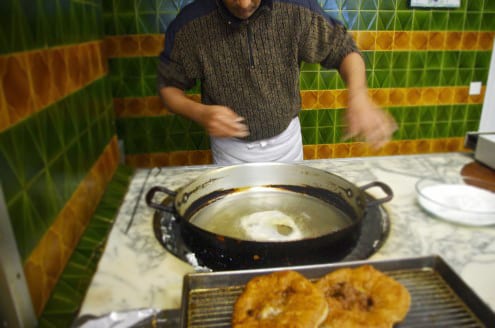 They keep a low profile with no website, their advertising consists of a wooden sandwich board out front that says "beignets chauds 16 heures" but after cooking up these beautiful sweets in this location for decades, they still do a swift business with a steady stream of patrons filing in and taking the piles of confections with them piece by piece as they go.
Sidi Bou Said
+33 04 93 80 04 13
26 rue de Paris
Nice
Katie Beck
Katie is an avid traveler and a contributing writer for Honest Cooking. She got her start as a TV news producer for the BBC before wanderlust got the best of her and she struck out on her own to travel the world and write about it. She lives in the south of France where she writes travel stories for various publications. She also writes a travel blog documenting her adventures: Stumbling Into Paradise.