Places We Love: L Mulligan Grocers – Dublin's Hidden Gastropub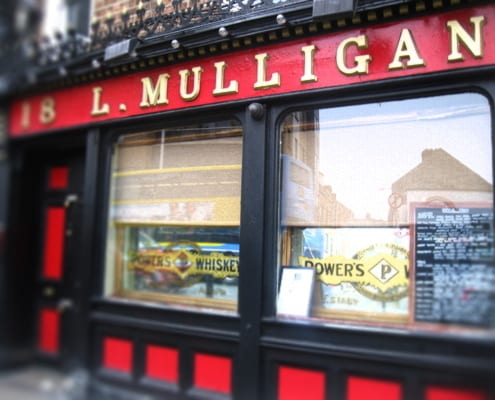 L.Mulligan Grocer has been on the Dublin scene for the past few years and has been quietly building a reputation as a pub worth going quite off the beaten track for.
By Jess Lacey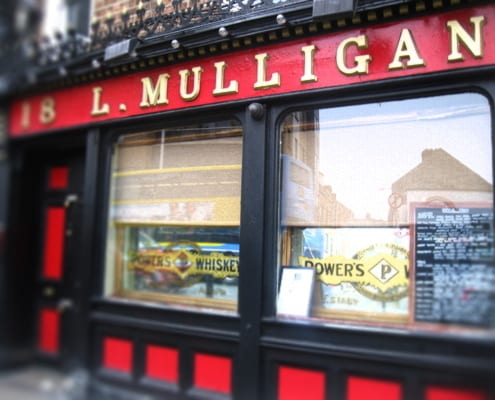 L.Mulligan Grocer has been on the Dublin scene for the past few years and has been quietly building a reputation as a pub worth going quite off the beaten track for. It is located in Stoneybatter, a residential area about 20 minutes walk west from Dublin city's main tourist drag of Temple Bar. It provides thoughtful, well sourced gastropub food, and is possibly the only pub in Dublin that does not sell Guinness. A bold move, justified by its focus on small, high quality craft beers from Ireland and abroad.
The Gastropub scene never quite took off in Dublin in the way it did over the sea in the UK, but L Mulligan may well lead the way on this front.
When we arrive early on a Friday evening, the pub is quiet but not deserted, and I make a mental note for next time I want to avoid the afterwork suits. The pub interior is standard Irish pub style with an old wooden bar, booths, tables and stools, with a larger skylit dining area towards the back. By 7:30pm, the place is packed full of groups of all ages, and we are well on our way through the menu (beautifully presented leafed in an old hardback novel).
The dining style is casual, so much so that our waiter does not bat an eyelid when one member of the group turns up an hour late, when we are nearing the end of our meal and starts ordering. The same goes when my friend and I decide to order two starters and a side instead of the traditional starter main rotation.
I start with a boxty cake with two generous slabs of excellent melting black pudding, served with a goats cheese cream and red berry sauce. The combination of crispy boxty, smooth black pudding, along with the sour tang of the cheese and sweetness of the berry sauce is spot on. I swipe a taste of my friends potted crab with sourdough bread and am similarly impressed, the crab is buttery with a slight lemony tang.
My main, by which I mean starter as main, was slightly disappointing. Mushrooms with garlic butter appear deep fried, and strangely bland. The garlic butter is nice but quickly oozes off the wooden slab the mushrooms were served on and all over my skirt. The mushrooms taste of very little. The triple cooked chips I order as a side, however, are excellent, and spectacularly portioned for €3.50 (they could easily serve three or four as a side, and did in this case).
Stuffed at this point, I took a raincheck on dessert in favour of a glass of wine, but tried my friends brownie which again had just the right amount of chocolate density to cakeyness which I like. I stuck with Aspall's for most of my meal on a nostalgia kick for London (after 4 days away) but my friends worked their way through a fair amount of the menu's IPA, and tested the waiters endless ingenuity seeking recommendations. Particularly favoured was the Odell IPA.
Overall, the meal was a lovely, laid back experience, and the value for money was excellent (starters hover around the €5 mark, while mains reach between €11 – 18 but are generously portioned, and desserts come back down around €5). This is the local everyone should have but until then, the trek up to Stoneybatter will have to do.
L Mulligan Grocer
18 Stoneybatter
Dublin 7
Ireland
Jess Lacey
Jess Lacey is an Irish food blogger and soon to be lawyer. She has found a home in London, Dublin, Leiden, Melbourne and Aarhus. After a brief foray into the world of Michelin starred cooking, she decided to keep cooking and food as relationships based purely on passion rather than income. She travels frequently, and justifies this by writing about it. More of her musings and recipes are available on her blog, Canal Cook.