Cookies made with brown butter and pistachios to compliment the sweet, bitter chocolate with rich nuttiness. They're buttery, sweet, salty, and wonderful.
By Tux Loerzel
I realize that a lot of you are probably still trying to hold true to your new year's resolutions, but these cookies are too good to keep them to myself.
I'd say that I'm sorry, but no one should every apologize for making cookies.
I gathered the makings of this recipe with the intention of making them on Christmas day, but it didn't really work out that way.
The ham I was making for Christmas dinner, along with some roasted broccoli and sweet potato gratin, had other plans though. I was not thinking ahead at all and didn't take the fact that the ham would be cooking at a low temperature for several hours into consideration.
We weren't yet ready for cookie time when the ham went into the oven, and when it came out we feasted and immediately fell deep into a food coma, so our cookie plans were (temporarily) abandoned.
These babies are so delicious and perfect that I'm actually pretty thrilled to get to share them.
Browning the butter for this recipe requires some extra time since it needs to firm back up after it's melted and browned, but I promise you it's worth it. Browning butter deepens and intensifies everything that's already great about butter, and then adds a toasty nuttiness. Taking the time to toast the pistachios before adding them to the cookies also helps to intensify the nutty goodness. It's all about building layers of flavor here.
See Also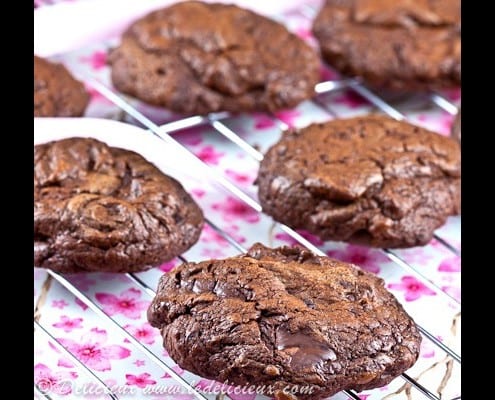 When it comes to chocolate chip cookies, I'm definitely of the "go big or go home" school of thought. I usually like to use a #24 portion scoop, which works out to 1.5 oz (or 3 tablespoons) of dough. I love portion scoops for drop cookies because it makes it really quick and easy to get all of your cookies the same size and shape. If you don't have a portion scoop, you can certainly measure out 3 tablespoons of dough to see how it should look and then try to make the rest of your cookies match that size.
You can easily use a smaller portion scoop, or make smaller cookies if you want, you'll just need to adjust your baking time accordingly to avoid over-baking.
I know there are a jillion chocolate chip cookies out there on the internet, but I beg you to give these a try. You can thank me later.
The brown butter and toasted pistachios are the perfect rich nutty compliment to the sweet and bitter dark chocolate, and the briny minerally crunchy fleur de sel is the perfect finish to every bite. They're buttery, chocolatey, sweet, salty, and completely wonderful. I could go on, but you're just going to have to make them and see for yourself.
Print
Pistachio and Dark Chocolate Chunk Cookies with Fleur de Sel
Cookies made with brown butter and pistachios to compliment the sweet, bitter chocolate with rich nuttiness. They're buttery, sweet, salty, and wonderful. adapted from Martha Stewart
Author:

Tux Loerzel

Yield:

2.5

dozen cookies

1

x
Category:

Baking, Dessert
18 tablespoons

unsalted butter (2 sticks +

2 tablespoons

)

1 cup

unsalted shelled pistachios

2 1/4 cups

all-purpose flour

1/2 teaspoon

baking soda

1/2 cup

granulated sugar

1 cup

packed dark brown sugar

1 teaspoon

salt

2 teaspoons

pure vanilla extract

2

large eggs

2 cups

(about

10

to

12

ounces) roughly chopped good dark chocolate, or good quality dark chocolate chips or chunks

1 tablespoon

(ish) fleur de sel or other crunchy finishing salt
Instructions
In a small heavy-bottom saucepan, brown the butter over medium high heat until golden to deep brown, should take about 10 or 15 minutes. Watch carefully once it starts to brown to avoid burning. Pour out into a heat-proof dish, trying to leave the burnt solids behind, and refrigerate until soft but beginning to firm. If it solidifies, you can remove and leave out until soft.
If you want to skip this step, you can simply use 2 sticks of softened unsalted butter.
Preheat oven to 350 degrees. Arrange pistachios on a baking sheet in a single layer, and toast for about 5 or 6 minutes, or until they smell toasty and nutty. Cool and roughly chop.
Whisk together the flour and baking soda in a small bowl and set aside. Combine the cooled brown butter with both sugars in the bowl of an electric mixer fitted with the paddle attachment. Beat on medium speed until light and fluffy, about 3 to 5 minutes. Reduce the speed to low and add the salt, vanilla, and eggs. Beat until well mixed, about 1 minute. Add flour and mix until just combined. Stir in the chocolate and toasted pistachio.
Scoop dough out using a portion scoop and place about 2 inches apart on baking sheets lined with parchment paper. I used a #24 scoop, which works out to about 3 tablespoons of dough per cookie. If you make smaller cookies you'll need to reduce the baking time by a few minutes, but you'll have more cookies in the end. Sprinkle each cookie with a small pinch of fleur de sel.
Bake until cookies are golden around the edges, but still soft in the center, around 11 to 13 minutes. Remove from oven, and let cool on baking sheet 1 to 2 minutes. Transfer to a wire rack, and let cool completely. Store cookies in an airtight container at room temperature up to 1 week.
Tux Loerzel
Tux is a food blogger, photographer, dog lover, husband, and avid baker living in Bushwick, Brooklyn. Originally from upstate New York, he inherited his love of cooking and baking from his mother and grandmother. With the encouragement of good friends and several glasses of wine, he began his food writing and blogging adventure in the fall of 2013. Learn more about Tux at his blog Brooklyn Homemaker