Glorious flavors usually found in a cannoli, come together for the ultimate dessert bar. They are super easy to make, but still decadent with beautiful green pistachios.
By Kathleen Siegle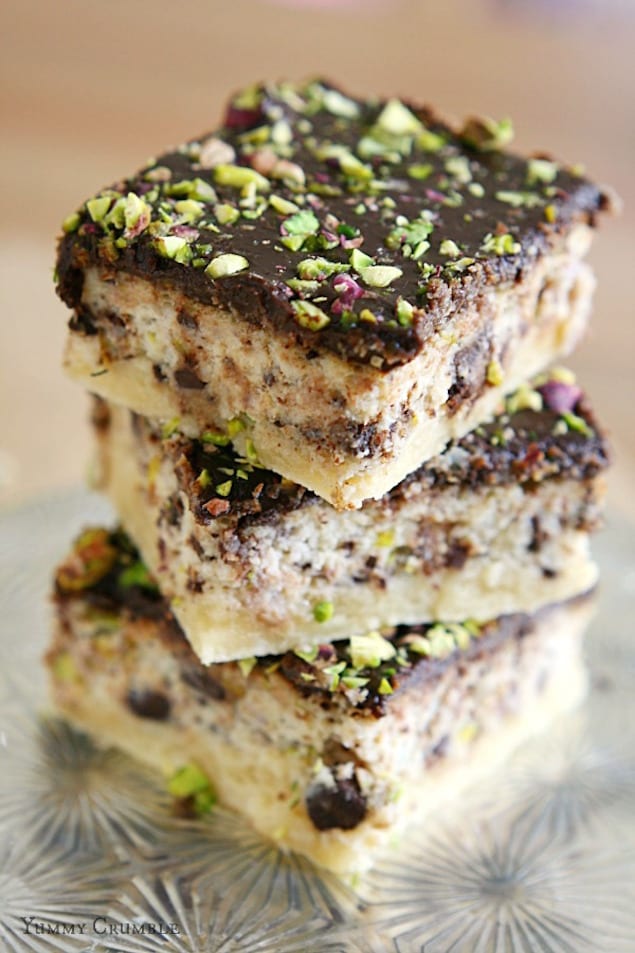 These bars are so simple to make and I can honestly say that this has become one of my favorite recipes. I mentioned three glorious layers, remember? First up is the bottom. A chewy sugar cookie layer with almond extract, a moist middle cookie layer with ricotta, sweetened condensed milk, chocolate chunks and pistachios, and a rich dark chocolate ganache layer drowns the top. And don't forget the fancy pistachios!
If you love these bars, next you have to make these Cannoli Cupcakes.

Pistachio and Ricotta Bars with Ganache
Glorious flavors of a cannoli, come together for the ultimate dessert bar. They are super easy to make, but still decadent with beautiful green pistachios.
Recipe Type:
Dessert, Baking
Ingredients
Cannoli Bars
1 (18.25 oz.) pkg. white cake mix, divided or your favorite white cake recipe
¼ cup melted butter
4 large eggs, divided
1 (16 oz.) container (2 cups) whole milk ricotta cheese
1 (14 oz.) can sweetened condensed milk
1½ tsp. pure almond extract
1½ cup chopped dark or semi sweet chocolate
1 cup roasted pistachios, chopped
Chocolate Ganache
12 oz bag of dark or semi sweet chocolate chips
1½ cups heavy cream
Instructions
Start by preheating your oven to 350 F and lining a 9x13 baking dish with foil. Spray the foil with cooking spray or rub generously with butter.
Take ½ a cup of the cake mix and set aside. You will be using this to mix into the second layer of the bars.
In a bowl, mix the remaining cake mix, melted butter, and 1 egg with an electric mixer until a dough forms.
Press the dough onto the bottom of the pan.
In a large bowl, blend together the ricotta, sweetened condensed milke, and almond extract until fully combined.
Mix in the ½ cup cake mix and 3 eggs until smooth. Fold in the chocolate chunks and ½ of the pistachios.
Spread over the layer of dough.
Bake for 45-50 minutes being careful to not over bake. Take out of the oven when the middle is barely set.
Place in refrigerator to fully cool.
Chocolate Ganache
In a medium bowl, place the chocolate chips and set aside.
In a saucepan, heat the heavy cream over medium low until a low bowl just starts.
Take off the heat and pour over chocolate chips.
Carefully fold until the chocolate is melted and glossy.
Pour over the cannoli bars and sprinkle with the rest of the pistachios and place in fridge overnight or for at least 4 hours.
Kathleen Siegle
I'm Kathleen and this is where I explore my sweet tooth and share it with you. I'm not gonna lie. Sweets make my heart flutter. Gooey chocolate chip cookies. Cupcakes with mile high frosting. I won't even turn down fruit cake! Other things that make my heart flutter are my two beautiful children and of course my lovely husband. We've been married for almost 10 years and I can honestly say he's my best friend. I love all things vintage, pretty, and retro and could spend hours lost in an antique shop. My newest venture is collecting vintage cookbooks. Are the recipes really as disgusting as the unappetizing photography? I remember using my mother's "Cooky Book" by Betty Crocker circa 1963 when I was a wee one. I decorated those sugar cookie cut outs in a way only a mother could love. The memories of helping her bake in the kitchen will stay with me forever. I remember the smells, the love I felt, and of course the eating! So now I'm passing this hobby down to my little ones. A few things about me: I'm a super geek. I love Star Wars, Battle Star Galactica and all things Disney and Harry Potter. I Love Lucy is on at my house. At all times. Or at least in my little head. I listen to Christmas tunes all day every day from August to January. I have moved an average of 2.5 times per year in the last 10. We're fancified carnies! I was in beauty pageants all through elementary school. I grow up on the street that Punky Brewster lived on. We were pals. I sometimes listen to 1920's jazz while I shower. I'm a weirdo. I'm a full time massage therapist for Walt Disney World. And…I always cry when I laugh.