Pinca, also called sirnica, is a traditional Croatian Easter sweet bread.
By Tamara Novacoviç
Pinca is a rich yeast dough, made with a lot of butter (sometimes lard) and eggs, flavored with citrus zest, candied and/or dried fruit, rum or rosewater. It is shaped into a round loaf that is cut with kitchen scissors and brushed with egg wash before baking. In the past, pinca was the pride of almost every household, each had their own family recipe. It was traditionally made on the Saturday and baked on Easter morning.
For a long time I was avoiding making this sweet bread. It was just never made in our family. Then I tried several recipes and wasn't impressed, to say the least. It was ok while it was still hot, but when cooled, it turned into a dry loaf of bread. Nothing special, nothing that would interest me. So after a few recipes, I forgot about it. However, this year I had to prepare some traditional Easter recipes and finally gave in and gave pinca another try. I was determined to make it work this time. And so it did. It worked wonderfully. I got soft, light and foamy dough that remained soft and not even a bit dry after 2-3 days (I wrapped the remainings in plastic wrap). It had a wonderful flavor – this time I used both candied fruit and raisins. Pinca is great with some butter and a cup of coffee or tea.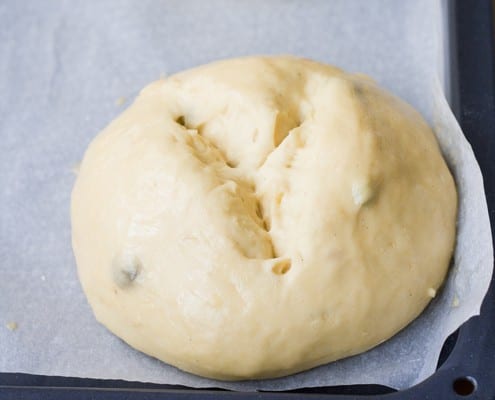 This rich dough is made for special occasions and is not something you can make in a hurry. Pinca takes a lot of time and there are several things to consider when making it, as it will result in beautifully soft and foamy dough. This dough rises 3 times, it is crucial to give it enough time to rest and rise. If it rises properly, you will need to bake it for 30-35 minutes. Longer baking often results in dry dough. Also, I like to make the dough on the soft side and then later work a bit more flour into it. Make sure the ingredients are at room temperature. I used 1 part butter and 1 part lard in my dough. Lard makes it especially soft and pliable. If you don't like it, you can substitute it entirely with butter. It is good to add fat to the dough after the first rising, because sometimes fat inhibits the rising.
Print
Pinca – Croatian Easter bread
---
Description
This sweet bread is traditionally baked in Croatia during Easter holidays. It takes a lot of time to prepare, but the result is sweet, rich, soft, foamy, light and beautifully flavored dough that will satisfy any palate!
---
For the dough
26.4 oz

(

750 g

) all purpose flour

2

sachets (14 g) dry yeast

6 oz

(

175 g

) sugar
pinch of salt

1

sachet (1 tbsp) vanilla sugar

2.6 oz

(

75 g

) butter

2.6 oz

(

75 g

) lard

0.6 cups

(

150

ml) warm milk

3.1 oz

(

90 g

) sour cream

3

eggs

1

egg yolk

2 3/4 tbsp

(

40

ml) rum

1.4 oz

(

40 g

) raisins

1.7 oz

(

50 g

) mixed candied fruit
finely grated zest of 1 orange
finely grated zest of 1/2 lemon
Egg wash
---
Instructions
Soak raisins in rum.
Sift flour into a bowl. Add salt, sugar and vanilla sugar.
Dissolve yeast in warm milk and add to the flour mixture. Add eggs, yolk, sour cream and citrus zest. Then add candied fruit and raisins together with rum. Knead until soft dough forms. Make sure to knead it for about 10 minutes. Cover with clean kitchen towel and let rise in warm place until doubled in size (about 1 hour).
Punch the dough and knead it again, adding melted and cooled butter and lard. Cover with clean kitchen towel and let rise in warm place until again doubled in size.
Shape the dough into 5 round loafs and place them onto baking sheet covered with parchment paper. Let them rest for 30 minutes. Using kitchen scissors, cut a cross into the surface of each bun. Brush the surface with whisked egg and let stand for 10 minutes.
Preheat oven to 356 F (180 C).
Bake for 30-35 minutes. While still hot, brush again with whisked egg and sprinkle with sugar.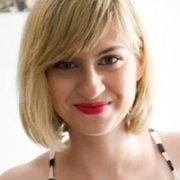 Tamara Novakoviç
Tamara Novakovic is a passionate self-taught cook, food blogger, freelance food writer and photographer behind bite-my-cake.blogspot.com. Her life journey has led her through Faculty of Humanities in Zagreb, Croatia to discovering passion for making cakes. She is currently a weekly food columnist for Croatian newspaper V magazine and food magazine Repete.