Want alcoholic slushies delivered to your door 24/7? Look no further than Phrosties, an Instagram-only (and probably illegal) business that's inventively using the social media site as a full service business platform.
by Maya Dangerfield and Annelise McAuliffe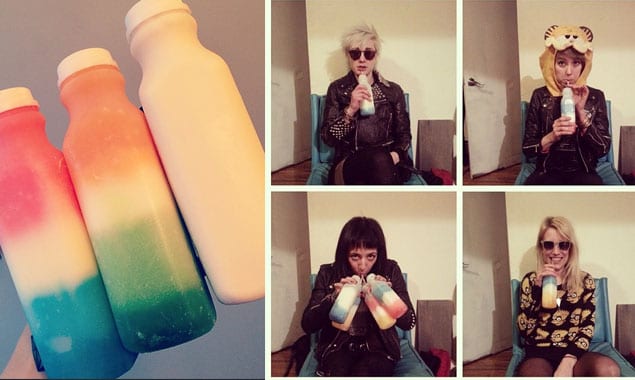 photos by itsblizzz and trugothbitchz
"We need your exact address."

It was 8pm and I was awaiting a delivery from a business that operates exclusively, albeit illegally through Instagram.
Though advertised as 'fruit slushies', I planned to pay $20 for a pair of  Phrosties –two brightly colorful slushies amply infused with alcohol.
After texting my address along with cross streets, I sent a follow-up message about my building's policy of requiring nonresidents to sign-in before entry .
"I could meet you in the lobby,"  I offered.
"Yeah, meet us in the lobby. We'd rather not sign in."
Phrosties is an Instagram only business. It doesn't exist on paper. Searches for the company yield no public records, certificates or licenses and outside of its selected Instagram followers, few know of its existence. Advertised as 'The best tasting fruit slushies in NYC, Bronx, Manhattan and NJ', Phrosties exclusively uses Instagram, the social media and picture sharing service owned by Facebook, to advertise their creatively named and uniquely favored alcoholic fruit slushies. Although the company doesn't post their drink's  alcohol content ( rum on my purchase date) the 24/7 delivery service's reputation for heavy handed pours and quick service has grown tremendously since their 2013 debut.
According to the company's Instagram history, the company is less than a year old. Appearing first at a barbeque sponsored by an entertainment company and making an appearance at the 2013 AfroPunk Festival, the company's growing popularity allowed it to quickly expand. Phrosties now delivers to all five boroughs of New York and has recently expanded to Westchester county and New Jersey (Hoboken, Bergen, Hudson, Jersey City and Bayonne counties). As of April 9th the company has 9149 followers who are frequently updated with pictures of the company's bright, multicolored drinks with names like Tsunami Sunrise, The Hero, Tropical Sunrise , and Volcanic Paradise. Ordering Phrosties is easy: users must find the appropriate service number area, and must text their exact address, callback number, and flavor preferences. Phrosties promises a text response in three minutes, and required that deliveries be confirmed thirty minutes prior to the  scheduled arrival. However, the company won't respond to delivery requests without first approving customers as Instagram followers.  Since their debut ten months prior, the  company averages 20-30 posts per week, typically posting pictures of satisfied customers, menu changes, and shout-outs to quasi famous customers like reality star Coco Austin of Ice Loves Coco fame, and the Noisey staff from Vice.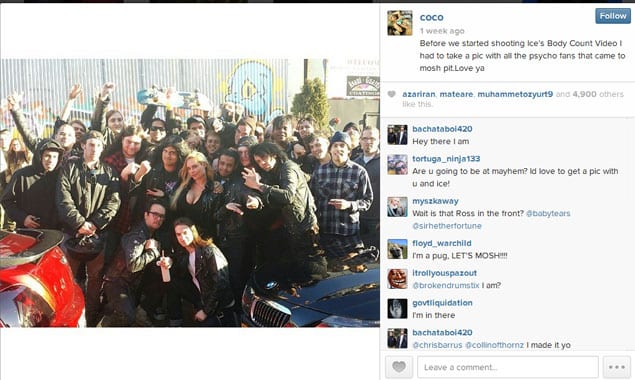 photo by Coco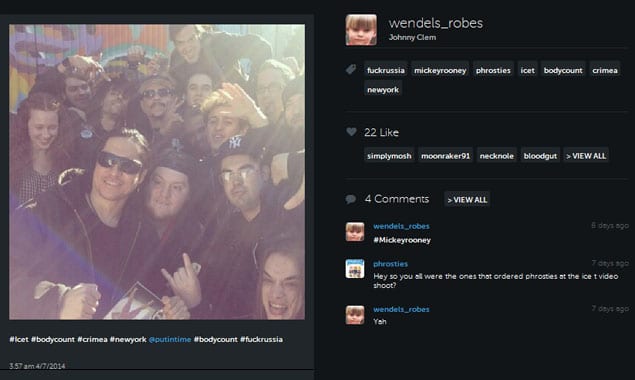 photo by wendels_robes
A company growing in popularity, Phrosties finds itself in-step with a new generation of business entrepreneurs who use Instagram as full service business platform, rather than exclusively a social media tool. Traditional businesses approach Instagram in a similarly predictable manner. Companies from General Electric to Urban Outfitters use the platform as an extensive, long-form, non-linear commercial—showcasing their products in causal settings, funny situations, or behind the scenes moments— all in an low key marketing strategy. Phrosties and their many underground counterparts use Instagram as a one-stop-shop,  where marketing, advertising, social media, and customer outreach are combined. Though Instagram doesn't offer a medium to conduct transactions, Phrosties frequently keep customers updated with menu and delivery instructions for the cash-only service. It's not surprising that underground companies like Phrosties choose Instagram as their business platform. According to an article by Tech Crunch, Instagram is the fastest growing media service, increasing its users by 23% from June to December of 2013.  Instagram's rapid growth is a benefit for business like Phrosties who supply customers regulated goods via the largely unregulated  media space. Instagram's quick growth means that the task of monitoring  underground activity is largely left to users who have the option of flagging accounts for inappropriate activity.
You don't have to search long, or even hard, to find illegal businesses on Instagram. A Business Insider report chronicled a plethora of illegal activity on the social media site, like blurry pictures by drunk drivers, handily captioned with #drunkDriving,  #Vburry (neilnitelife/Instagram).  An investigation by Fletcher Babb explores the world of lean ( a combination of codeine, and promethazine) and the dealers who use Instagram to advertise their goods. Recently Facebook and Instagram announced new policies, led in part by advocacy from Sandy Hook Promise, which allows the media giants to remove posts in an effort to curb the illegal sale of guns. With the exception of gun sales and actively monitoring and reporting  any tags associated with child pornography, business like Phrosties, who deal with regulated substances like alcohol are seemingly left alone to operate . Questions posed to the media conglomerate  were unanswered, but a quick browse of the company's community guidelines  clearly spells out Instagram's position toward the selling of 'regulated goods.' The Community Guidelines note:
"If your photos or videos are promoting the sale of regulated goods or services, including firearms, alcohol, tobacco, or adult products, we expect you to makesure you're following the law and to encourage others to do the same."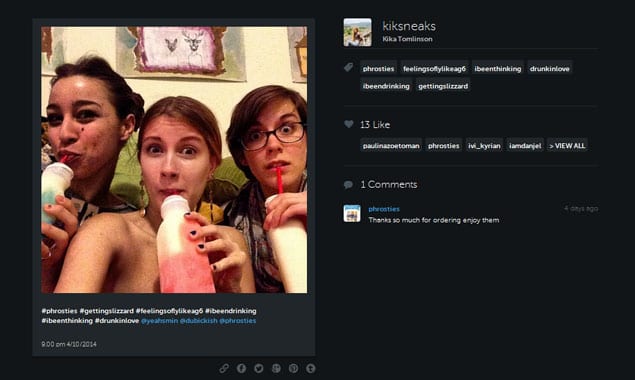 photo by kiksneaks
Ultimately, Instagram relies on reports of inappropriate activity from users, rather than a targeted search of their over 100 million active monthly users, to flag or remove accounts. Although the BBC reports the company now limits searches for certain terms associated with illegal substances, it still is surprisingly easy to find a wealth of accounts who offer services and substances more detrimental than alcoholic slushies. The general laxity of Instagram towards underground businesses is the perfect platform for entrepreneurs like Phrosties. Despite being a social media platform, Instagram yields anonymity for businesses like Phrosties whose policies of 'no names, no identification, and no questions' benefits both the business and its customers alike.
The entrepreneurs behind the operation remain private, and non-text communication is limited to a call (from a different number ) upon delivery. I wasn't asked for my name, or  identification as I greeted the driver at 8:40pm for my Phrosties delivery. Picking up my Hero and Tropical Tsunami from a stocked cooler in the back of an idling black van, and mulling over a third option (which the driver assured me was the delivery minimum) I attempted to probe for more details about the Instagram enterprise.  The response was quick:
"I got a lot of deliveries, like  I can't talk."

I chose another Tropical Tsunami and returned to my apartment building with a black plastic black bag full of Phrosties and a business card that lists the company's service areas. The inventive  entrepreneurs behind Phrosties, who creatively utilize Instagram as a business platform, have the unfortunate luck of creating an increasingly popular but most likely illegal business model.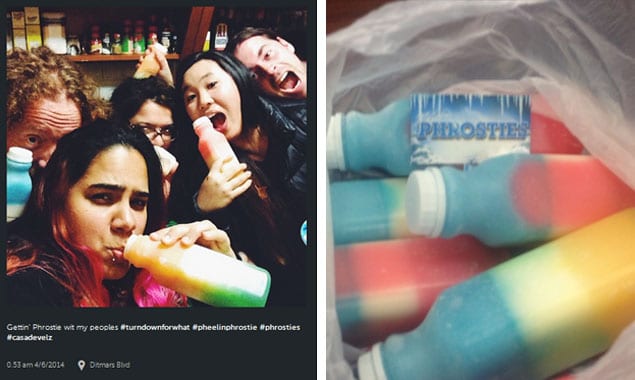 photos by fueradefocus and amerikas_most_blunted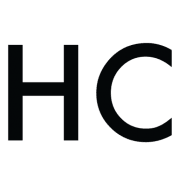 Maya Dangerfield
A recovering teacher and editorial intern for Honest Cooking, Maya began her journalism career at Greatist.com. A food lover who never misses dessert, she is also a passionate sports enthusiast. Currently Maya freelances for FoodmakerMedia and copywrites for Techturized. Her writing has been published for Greatist.com, Shape.com, and The Washington Post.