Photo Tour: Chefs For Farmers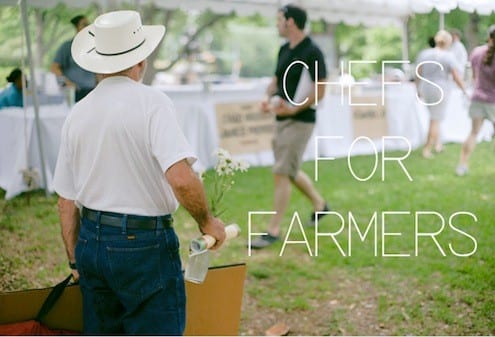 Joy Zhang took her camera to the Chefs for Farmers festival in Dallas and came back with this report.
By Joy Zhang

With our food supply in constant headlines – the dangers of GMOs, the inhumane treatment and processing of animals, the use of poisonous pesticides used in our produce – we rely on our unspoken heroes, the Chefs and Farmers, to change the way we eat.
Luckily for Dallas' love for innovation, community and food, this city is equipped with not only some of the best chefs in the nation, but award-winning artisans and farmers that keep our community well fed with the best local and seasonal ingredients that money can buy.
Pictured from top to bottom: Stephan Pyles, Kent Rathbun, Dean Fearing, Brian Luscher, Jeff Harris, Hollie Dorethy, Chad Houser, Jeffrey Hobbs, David Anthony Temple, Jack Perkins, Graham Dodds, Andrew Bell and Jon Stevens

We're fortunate to live in a community where we have such a close family of chefs, farmers and artisans that are committed to sourcing healthily raised, high-quality products and bringing the best food possible to our tables.
Pictured from top to bottom: Cold Springs Farm, Edens Organic CSA, Texas Daily Harvest, Hudspeth Farm, Texas Worm Ranch

It allows everyone to do the best job possible in their craft, starting from fresh ingredients and finishing with beautiful dishes. That's what makes Texans special – we take deep pride in the things we do because when we do something, we're gonna do it right.
Pictured from top to bottom: Texas Honey Bee Guild, Deep Eddy Vodka, Dude Sweet Chocolate, Vino Del Sol, Three Happy Cows, JJ&B, Mozzarella Company, Wrath, Texas Olive Ranch

Chefs For Farmers was a celebration of our leaders in the culinary world that set the bar sky high for not only Texas but the entire country and the farmers and artisans that work hard pouring true love and sweat into their fruits of labor.
Pictured from top to bottom: Oak Restaurant, Marquee Grill, Pyramid, Stephan Pyles, Lockhart's BBQ, Private Social, Nosh, Ava, The Grape, Dragonfly, JJ&B, Bolsa, Sustenio, Mansion on Turtle Creek, Mozzarella Company, Parigi, Kent Rathbun, Sissy's Southern Kitchen, Dean Fearing

It's purely culinary magic when you pair the two together that probably explains the incredible food that was witnessed.
(pictured above, Dean Fearing rocking out with his band — The Barbwires)
Special thanks goes out to Matt and Iris McCallister, Lucian and Christina LaBarba of Freshpoint, Nanci Taylor of Edible Magazine, for hosting such an incredible event. Special sponsors included Whole Foods for supplying wonderful gift bags and Artizone generous donation of a $2500 check for the winning chef to use towards their restaurant and charity of choice.  And certainly an ovation to the chefs and farmers of Dallas that made the day a culinary delight – man I love this city. Rock on, play loud, and party hard!!
Joy Zhang
A 25 year-old free-lance photographer, home-chef and writer from Dallas, Texas, Joy finds inspiration for her photography and recipes through music, art and nature. Her work has been featured on Elle Girl Korea and Gourmet Live. Join her culinary adventures through her kitchen and discover fresh, simple and delicious recipes.