Maeve Gately tries out Pho Grand, a Vietnamese restaurant in New York City.
By Maeve Gately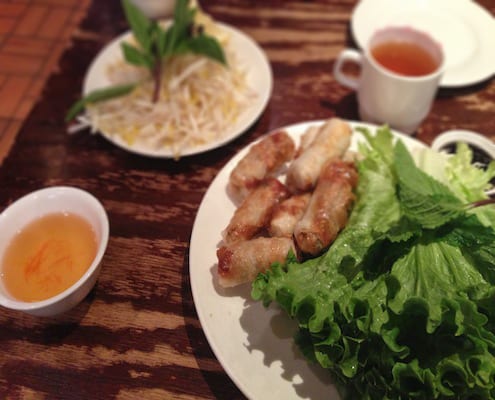 I have a confession to make: in the six months when I lived in Paris during my Junior year of college, my favorite meal was not French at all. After ten hours of classes and intensive grammar sessions, my friend and I would leave the school on Rue Chevreuse, exhausted and famished and craving a singular dish. In that moment, we were sick of thick, fragrant cheeses, dark wine, and sauces fortified with
cream and butter; we needed a palate cleanser, a diversion, a cheap and ready solution to Boeuf-Bourgignon overload. We took the six train to Place d'Italie, and wandered down the modern boulevards, lined with Chinese grocery stores and shops for bubble tea, until we got to Pho 14.
There the lines were long and the service brusque. We were handed a laminated menu with about six items and a sheet of thick white paper was spread across the table. We didn't even peruse the menu, but instead ordered two bowls of chicken pho and six pork spring rolls. We inhaled the broth, tasting cinnamon, lemongrass, the salt of the chicken stock, piled on bean sprouts and mint leaves, plunged our chopsticks into the translucent noodles. It was not French, but then neither were we, and we laughed and slurped as the sun went down and the heat lamps outside the café came on. By the time we left, two bowls and six Euros later, we were ready to face another dose of the subjunctive tense.
Pho Grand on Grand and Forsyth streets brings back this Vietnamese nostalgia, with a distinctly fresh approach. When my friend visited me in the city this past week, we met in the tiny Chinatown restaurant and shared bowls of pho and memories. I had searched the Internet for the best pho in New York, and Pho Grand seemed to have garnered that unofficial title. A small space crammed in between two Chinese produce stands, Pho Grand has two lines of tables beneath strings of what appear to be Christmas lights, and a ceiling of wooden beams that make it feel slightly like an upside-down boat.
When you enter, you seat yourself, and are immediately poured a cup of hot tea. The first page of the extensive menu is entirely different types of Pho, the Vietnamese rice noodle soup that comes with different garnishes, ranging from the traditional eye of round (the thin slices of beef that come rare and cook in the hot broth) to the naval, tendon, and omassa (similar to tripe). Balking at the more authentic dishes and determined to try to recreate our French days, we ordered bowls of the chicken, and eight spring rolls.
This was a mistake, as beef pho is clearly the thing to get here, and when our pho arrived minutes later, it was more of a Vietnamese chicken noodle soup, laden with steamed veggies and a rather weak broth. We discarded the vegetables and added housin and lemon juice and bean sprouts to doctor up the broth (a plate of garnishes arrives shortly after the tea), and slurped our noodles in renewed satisfaction. When I return, which will be soon, I am going to order the beef pho instead, and perhaps try a Vietnamese entrée or salad.
The spring rolls, on the other hand, were heavenly, crispy, piping hot rolls of pork and mushroom that came on broad lettuce leaves and mint which we used to wrap and dip them in a thin, sweet sauce. Dessert looked intriguing, with offerings of Vietnamese flan, and avocado juice, but we were too full of pho and memories to try anything else.
The verdict: a slight disappointment, but worth a return. The singular failed element of our meal—the chicken pho, did not stand up to the complexity of our standard, and we left feeling full, satisfied, and longing, once again, for those paper-covered tables at Place d'Italie.
But then, I suppose we will always have Paris.
Pho Grand
277 c Grand Street
New York NY, 10002
Tel: 212-965-5366
Website
Maeve Gately
Maeve Gately is a writer and gluten-free foodie living in New York City, where she recently moved after graduating from college upstate. By day she works at a photography magazine, and by night pursues the city's best flour-less chocolate cake. She has a passion for sparkling wine, eggs benedict, and the oxford comma. Follow her attempts to read a 4,000 page novel in the year following her college graduation at The Proust Book Club.