Top Chef star and local San Fernando Valley boy, Phillip Frankland Lee takes us home for dinner.
By Belinda Gosbee
Just admit it Top Chef fans. You probably cheered and exchanged a few fist bumps when the 29-year-old, man-bun-rocking contestant was 86'ed. But on his home turf, it's another story. Phillip Frankland Lee, as the Valley's prodigal son, is like chef deity.
Need convincing? There aren't many restauranteurs out there who would be willing to feed the hardworking BOH (back-of-house) restaurant staff in Los Angeles out of pocket, but he did, and went above and beyond. For the entire month of February this year, Phillip—who began his illustrious career as a dishwasher—served up free six-course tasting menus to any BOH staff.
This generosity aligns with his mission to take fine dining and make it more "approachable, affordable, accessible, fun and nutritious," evident at both of his restaurants—the plant-based nirvana Gadarene Swine in Studio City and Scratch|Bar & Kitchen run entirely by chefs, in Encino—operated with his wife, pastry chef Margarita Lee.
"I have a lot of pride for the Valley… I always thought I'd go over the hill, learn how to cook, then bring what I learned back to my hometown," Phillip says.
So, where does this Valley boy nosh when he's not searing Branzino on the open grill or transforming veggies into edible art? Read on …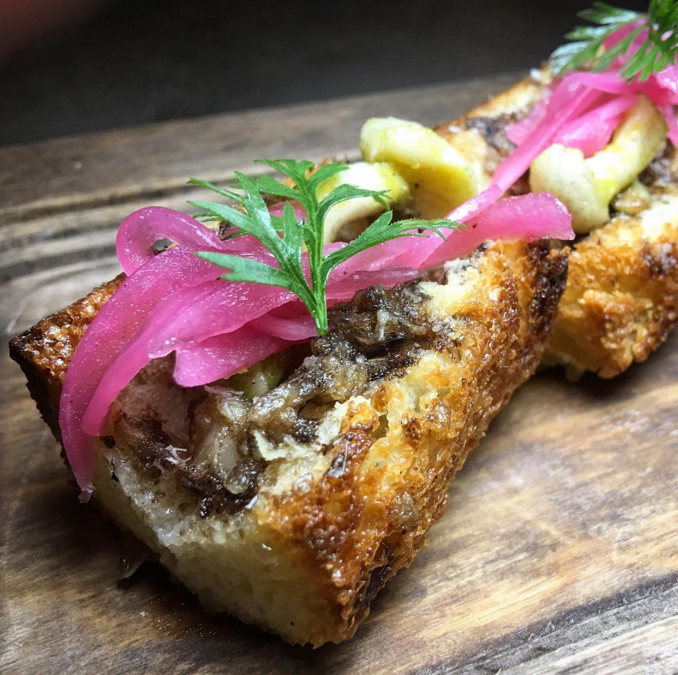 Bone Marrow Toast with Spice Mushrooms at Scratch. Image courtesy of Instagram user @lafoodie
Encino, $$$$
Phillip Frankland Lee: It's the only place I know in the Valley that you can stumble in hungry, chat it up with the chefs and have them prepare a special menu just for you! You can opt for one of the three nightly tasting menus based on number of courses or go a la carte, all of which have dishes that change sometimes hourly and are built around your personal likes and dislikes. I grew up eating at sushi bars so I love the fact that you get to sit right up to the stoves and ask the chef, "What's good tonight?"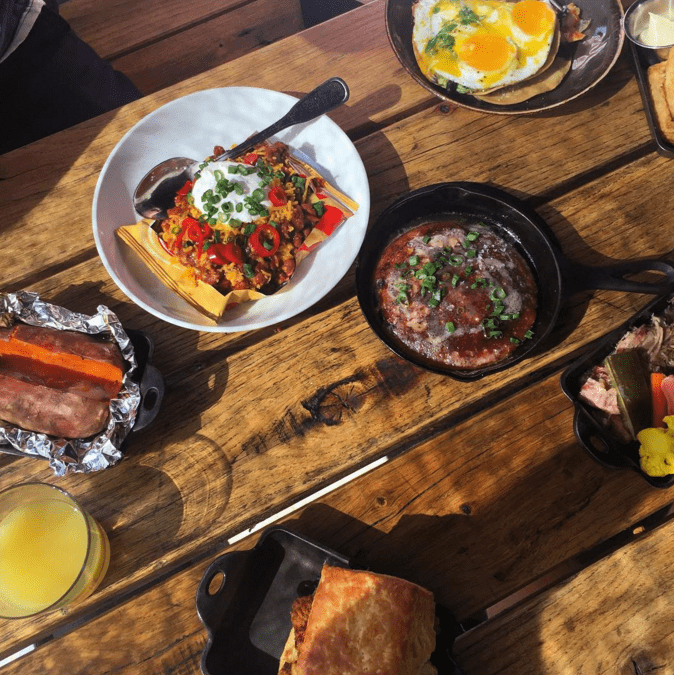 Frito Pie at Barrel and Ashes. Image courtesy of Instagram user @ming383
Studio City, $$$
PFL: Anyone who has been will tell you the BBQ is killer! Anyone who hasn't been should probably go tonight. Amazing cocktails and better food, but it's the brisket that gets me everytime … and the frito pie!
Al Pastor tacos at Tacos Mexico. Image courtesy of Instagram user @toptacos
Van Nuys, $
PFL: Arguably my favorite taco chain in LA, yes I argue with myself (but only about the important things). Taco Tuesdays are 3 for $1 and the tacos are always super delicious. They have killer lengua and, to be honest, the carne asada may be my favorite around.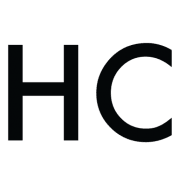 Citizine
Citizine is a lifestyle platform that highlights the culture of Los Angeles through the people who shape it. Create a Citizine profile and follow us on social media to keep up with the best events, places, and people taking LA by storm.