Enjoy the best tomatoes and basil while they're still out there.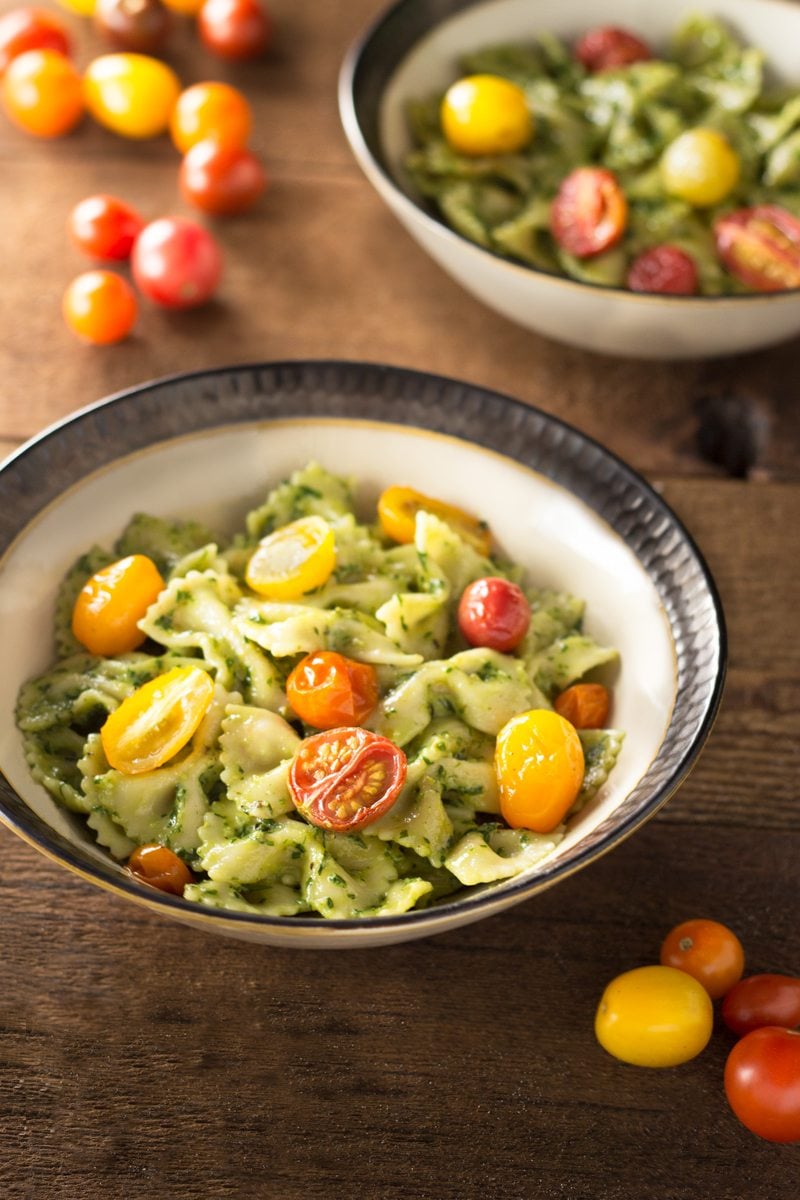 You can't wrong with pasta and classic basil pesto. The only thing not so classic about my pesto is the lemon. If it's not your thing, just skip it. I happen to like the extra acidity. If you're vegan, you can also skip the cheese and add a few more nuts. I'm totally okay with that idea. I've eaten cheese-free pesto before. It will still be super delicious. I promise.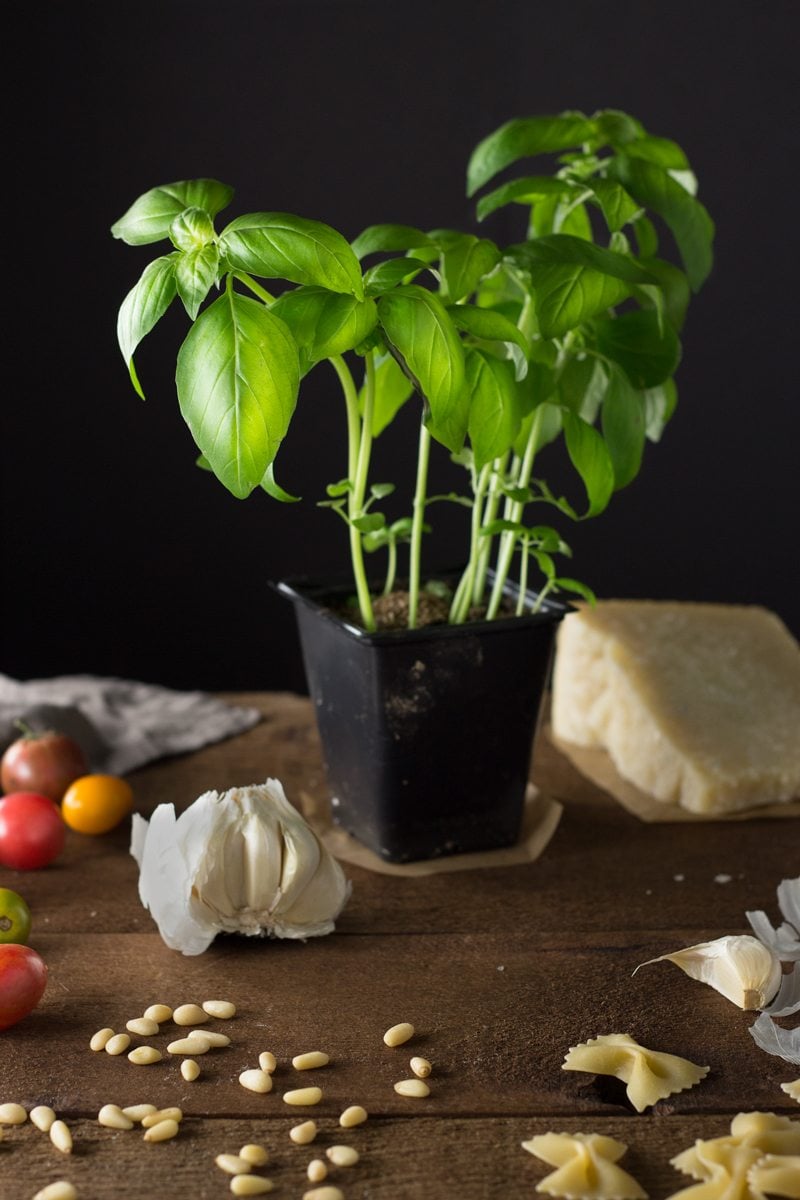 I love the addition of roasted tomatoes in this dish. Especially if they're cute, little heirloom ones. If you can't find heirlooms, no worries. Standard grape tomatoes will do you just fine. The tomatoes are great, because they provide texture, a juicy pop in your mouth, and a little sweetness and acidity.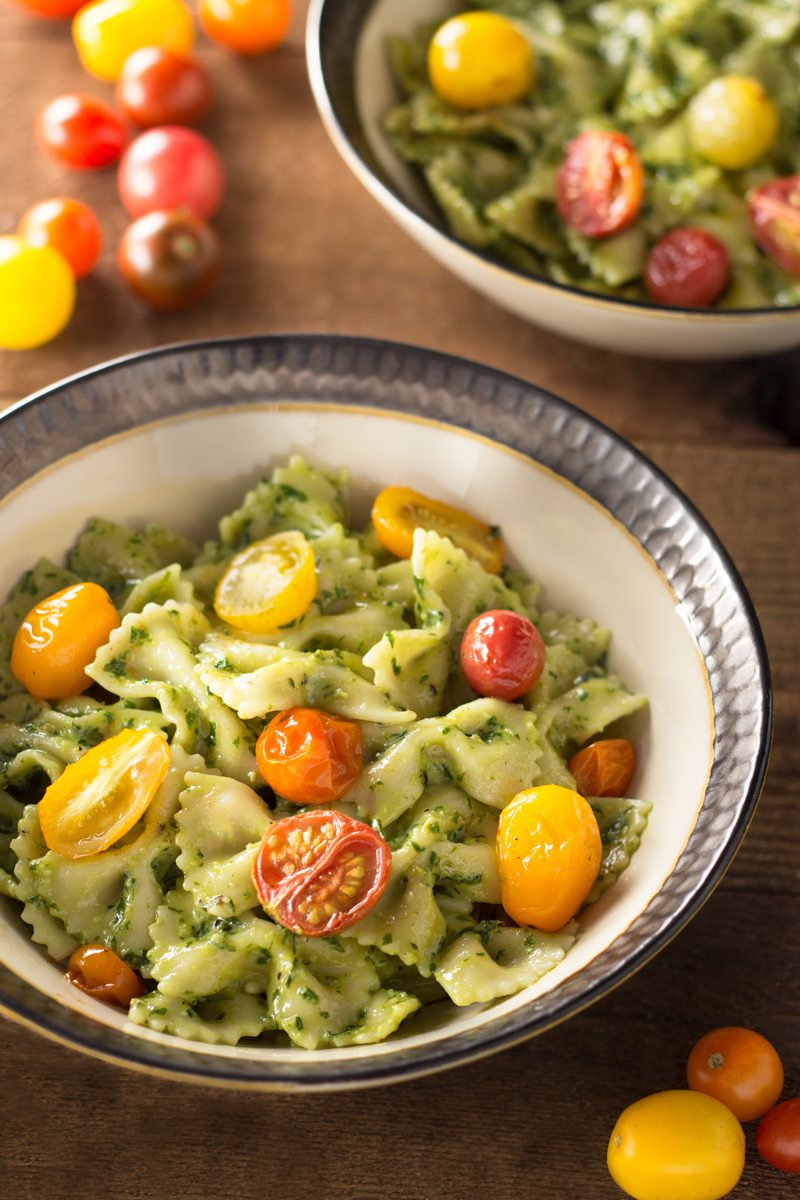 Pesto Pasta with Roasted Heirloom Tomatoes.
Pesto pasta with roasted grape and cherry tomatoes for a pop of juicy sweetness.
Ingredients
8oz farfalle pasta
1 ½ C (8 oz) grape or cherry tomatoes, whole or halved, if large (I used heirloom)
7T extra virgin olive oil, divided
Pinch of sugar
3C (1 oz) basil leaves, loosely packed
¼ C (1.25 oz) toasted pine nuts or walnuts (add extra 1-2T, if vegan)*
1 clove garlic
1 tsp lemon juice
¼ C (0.25 oz) Parmigiano Reggiano cheese, finely grated (omit if vegan)
Kosher salt
Freshly cracked black pepper
Instructions
Preheat oven to 400°F. Place tomatoes on a baking sheet. Drizzle with 1T of oil and season with sugar and salt. Toss to coat. Roast for 6-10 minutes or until tomatoes are blistered and starting to burst, rotating pan half way through. If needed, take some tomatoes out earlier than others (as they are cooked), checking every few minutes.
While tomatoes are roasting, bring a large pot of salted water to a boil. Add pasta and cook until al dente, stirring occasionally. Drain, reserving a cup of pasta water, and set aside.
While the tomatoes and pasta are cooking, combine nuts and garlic in a food processor or good quality blender, and pulse until finely ground. Add basil, season lightly with salt and drizzle in a small amount of the remaining oil. Process until finely chopped, but do not over-process. Stream in olive oil slowly while blending until a thick paste forms. Add cheese and pulse to combine. Stir in lemon juice. Taste and adjust seasoning, if needed.
Add hot pasta to a bowl with pesto a couple tablespoons of pasta water, as needed, and stir to combine. Top with roasted tomatoes. Enjoy.
*NOTE: To toast pine nuts, add them to a small, cold pan. Turn heat to medium. Toss frequently as nuts gently toast, for about 3-4 minutes or until fragrant and lightly golden. Do not brown.