PARTNER POST — Grilling season is here and it is time to explore Italian grilling with authentic ingredients from Colavita.
Take your picnics, barbecues and grilling up a notch with this super simple side dish. Filled with marinated sweet potatoes, it's tossed with a vegan pesto.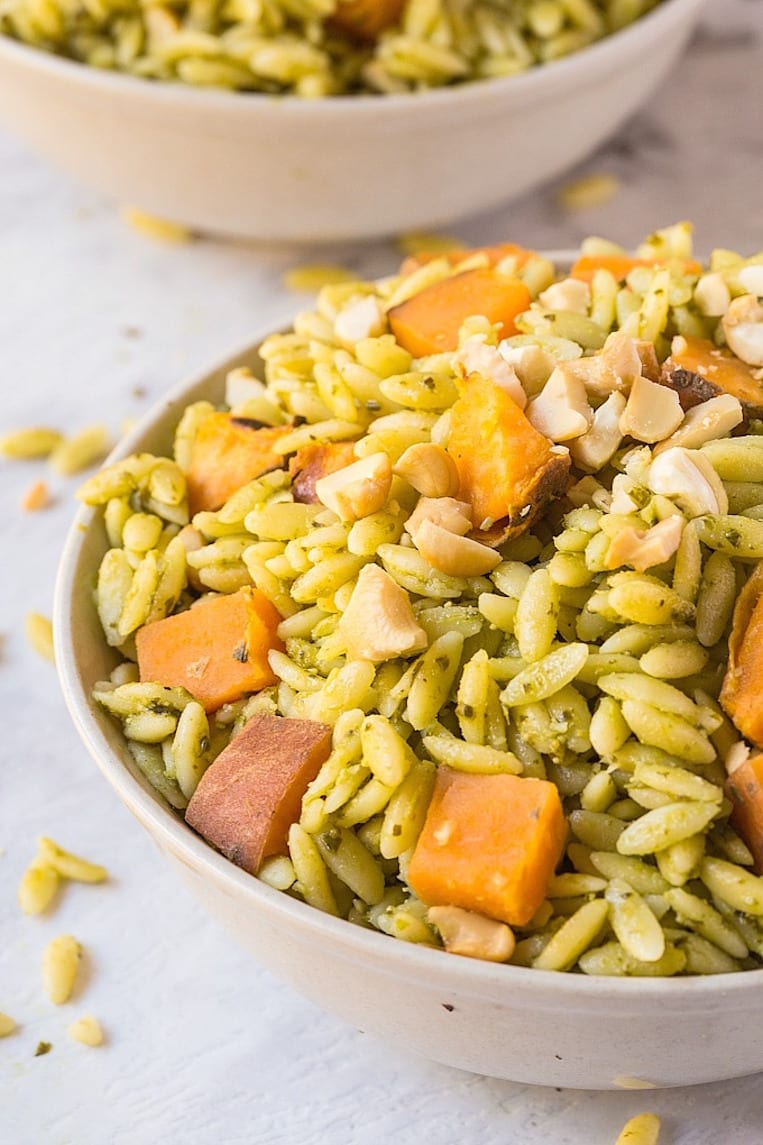 The thought of pesto pasta has not been able to leave my mind lately so I took a long at Colavita's ingredients that I was working with and decided to make my own pesto for a pesto orzo salad and to include another delightful addition- Sweet potatoes.
In this orzo salad- the sweet potatoes are the key ingredient. I marinated the sweet potato chunks in the Colavita olive oil, balsamic vinegar, TRUFFLE balsamic glace, sea salt and slow roasted it in the oven for 45 minutes to caramelize. You could also throw them on the grill! At the same time, I made a ridiculously easy homemade pesto but wanted this dish to be vegan so omitted the parmesan and added a touch more salt and olive oil.
Pesto Orzo Salad is a the kind of salad you bring to a barbecue, picnic or party to impress others yet it is super simple to whip up. The pesto is easily made by blitzing all the ingredients in a blender or food processor. The sweet potatoes are best when marinated for an hour prior to roasting but for those in a time crunch, can be simply dressed, roasted and chopped through the salad. For the orzo, you simply boil it in salt water as you do with most pastas until al dente and voila- This pesto orzo salad will be THE star.
For those who want to cheat even further, you can totally buy your own store bought pesto. For those who just can't be bothered- Of course you should use the delicious Colavita one.
Let's celebrate Summer grilling with Colavita by making this Pesto Orzo Salad the first of your upcoming recipes to make.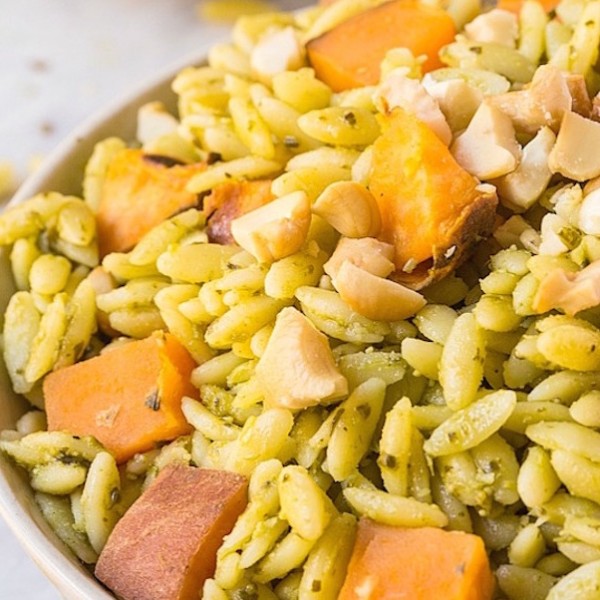 Arman Liew
Ingredients
1

package of Colavita Orzo

cooked and cooled (for GF use GF pasta of choice)
For the pesto
2

cups

baby spinach

1/4

cup

+ 1 T Colavita olive oil

3

T

salted cashews

1

small garlic clove

Colavita salt from the sea to taste
For the sweet potatoes
2

large sweet potatoes

chopped into large chunks (4-5 per potato)

1/2

T

Colavita white balsamic vinegar

1/2

T

Colavita balsamic white truffle balsamic glace

1

T

Colavita extra virgin olive oil

Colavita salt from the sea

to taste
Instructions
Prepare your sweet potatoes by combining the balsamic vinegar, truffle balsamic glace, olive oil and sea salt from the sea in a small bowl and whisk well. In a large mixing bowl, combine the sweet potatoes with the oil and vinegar mixture and allow to sit for at least an hour. 10 minutes prior to roasting, preheat the oven to 180 degrees celsius. Coat a large baking tray lightly with oil and cover evenly with the marinated sweet potatoes and cook for 40-50 minutes, until soft and caramelized. Remove from oven and allow to cool completely.

Make the orzo according to directions and boil until al dente. (If using the Colavita brand, it should be 7 minutes ). Set aside.

In a quality blender or food processor, combine all the pesto ingredients and blend well.

Mix the pesto mixture throughout the orzo and taste- It may need more salt. Chop the cooled marinated sweet potatoes and in mix through the orzo.

Serve immediately or refrigerate until ready to consume.
Notes
This salad can be made up to 24 hours in advance and eaten within 4 days.
Arman Liew
The Big Man's World is all about great recipes, epic travels and random rants from all things fitness, diet trends and why my body will never look like Channing Tatum's. There is an unfair stigma that healthy food can be boring and tasteless- It is my personal mission so prove that wrong.