This Pesto-Crusted Salmon is a delicious meal made with just 5 additional ingredients.
By Amber Massey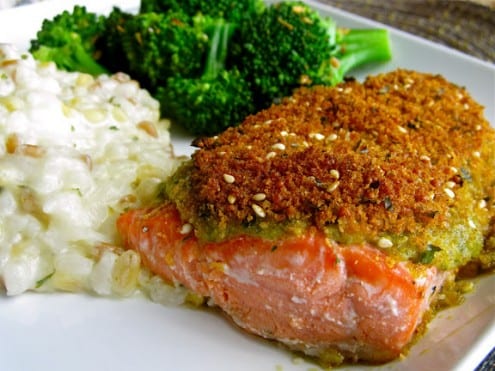 I always love being invited over for dinner – someone else to do the cooking. I love looking forward to the unknown as to what is going to be served.  Isn't it like, the best ever? Definitely. 
A few weeks back my Fireman and I spent the evening with some friends and were spoiled with a delicious heart healthy meal.  After just one bite I was pulling out a note pad and pen from my bag to take down the recipe.
Two words: quick & simple.  Literally a 5-ingredient meal.  A super simple combo of prepared basil pesto and reduced fat EVOO mayo thats  paired with a mixture of Italian-style bread crumbs and sharp Parmesan cheese.  Broil for 12 minutes, and done! Seriously- You're done.  How quick and simple was that? I added a slightly nutty flavor with some toasted sesame seeds mixed in with my parma-bread crumbs.  Just an extra step – not desperately needed.
Repeat meals are few and far in between.  Unless my Fireman requests it we typically will have something different on most nights. 
Since having it at our friend's house for dinner that night we've had it at home.. let's see.. 3 times now. 
Ingredients
2 tablespoons reduced fat mayonnaise
2 tablespoons prepared basil pesto
3 tablespoons panko bread crumbs
2 tablespoons grated Parmesan cheese
4 (6-ounce) salmon fillets; (about 1-in thick)
2 teaspoons lemon pepper
Cooking spray
Instructions
Preheat broiler to HIGH. In a small bowl combine mayo and pesto. In a seperate bowl, combine panko and parmesan cheese.
Place salmon in a shallow baking dish and coat with cooking spray. Season fish with with lemon pepper. Spread 1 tablespoon pesto evenly over salmon. Broil for 8 minutes.
Remove baking dish from the oven and top with panko mixture. Spray tops with cooking spray. Return to the oven and broil for an additional 4 minutes, or until fish flakes easily when tested with a fork.
Nutrition Information
Serve Size:
1 fillet
Calories:
300
Fat:
13 g
Carbs:
8 g
Protein:
35 g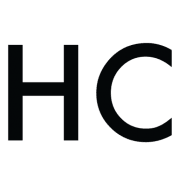 Amber Massey
Amber Massey is a southern-raised, food-loving, registered dietitian focusing on the culinary world of dietetics. Personal chef, author of her blog, Chocolate Broccoli, and accidental lover of food photography, Amber takes pride in healthy recipe development as well as culinary and nutrition instruction through personal and public cooking classes, public speaking, and media outlets. Amber can be seen in print for her nutrition expertise, as well as multiple magazine publications for her culinary creations, including Taste of Home, Healthy Cooking, Simple and Delicious, and Country Women's Magazine.