Persian Khoresht of Chicken and Herbs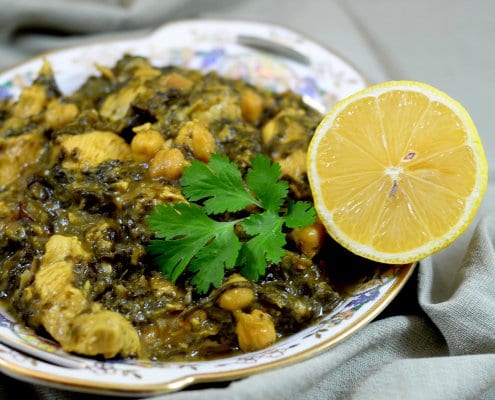 Stews or Khoreshts are common in Persian cuisine and amazingly easy and delicious to prepare.
By Nik Sharma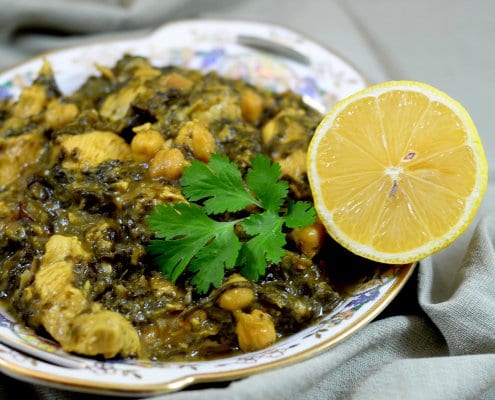 This recipe is for a delicious Persian stew or Khoresht that uses spinach and lemons for the base, with a bunch of aromatic herbs that add a fresh and fragrant flavor to the chicken and garbanzo beans. You can substitute any type of beans in this recipe, red kidney beans would be delicious too due their meaty texture. Stews or Khoreshts are so versatile in Persian cuisine and amazingly easy and delicious to prepare. This dish can be served with plate of warm rice or pita bread.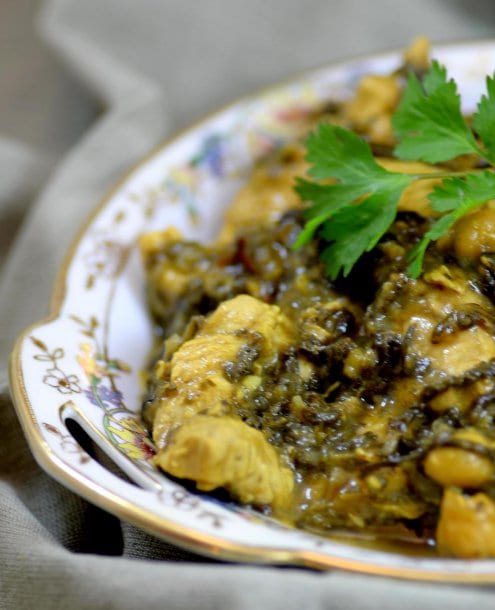 Persian Khoresht of Chicken and Herbs
A delicious Persian stew with chicken and fresh herbs to warm up those cold wintry days.
Ingredients
4 lean chicken breasts
1 cup chopped red onion
8 cups fresh spinach leaves
2 lemons
1 cup water
2 cups of garbanzo beans soaked overnight in water
½ cup chopped fresh mint leaves
2 tablespoons (30ml) chopped fresh cilantro
½ teaspoon cinnamon
2 tablespoon (30ml) vegetable oil
1 teaspoon (15ml) unsalted butter
salt and pepper to taste
Instructions
Pat the chicken breasts between paper towels. Trim off any excess fat from the chicken and discard. Cube the breasts into 2 inch cubes and keep aside.
Heat the oil in a large skillet and saute the onions and garlic till golden brown. Add the chicken cubes and brown on each side.
Add all the greens and beans to the skillet.
Squeeze the juice from the two lemons and add the water.
Bring the broth to a boil and then reduce to the flame to a simmer and cook for about 45 minutes or till the chicken is tender and begins to fall apart.
The sauce of the broth will thicken as it cooks.
Serve with hot or warm with pita bread, naan or rice.
Nik Sharma
Nik Sharma is the cook, author and photographer behind "A Brown Table" and currently resides in Washington D.C. He is a self-taught cook that is constantly trying to infuse "exotic" spices and ingredients by learning different cooking techniques in day-to-day meals with the motto of keeping all cooking methods fun, simple and useful.