The upcoming holidays call for a few necessities: cozy fires, sparkling lights, loved ones near by, and a soothing drink in hand. From large parties to small gatherings to solo time, there's aways a need for a great beverage specially made for the season. Whether your preference is warm or cold, alcoholic or non, here is a list to keep you covered under all circumstances this time of year.
By Catherine Baker
Alcoholic: get the party started with these celebratory recipes.
Spiced Orange Wine

http://epicurious.com
This Spiced Orange Wine recipe might be my all-time favorite. Slightly sweeter than regular white wine, it brings a chilled comfort to your lips and will have you finding an excuse to make it every season from here on out. Prepare a day in advance to relieve some day-of party stress and bring out as an apéritif to surprise and spoil your guests! Get the recipe here.
Holiday Whiskey Punch

http://gardenandgun.com
Having a cocktail party but tired of playing bartender all-night long? Your easy solution is this Whiskey Punch! Make a big batch ahead and get to enjoy the party yourself while just letting guests ladle out their own drinks. Get the recipe here.
Vin Chaud / Mulled Wine

http://davidlebovitz.com
Ah, the French holiday classic of heated wine infused with spices. It's hard to not see dozens of signs advertising "Vin Chaud" at the winter markets, but if you aren't in France this season, you can bring the French across the ocean to you with this warm beverage. Get the recipe here.
Wassail

http://cookieandkate.com
A favorite among Northerners and Mid-Westerners, the name "wassail" is derived from an old English tradition of drinking the mulled cider to ensure a bountiful apple harvest the next year. The bourbon can be left out for a kid-friendly version. With spices like star anise and cinnamon, this heated apple cider will surely warm up your belly and home. Get the recipe here.
Pomegranate Cosmos

http://foodnetwork.com
It's the color (and fruit) of the season! These easy cocktails will delight your party guests and not take up too much of that invaluable prep time. Get the recipe here.
Apple Cinnamon Sparkling Sangria

http://seriouseats.com
Spin the Spanish classic with an apple twist for a seasonal-appropriate beverage. Perfect all the way from Autumn to Spring, switch up your regular cider recipe for this sparkling sangria. Get the recipe here.
Coquito

http://foodnetwork.com
The Caribean Christmas classic is often referred to as "Puerto Rican eggnog," but it is far better than that. With fresh coconut milk and Puerto Rican white rum, it calls for raw eggs and is reserved for those who love strong flavors with a little extra punch. Get the recipe here.
Non-Alcoholic: for when you're the early riser or keeping it kid-friendly.
S'mores Hot Chocolate

http://minimalistbaker.com
Almost too pretty to drink! This S'mores Hot Chocolate will surely be a hit for adults and children alike. Rimmed with a graham cracker crust, there's no need to go outside in the cold for the childhood classic when you can make these cozy drinks in the warmth of your own kitchen. Get the recipe here.
Triple Pomegranate Smoothie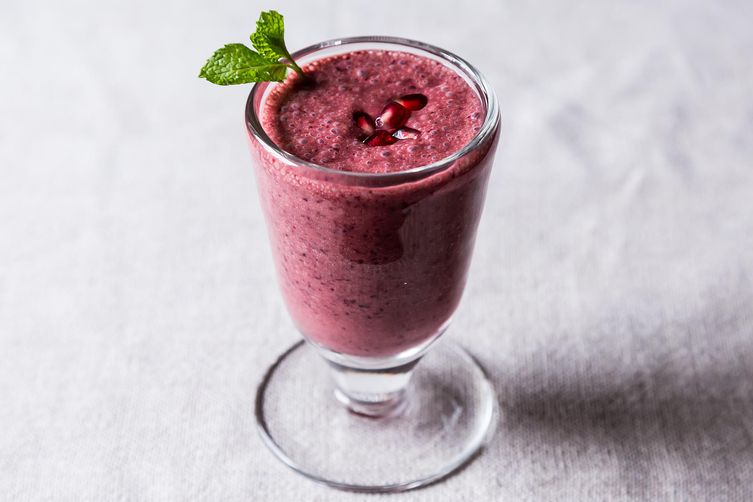 See Also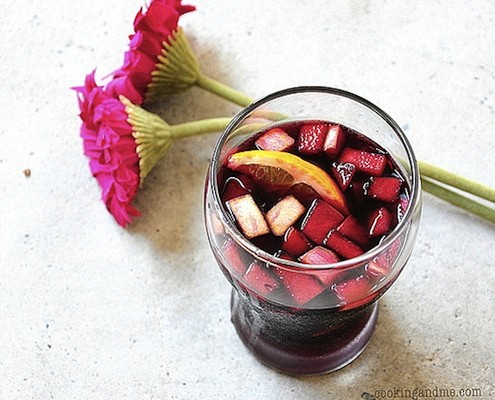 http://food52.com
Kick-start your morning a healthy and filling way by quickly blending this festive drink together. The "triple" comes from pomegranate juice, molasses, and seeds, and is paradise for all pomegranate enthusiasts. Get the recipe here.
Masala Chai

http://toughcookieblog.com
Skip waiting in line at your usual coffee shop for a cup of this warm, spiced tea and make it yourself at home. Packed with winter flavors, this drink is perfect for catching up with friends and relatives over the holidays. Get the recipe here.
Almond-Fennel Cooler

http://delish.com
Impress your family and friends with this refreshing mocktail. Combining almond and fennel syrups, it's an easy go-to for those who adore the flavors. Get the recipe here.
Eggnog Hot Chocolate

http://peanutbutterandpeppers.com
What better way to have the best of both worlds than Eggnog Hot Chocolate? This recipe brings the two great holiday drinks together for one bonafide party hit. You can easily add the rum back in (once the kids have gone to bed). Get the recipe here.
Cranberry Shrub Spritz

http://chow.com
Try this flavorful beverage for a refreshing relief from the holiday stress. This drink combines club soda with a cranberry-apple shrub, which is a fruit-infused cider vinegar. It will have you feeling revived and ready to handle the season. Get the recipe here.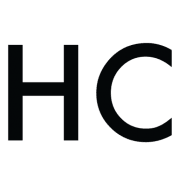 Catherine Baker
A North Georgia native, Catherine grew up in the kitchen— from mastering the art of Southern barbecue with her restaurateur father to perfecting the technique of frying plátano at home with her Dominican mother. Continuing her passion for food and cooking, the Georgia Southern University graduate resided in France for two years before returning back to the South where she currently works in hospitality at Blackberry Farm, a Relais & Châteaux property nestled in the foothills of the Great Smoky Mountains.