We're coasting right into the holidays. It's time for rich flavors, unexpected pairings and elegant displays—and there's no better way to savor the flavors of the season than with a thoughtfully curated cheese board.
By Jeanette Morelan
This article has been posted with permission and originally appeared as Tips and Inspiration for Your Holiday Cheese Board on Relish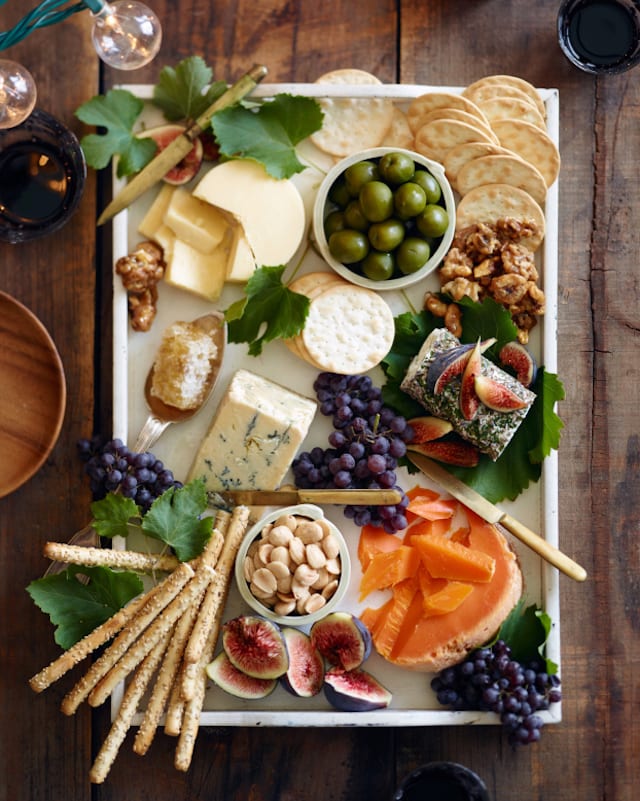 The Pioneer Woman
Ingredients
Selecting the proper cheeses is the foundational and most important step to creating a cheese board. Familiarize yourself with different kinds of cheeses—their flavor profiles, and the pairings they're typically associated with. A cheesemonger at your local market is your best asset in making recommendations depending on your preferences.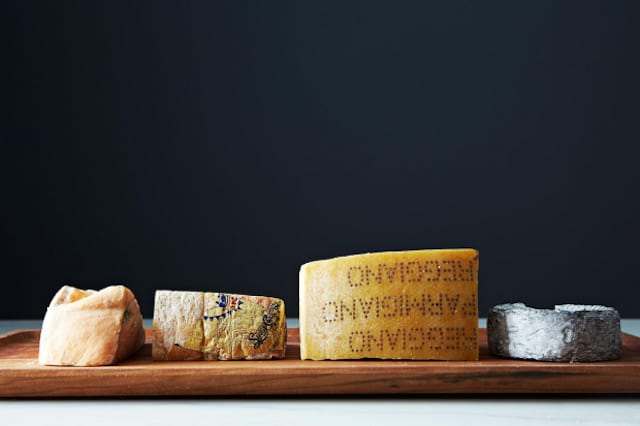 Food 52
Select 3-5 varieties of cheese at most for a varied, yet not overwhelming, tasting experience. Variety is key, so include a selection of cow, goat, and sheep cheeses as well as different textures and tastes: soft, hard, sharp, creamy, bitter. Feel free to cater these cheeses to your own preferences and those of your guests, but don't be afraid to try something new: that's the main purpose of a cheese tasting, after all.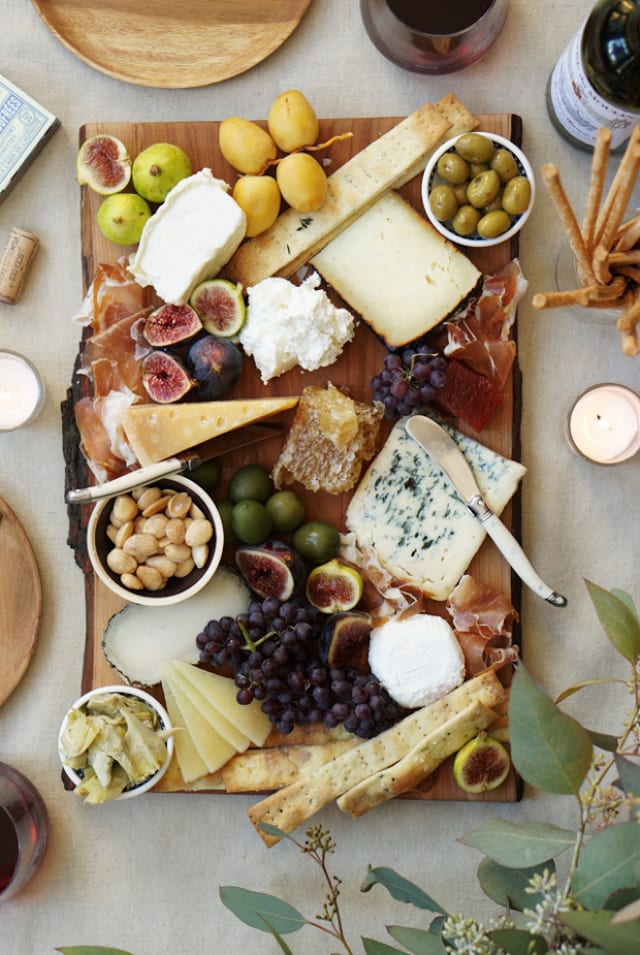 Honestly Yum
Pairings
Once you've selected your cheeses, it's time to decide what ingredients to pair them with. Thoughtful pairing is critical: you want to select flavors and textures to complement your cheese choices, not mask or overpower them. For this reason, wine isn't always recommended as a beverage pairing, as the tannins in the wine can dull the palate with each sip. Instead, try an effervescent beverage like apple cider, which refreshes the palate and is full of autumnal flavor.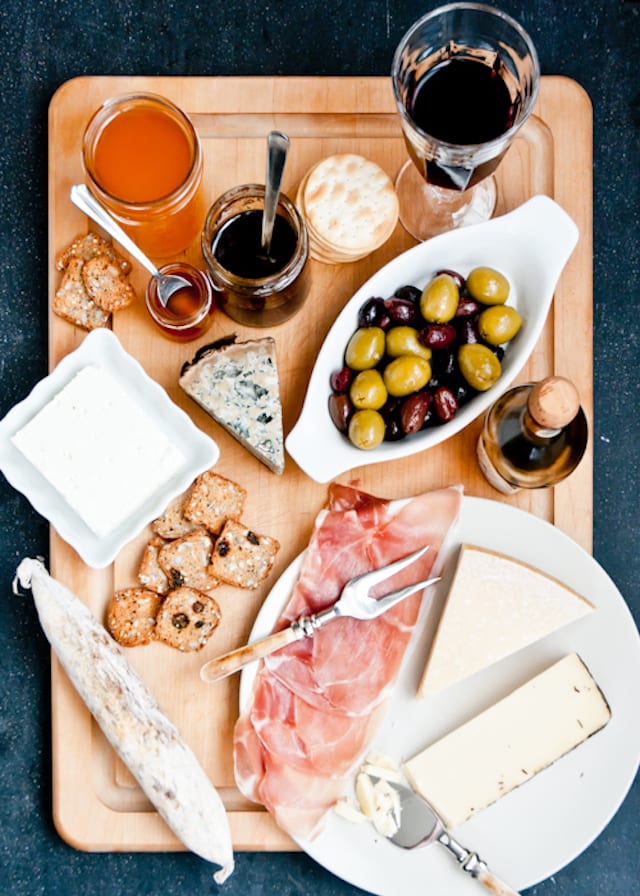 Design Mom
As with your cheese, be sure to include a spectrum of flavors and textures with your accompaniments. Sweet offerings, like honeycomb, dried figs and apricots—and fresh seasonal fruits like sliced pears or apples—offer a welcome contrast to sharper cheeses. Savory ingredients, like prosciutto, olives, pickles and sun-dried tomatoes help to add depth to more mild cheeses. Salty or spicy additions like crackers with cracked black peppercorns or pepper chutney can create unexpected flavor combinations.
Presentation
Selecting the right board for presentation is essential. Steve Jones, owner of Cheese Bar, recommends a board made of organic material like wood or slate: "It makes it look more alive if it's on something organic…it's true that you eat with your eyes first." Make sure that you also include a different knife for each cheese; there are a variety of cheese knives available for speciality cheeses and spreads, and if you've got picky guests, consider labeling the cheeses with a brief description of their flavor profile.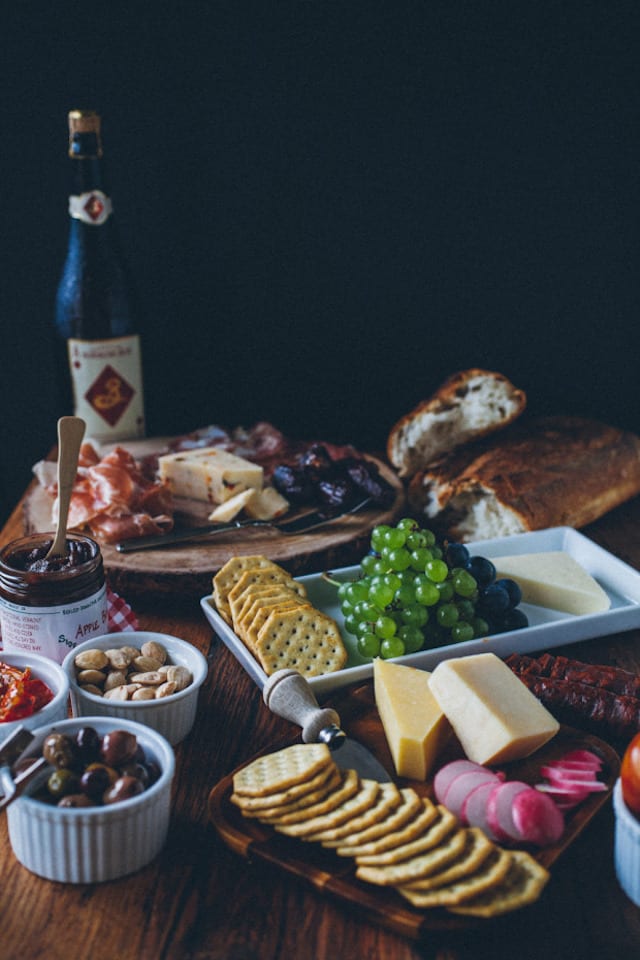 The Crepes of Wrath
It's also important to consider the different components of your cheese board—size, color, and texture. Starting with the mildest cheeses and working your way to stronger ones will help to ensure that your palate isn't overwhelmed.
Inspiration for cheese board presentation is limitless. Focus on one kind of cheese and experiment with different varieties or pairings. Try serving a sampling of cheeses from across the world for an international cheese tour. Or keep it closer to home by only selecting only locally produced cheeses and ingredients. The key is to be intentional about your choices, so regardless of the theme you've selected, take care in ensuring that each component contributes to the overall experience.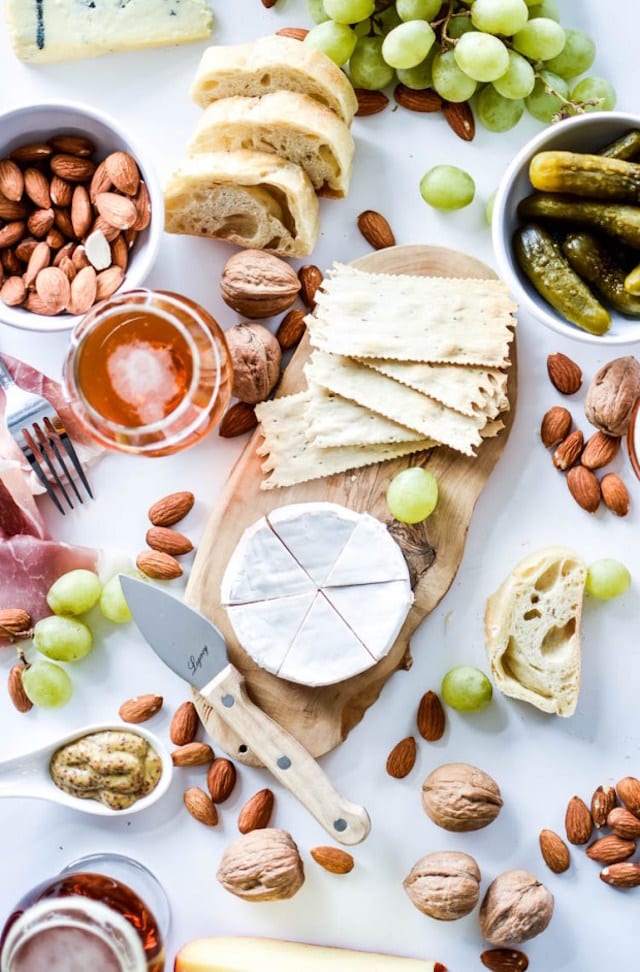 Cooking and Beer
Creating a cheese board is a creative and fun process. Use these suggestions as guidelines for designing your own, but free free to color outside the lines when it comes to your selections and pairing choices. After all, it's your party! With these things in mind, you'll be on your way to hosting a wonderful cheese tasting in no time.
Relish
Offering more than 14,000 recipes plus features and DIYs on cooking, dining and entertaining, Relish celebrates America's love of food. Relish is about honoring cooking traditions while exploring new trends and ideas, which is why millions of people turn to both Relish.com and Relish Magazine for special occasion recipes, quick and easy weeknight suppers and culinary adventures.