All the ingredients of jambalaya are skewered, grilled to perfection and then nestled in a flame-toasted, buttered bun.
By Sarah & Mark Burbridge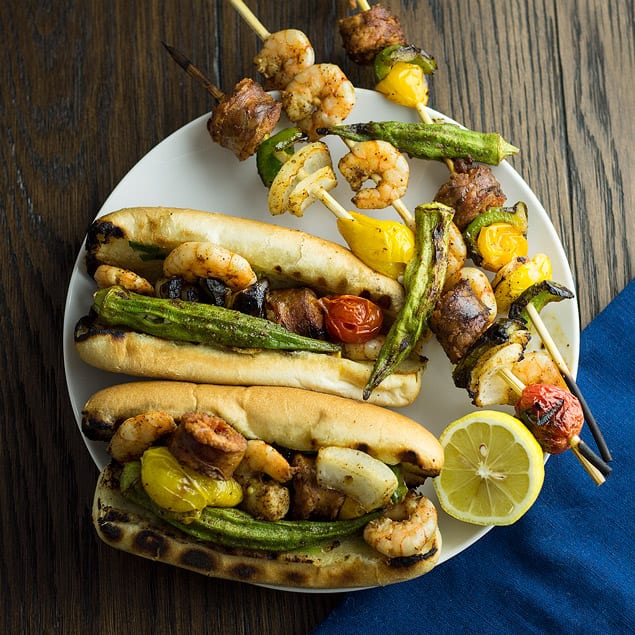 It is tailgate season. The patio is decked out in your football team's colors, the beer is iced down, and it is time to put all manner of food on sticks. And, hell's bells, do we ever love putting food on sticks. We've been doing it since man discovered fire and stuck his velociraptor haunch onto the end of his spear.
And yet the handful of hundreds of thousands of years we have had to perfect the shish kebab does not seem to have gotten us very far at all. All too often, what ends up on the paper plate before us is a skewer of under-seasoned, shriveled meat smashed up against luke-warm, raw vegetables with blackened edges. But, bully for us, there are some very easy adjustments we can make to our kebab execution that will prevent this all-too-familiar BBQ buzzkill.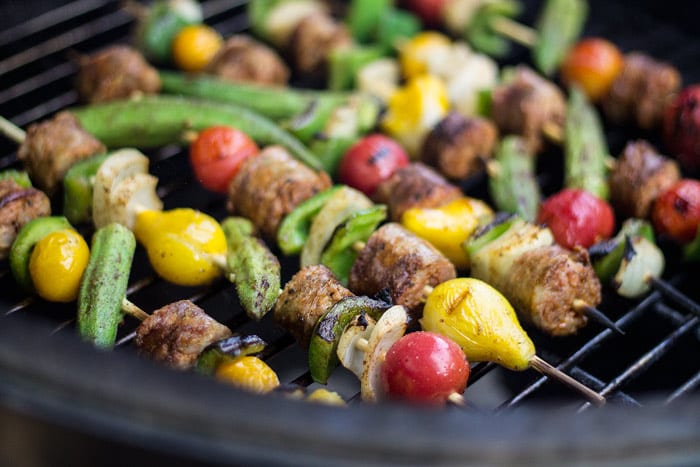 Relative cooking times are important: I know it sort of dims the ambiance of the kebab concept, but grouping together ingredients with similar cooking times trumps single-skewer-variety. For example, in the recipe below, the shrimp is skewered separately from everything else, and the sausage is par-cooked before going on the grill. Considering and preparing each ingredient based on it's own merits will ensure their successful mingling.
Ingredients need their space: The object here is not to see how much you can cram onto one skewer. The heat needs to be able to reach all surfaces of each ingredient fairly equally. This cannot happen if ¾ of the green pepper is insulated by a giant mushroom on one side and a zucchini discus on the other. Leave a little room in between ingredients and they will all cook more evenly.
Your ingredients have one job: And that is to roast to smoky bliss, not to season the other ingredients during grilling. Everything that goes on the skewer should be seasoned as if it was going on the grill by itself. Again, a great kebab is one where you have an assembly of individually delicious ingredients that team up for the win.
Stop the free-for-all madness: If you wouldn't combine flavors on a plate or in a bowl – putting them all together on a stick ain't gonna cut it. Think about your kebab combinations in the same way you would think about any other recipe or dinner.
With that last bit said, might I suggest the concoction that we have been tinkering with as of late? It features all the stars of Bourbon Street's beloved jambalaya. We took spicy andouille sausage, fresh shrimp, okra, tomato, onion & pepper. We spitted and grilled them all to sweet/smoky/spicy perfection, and then we served them up on flame-toasted buns spread with green onion butter.
Believe me when I say, you are going to need the good beer for this one.
Print
Jambalaya Skewers
All the ingredients of jambalaya – skewered, grilled to perfection and then nestled in a flame-toasted, buttered bun.
Author:

Pickled Capers

Yield:

3

-4

1

x
Category:

Main Dish
3

links of Andouille Sausage (the soft uncooked kind – not the dry cured)

½

lb (225 g) Shrimp (uncooked, size 50/60)

½

lb (225 g) Fresh Okra

1 pint

(

25

–

30

count) Cherry Tomatoes (if you can find the small heirloom grab them up)

1

Green Bell Pepper

1

Yellow or White Onion

¼

C (60 ml) Extra Light Olive Oil

2

T (30 ml) Cajun Seasoning* (We used Tony Chachere's)

1

pkg (8) Hot Dog Buns
Green Onion Butter:
1

–

2

Green Onions, trimmed and minced

1

stick (113 g) Butter (softened)
Special Equipment: Skewers
Instructions
Peel the shrimp, and set aside.
Par-cook sausage in boiling water for 5-6 minutes. Let cool and cut into roughly 1″ chunks.
Chop onions and peppers into roughly 1″ chunks.
In a large bowl mix seasoning and oil. Put in all ingredients and toss until well coated.
Carefully (ingredients are slick and skewers have pointy ends, people) skewer ingredients. Shrimp should be skewered separately. All other ingredients should be skewered in an alternating fashion together.
Grill the veggie/sausage skewers on a well-oiled grill, with lid closed, over medium heat for gas or over direct flame for charcoal. Skewers should be flipped at about 5-8 minutes – look for charring on veggies and a little bubbling on the sausage. Repeat on other side. Remove and loosely cover with foil to keep warm.
For the shrimp, grill on well-oiled grill with lid open for about 2 minutes per side or when pink color starts creeping up over the top half of the shrimp. Flip and cook other side for same amount of time.
Remove all ingredients from skewers and serve on toasted buns.
Toasted Buns with Green Onion Butter
Mix green onions and butter. Spread evenly over each half of a hot dog bun. While grill is heating, place face down and let toast for 2-3 minutes, watching closely. Don't fear the butter flare-ups.
A quick note: When cherry tomatoes come off the grill, they are essentially mini lava balloons. Treat them as such. It is a terrible, terrible idea to pop a stray one fresh off the flame into your mouth.
Notes
*Most cajun seasoning mixes contain salt. If yours does not, then sprinkle skewered ingredients with salt before grilling.
Sarah & Mark
Sarah (whiskey swilling writer) and Mark (doc and dishwasher-loading critic) created the site PickledCapers.com for those who love to gather friends in their kitchen; to break out the cake pans, the sauciers and the BBQ brushes; to clink glasses together in celebration; and to shine up new shoes for nights destined to deserve "remember that time…".