SPONSORED POST – Versatile, food-friendly and fun, discover Beaujolais and all the ways to invite the wine to your celebrations this summer.
Get out of the house and enjoy a fun picnic of delicious Smoked Pork Tenderloin Sandwiches and Beaujolais Wine.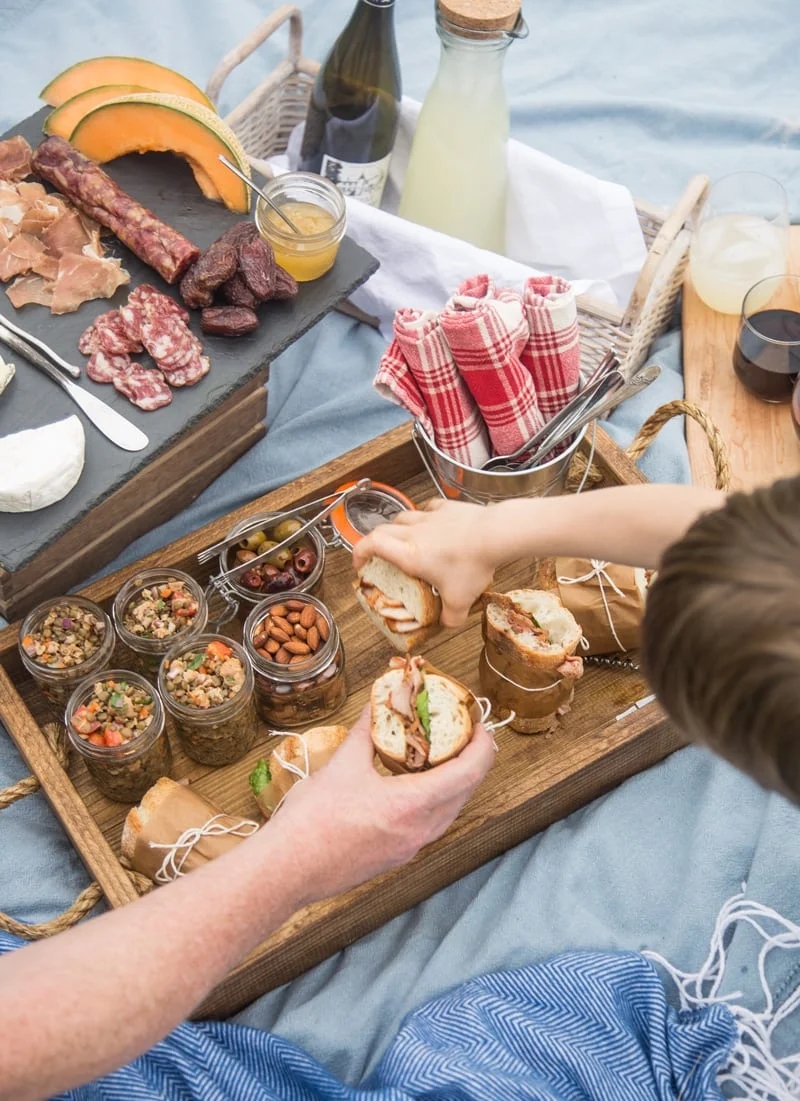 As much as we're all about grilling and backyard barbecues around these parts, I'm also a huge proponent of picnics!
I love packing up the car and venturing to a park, the beach, the mountains, or even a winery, and then laying out a blanket, a fun spread, a bottle of wine, and some simple sports equipment for the kids to play with to keep them entertained.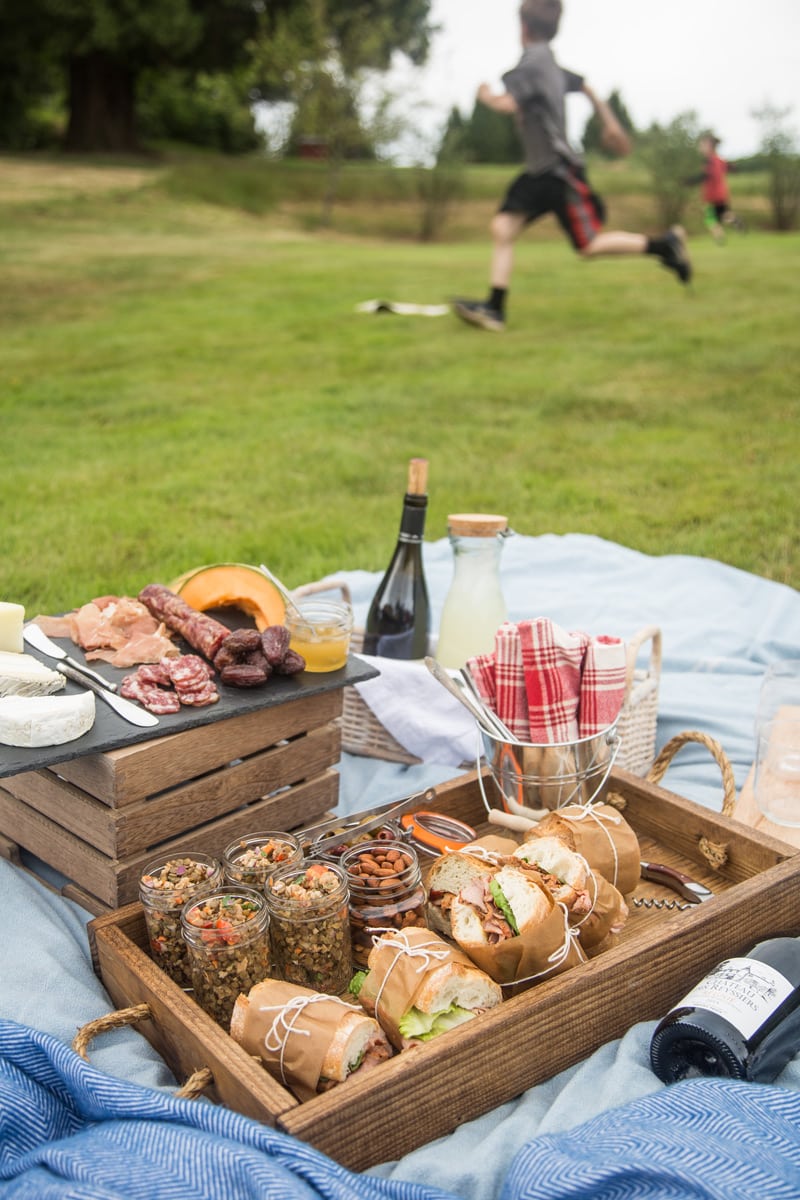 And while its easy to just pack up some cold cuts and packaged snacks to truck along to your picnic, it can be just as easy to step up your picnic game and make it a little elegant. And of course there's always a wine to pair with whatever you pack.
JAZZED UP SANDWICH IDEAS FOR A PICNIC
One way I like to jazz up a simple sandwich is to smoke or grill a pork tenderloin, slice it thin, and serve it on a baguette.
One (1-1 ½ ) lb pork tenderloin, sliced thin, served on one baguette will serve 4-5 people (depending on the length of your baguette). You don't have to add too much to the sandwich either. Some Dijon mustard and some arugula or other crunchy greens will do.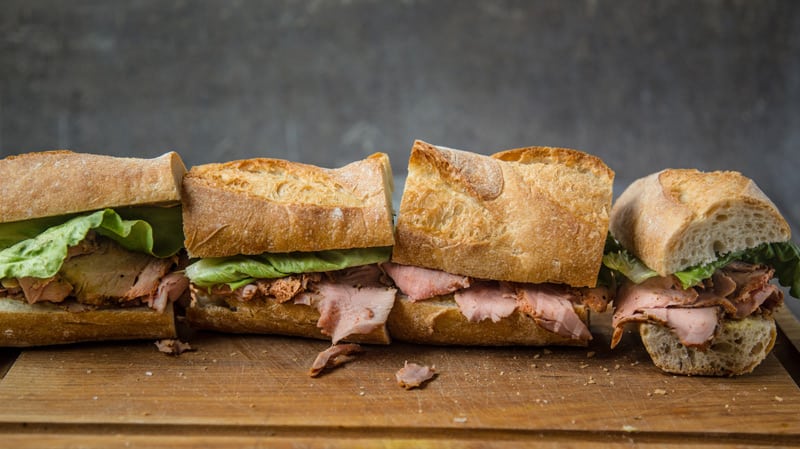 COOK THE PORK TENDERLOIN IN ADVANCE
You can cook the pork the night before, or the morning before your picnic, and slice the pork thin and assemble your sandwiches before you go, or you can get fancy and cook the pork on site (if there are grills available to use where you go). Whatever floats your boat. But this sandwich is intended to be served cold, so it's easy to just do in advance so you can spend your picnic chillin' with your friends and family and sipping on some wine.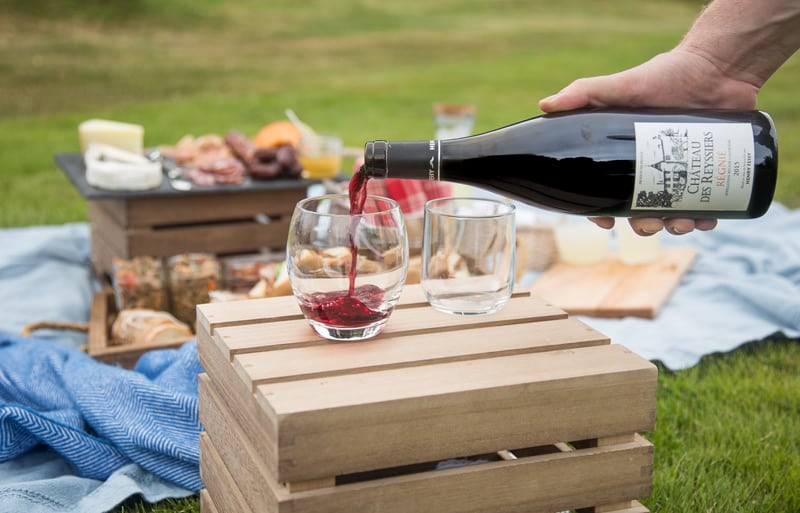 WINE PAIRING FOR YOUR PICNIC
When it comes to wines for a picnic I like to keep it simple. I look for three things: value, refreshing, light-bodied.
Quite often I reach for rosé, because it fits all of the above mentioned and pairs well with almost anything you'll bring to your picnic. But for these Pork Tenderloin Sandwiches I'm aiming for a light bodied red to pair.
BEAUJOLAIS — A PERFECT PICNIC WINE
Beaujolais is a fantastic option. Beaujolais is often overshadowed by it's neighbor up north, Burgundy where Pinot Noir is king. And Beaujolais, made from Gamay Noir grapes, reminds me a lot of Pinot Noir – it's light bodied, red berry fruit focused, sometimes earthy and minerally – but is much more affordable than it's northerly neighbor, making it a great option if you're looking for value. They also tend to have bright acidity and low tannins, another factor leading to a great wine for versatile and easy food pairing. Served slightly chilled makes them super refreshing. Check!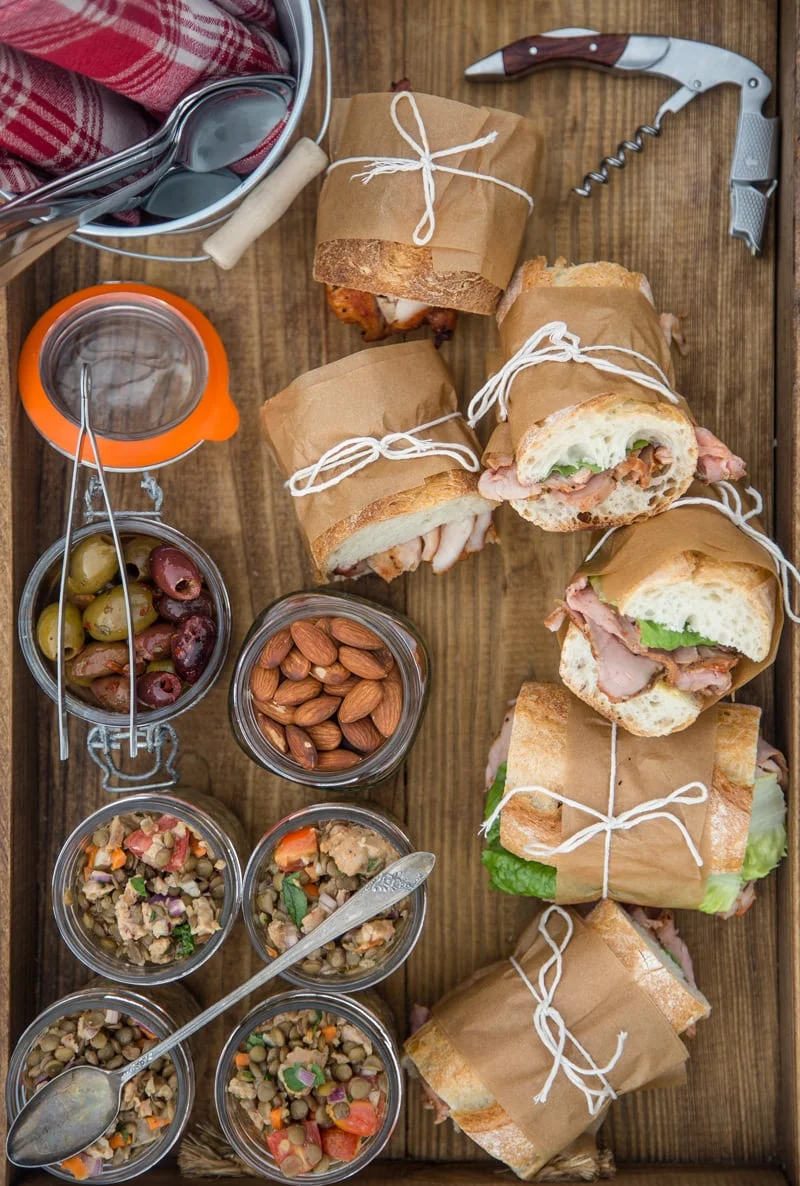 See Also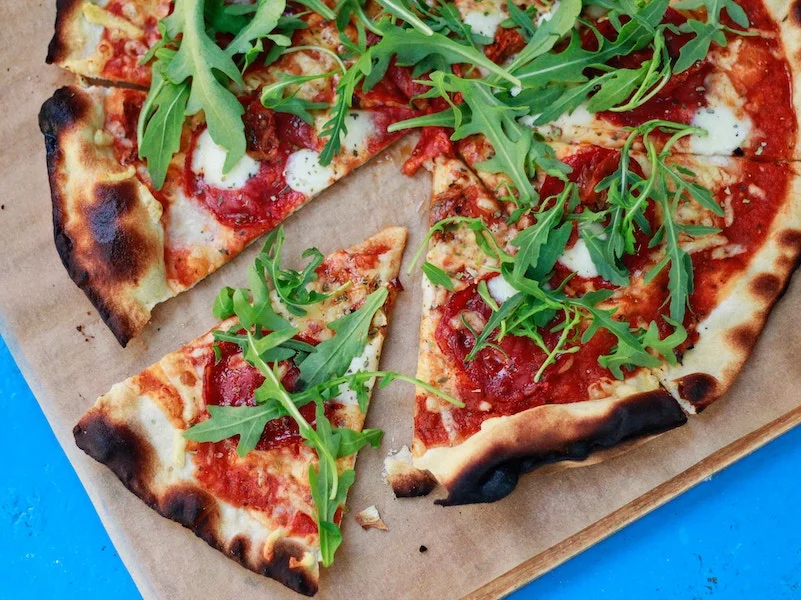 There are different classifications and styles of Beaujolais (from the super fresh "Nouveau" to richer and more elegant Cru styles) but for the purpose of this pairing, we're going with something in the middle. You can find these ranging from around $10-$20, which is that value spot I'm aiming for when it comes to a picnic wine.
Beaujolais come in rosé, white, and red. But for this recipe we're sticking with the red.
Speaking of our picnic we have a few tips for you to enjoy an elegant picnic without any stress. The whole purpose of a picnic is to have a fun and carefree time!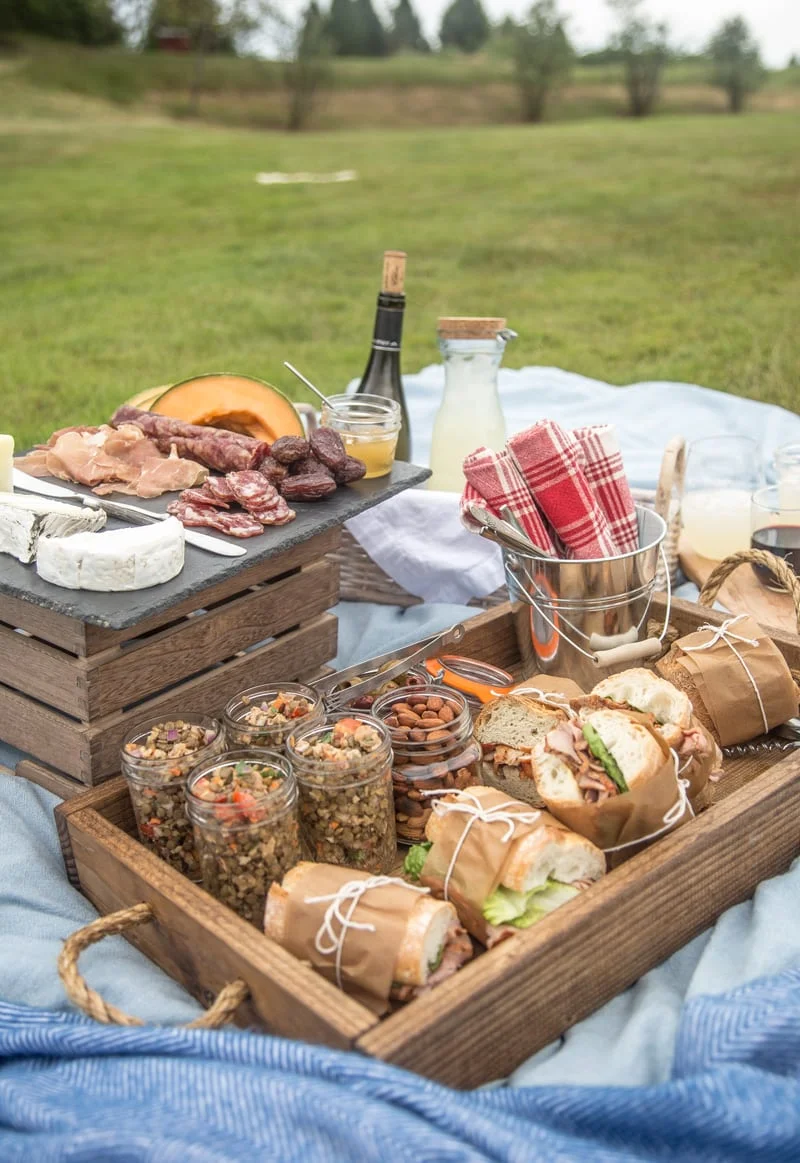 TIPS FOR AN EASY AND SUCCESSFUL PICNIC
Don't over think serving dishes or platters. Look for what you have in the house. Use a coffee tray or cutting board to serve your food on. Use a basket to load up your supplies. This dubs as a small table once you arrive to your location (just turn it upside down and use the bottom to place food on).
Don't have a cool picnic blanket? Use a tablecloth.
Wrap your sandwiches at home using kitchen twine, and you won't need a plate for serving.
Serve sides and drinks in mason jars. I have way too many mason jars to admit here, but I use them for everything (storage containers, drinking cups, container to store leftovers, you name it). The best thing about these is you won't need to transfer dishes like salads into another serving container when you show up to your picnic. Just twist off the top, eat your food, and then put the top back on when transferring food back home. This saves on dishes when you return, and also minimizes spillage or disaster.
Bring cutting boards in lieu of plates.
Serve wine in tumbler glasses or stemless wine glasses (or mason jars!!!). No need to be all fancy and bring your expensive breakable wine stems. This is a picnic and you're likely to be eating on uneven ground. Stemless glasses are just fine for this purpose. But do bring a cutting board or coffee tray to use to set your glass on when you're not sipping on wine. It will help stabilize the glass.
Click here for the dry rub recipe for the pork.
Print
Perfect Picnic: Smoked Pork Tenderloin Sandwiches and Beaujolais Wine
Author:

Mary Cressler

Yield:

4

servings

1

x
Category:

Main
1

pork tenderloin (approximately

1 ¼

lbs)

1

–

2

tablespoons Dijon mustard (to coat)

2 tablespoons

dry rub (*see above for dry rub recipe)

1

baguette
optional additional Dijon Mustard for the sandwiches
optional arugula or lettuce for topping sandwiches
Instructions
To Smoke the Pork Tenderloin
Preheat Smoker to 225 degrees using a fruit wood (we like apple).
Coat the pork tenderloin with a layer of Dijon mustard (just to coat and allow the dry rub to adhere).
Sprinkle the dry rub liberally around the entire pork tenderloin.
Place tenderloin on the smoker for about an hour or until the internal temperature is 145 degrees Fahrenheit for medium rare, and then remove from heat. Like it more well done? Go for 160 degrees.
Let rest for 10 minutes and then slice thin for sandwiches.
To assemble the Smoked Pork Tenderloin Sandwiches
Slice the baguette in half lengthwise, then across in 4-5 equal sized pieces (about 4 inches long, the amount of slices will be based on the length of your baguette. We got 5 equal parts from our baguette in the photos).
Layer your sandwiches with some Dijon mustard (or aioli works nice too), a few slices of your pork tenderloin, and then top with some crunchy greens.
For ease of transportation, wrap your sandwiches with kitchen twine so they don't fall apart en route to your picnic.