Every ingredient has a perfect pair and for owners of the restaurant Martha in Brooklyn they are a perfect pair, too. Recreate their signature fried brussels sprouts without leaving home.
By Michelle Tchea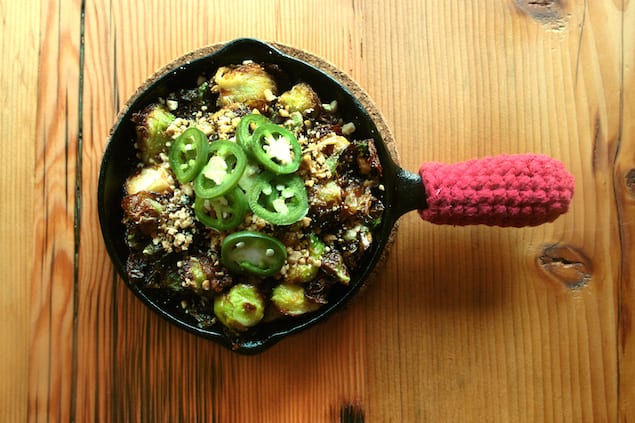 Image: Martha, Brooklyn
Cheese and wine, ice-cream and apple crumble, vegemite and avocado. There really is a perfect pair to every ingredient.
Martha, in Fort Greene Brooklyn plays to the same tune with The Perfect Pair, Husband and wife duo – Andres Valbuena (chef) and beautiful partner in life and business, Melissa Gorman the inspiration.
Starting as a pop-up kitchen and now as a full-blown restaurant, I have luckily gained an exclusive recipe that many locals crave.
Eat your greens and make your mum happy with this delicious, slightly up-market take on Brussels Sprouts. The best thing is: no annoying measuring cups – just play it by ear! Love honey? Add more. Love zingy lime juice? Squeeze a bunch. It doesn't matter, just release the inner chef in you!
If you don't want to deep-fry these suckers, try roasting them at a high temperature to get that charred yumm-iness

The Perfect Pair: Fried Brussels Sprouts from Martha Restaurant in Brooklyn
Every ingredient has a perfect pair and owners of restaurant Martha in Brooklyn are a perfect pair, too. Recreate their signature fried brussels sprouts.
Ingredients
Brussels Sprouts
Fish Sauce
Honey
Lime Juice
Chile Paste (Sambal or Sriracha will work in a pinch)
Crushed Peanuts
Pickled Jalapenos
Canola or other Vegetable Oil for frying
Instructions
Cut Brussels Sprouts in half, lengthwise.
Heat oil in deep-sided skillet or pot (enough to cover your Sprouts).
When oil is hot, carefully add Sprouts and deep-fry for 3-4 minutes, or until slightly charred and browned.
While Sprouts are frying, mix Fish Sauce, Lime Juice, Honey and a touch of Chile Paste into a dressing. Taste as you go to see what ratio of ingredients you like best.
When Sprouts are ready, drain in a colander to get rid of excess oil, then place in a bowl and toss with dressing.
Garnish with Crushed Peanuts and Pickled Jalapenos.
Michelle Tchea
Michelle Tchea is a 4-time bestselling author. Her books include, Building a Perfect Meal, My Little SoHo Kitchen, Signature Dishes (Australia's Best) and Chefs Collective. Her work can be found in other leading luxury travel and food magazines including Travel+Leisure Asia, SMILE, NUVO Magazine and The Telegraph