Perfect Greek Yogurt Waffle Batter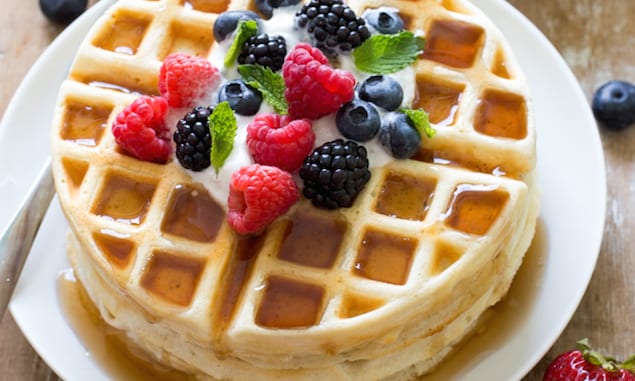 Crispy on the outside and soft on the inside, these Greek yogurt waffles can be made in less 30 minutes with delicious tangy flavor and plenty of protein.
By Kelley Simmons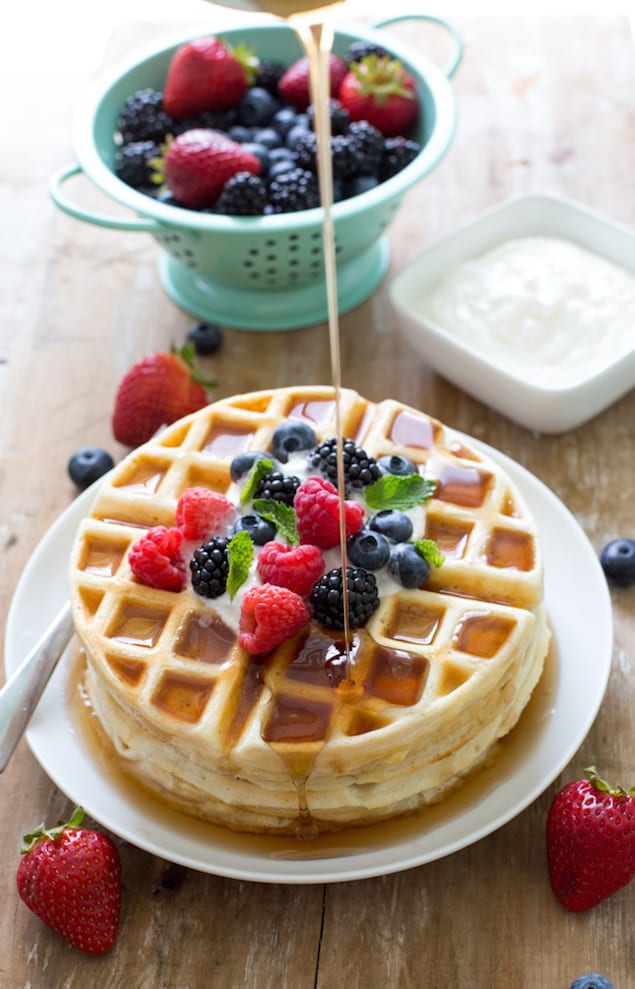 Soft and Fluffy Greek Yogurt Waffles. Crispy on the outside and soft on the inside. They take less than 30 minutes to make and are the perfect way to start your day!
One thing I came across a lot when making waffles was that they weren't getting crispy on the outside. There's nothing worse than a limp soggy waffle. To fix the problem I researched tricks for a crisp waffle and came upon this recipe by Pam Anderson. She has found that adding cornstarch to the batter helps to keep the waffles nice and crispy.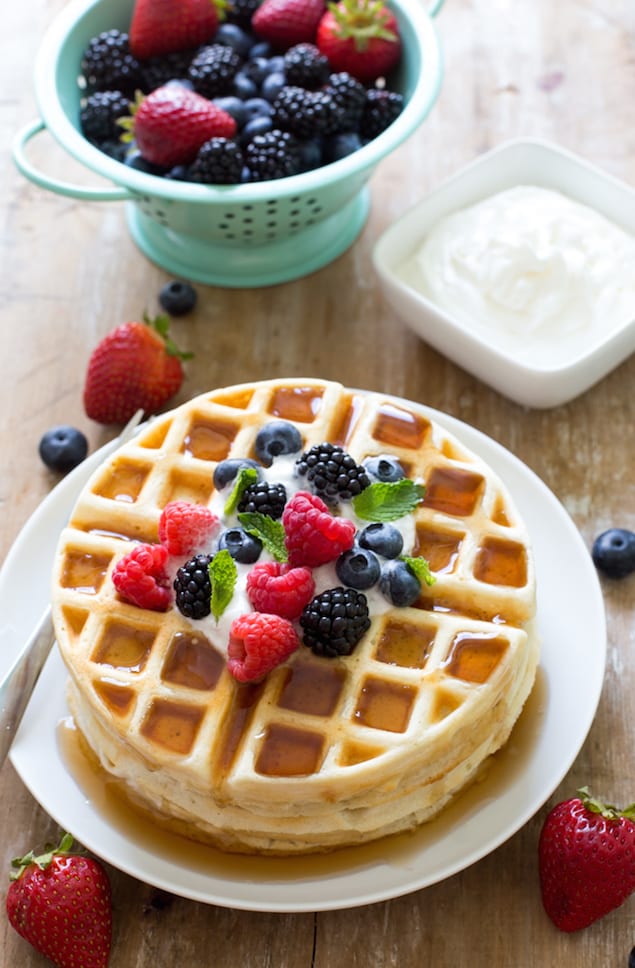 Greek yogurt adds a nice tang and richness to the waffles. It also provides an added boost of protein. Make it even healthier and add in some flax seed!
A couple tips for making the best waffles every time:
Don't overwork the batter. Whisk until the dry and wet ingredients are combined that's it.
Keep waffles warm in a 200 degree oven to stay crisp.
Don't stack waffles on top of one another when they are warm. They will loose their crispiness.
You can serve them plain or drizzled with maple syrup or honey. Or top with my Mixed Berry Compote!

Perfect Greek Yogurt Waffle Batter
Crispy on the outside and soft on the inside, these Greek yogurt waffles can be made in less 30 minutes with delicious tangy flavor and plenty of protein.
Recipe Type:
Breakfast, Waffles
Ingredients
2 cups all purpose flour
1 tablespoon baking powder
3 tablespoons sugar
½ cup cornstarch
2 whole eggs
½ cup plain greek yogurt
1 teaspoon vanilla extract
1½ cups milk
Instructions
Preheat oven to 200 degrees.
Preheat waffle maker.
Add flour, baking powder, sugar and cornstarch to a large bowl.
In a medium bowl combine eggs, greek yogurt, vanilla and milk. Whisk to combine.
Make a well in the dry ingredients and at the wet to the dry.
Whisk batter until combined. (Make sure not to overmix)
Add batter to the waffle maker and cook in batches.
Store cooked waffles in the oven to stay crisp. I place mine directly on the oven rack.
Serve waffles immediately with whipped cream, fruit and syrup.
Kelley Simmons
Kelley is a twenty something writer hailing from Delaware, and photographer behind chefsavvy.com. She started blogging in the beginning of 2014 and has been hooked ever since. She takes the worry out of cooking and helps reader's conquer their cooking fears with simple, easy to follow recipes.