These pan fried spaghetti fritters are very simple to make, and taste absolutely delicious.
By Kankana Saxena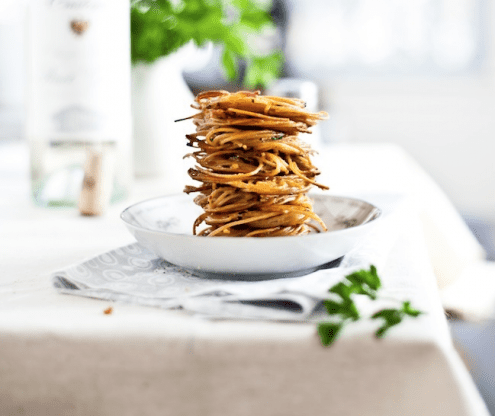 If you enjoy pasta as much as I do, these fritters will make you very happy. They are not deep-fried and extremely easy to create with very minimal prep time. You know those days when you are looking for an easy, quick appetizer so you can concentrate more on the main course? Well, this could be the one.
All you need is spaghetti and some fresh herbs for the flavor. And if you don't have any pasta at home, try any kind of thin noodle of your choice and smack it up with the spices or herbs you like. Do not over fry it; just two minutes on each side should be enough.
Just like any other fritters, serve it hot immediately after you fry it.
These pan fried spaghetti fritters are very simple to make, and taste absolutely delicious.
Author:
Kankana Saxena, adapted from Jamie's Italy
Recipe Type:
Appetizer, Party Food
Ingredients
3 oz whole-wheat spaghetti, broken in half
1 egg
2 cloves garlic, grated
1 cup finely chopped fresh parsley
½ tablespoon oregano
1 teaspoon chili flakes
⅓ cup freshly grated parmesan cheese
zest of half lemon (optional)
1 tablespoon fresh lemon juice (optional)
½ tablespoon freshly cracked pepper
oil for pan frying
salt
Instructions
Boil pasta for about 8 minutes in salted water.
While the pasta is boiling, crack egg in a bowl and whisk. Then, add garlic, chopped parsley, oregano, chili flakes, parmesan cheese, lemon zest and lemon juice and mix.
Add boiled pasta to the bowl and give it a mix using a fork or a tong.
Pour two tablespoons of oil in a pan and heat it.
Using a fork or a tong, take little bit of the spaghetti mixture and drop it to the hot pan. Fry it at a medium high heat for about 2 minutes on each side.
Once done, sprinkle some salt and lemon pepper(optional) on top. Serve hot.
Kankana Saxena
Kankana Saxena shares culinary journey, travel stories and passion for photography in her blog 'Playful Cooking'. Her cooking style is mostly nutritional with little bit of indulgence here and there. She believes in the mantra 'homemade is happiness'! She is a native of India but currently resides in Santa Clara, California with her husband.