Deviled eggs can get ugly if not done right. The eggs can be overcooked; the filling is bland, or they turned out just plain ugly. Don't be that guy. In fact, it's time to toss out Grandma's recipe (or at least place it gingerly to the side) and try out some fresh, uniquely-flavored deviled egg recipes that will knock the socks off your party guests.
By Emily Barrett
This article has been posted with permission and originally appeared as 11 Next-Level Deviled Egg Recipes on Relish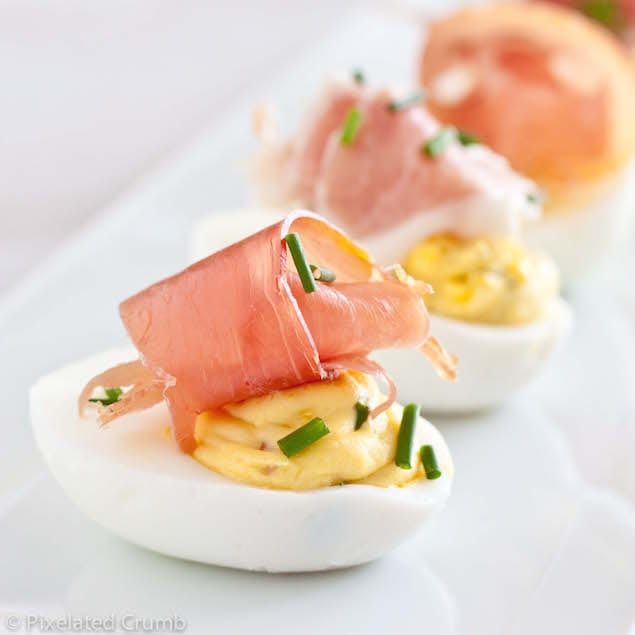 www.pixelatedcrumb.com
Goat Cheese Deviled Eggs with Prosciutto
Nothing says "fancy" like a good cheese and prosciutto pairing. Here, tangy, velvety goat cheese mixes perfectly with smooth mayonnaise and Dijon mustard for a new twist on classic deviled egg filling. With added cornichons (gherkins), shallots, chives, and a thin, salty prosciutto garnish, there is no way these deviled eggs could be bland or boring. Find the recipe here.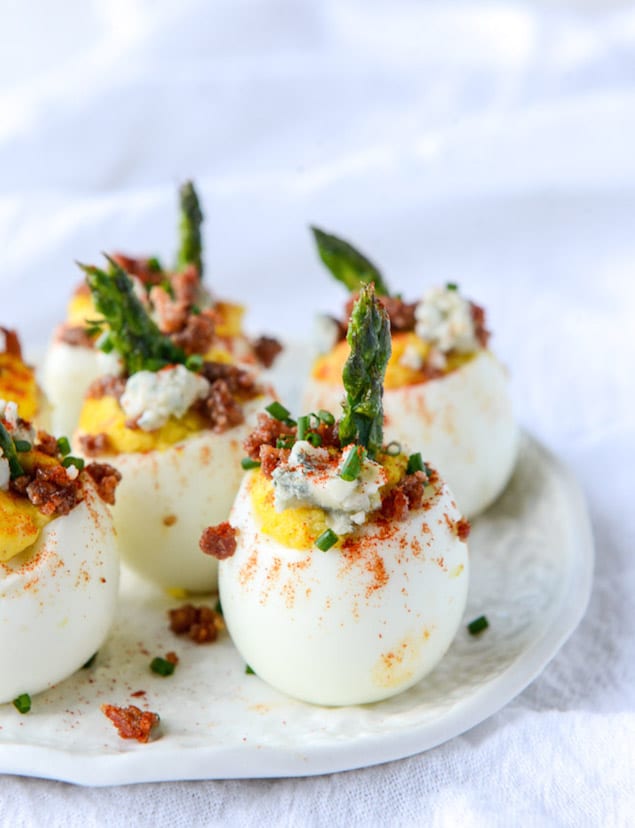 www.howsweeteats.com
Bacon Blue Deviled Eggs with Roasted Garlic and Asparagus
FACT: Cheese and bacon make everything better. Tangy blue cheese is rich and crumbly, and alongside salty, crunchy thick-cut bacon, you've got yourself a flavorful garnish. Not to mention that the asparagus is seared in bacon fat, garlic and seasonings—just the thing to kick your eggs up a notch. Find the recipe here.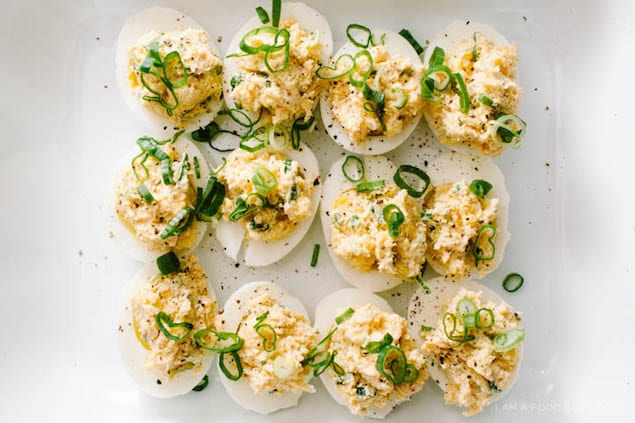 www.iamafoodblog.com
Crab Rangoon Deviled Eggs
Just when you thought it couldn't get any crazier, someone invented crab rangoon deviled eggs—praise! Delicate crab meat is sweet and mild, which works miracles when paired with thick cream cheese and the subtle contrast of green onions. A squeeze of lemon and a drop or two of sriracha add just the right intensity to this dish. Gotta be one of the best combos around. Find the recipe here.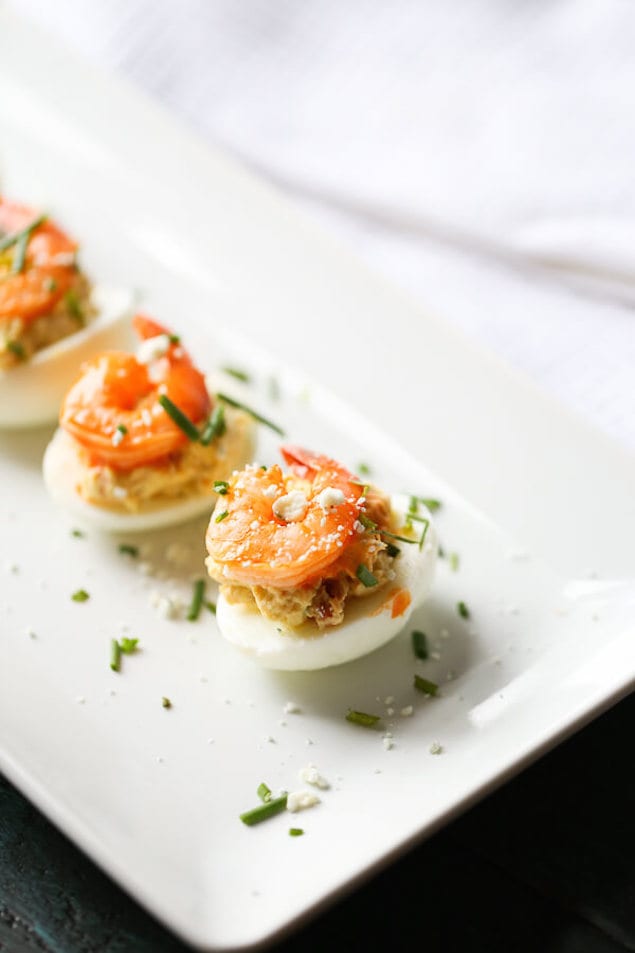 www.lemonsforlulu.com
Buffalo Shrimp Deviled Eggs
Mild, sweet shrimp with tangy hot buffalo sauce? We're sold! This recipe combines everything that goes with a classic buffalo dish into a deviled egg recipe—including fresh celery and blue cheese. Mixed together with finely chopped shrimp, chives, mayo, Greek yogurt, butter and paprika (a nod to the classics), this recipe nails it. Plus, you get a whole shrimp on top, so it's an extra-hearty app. Find the recipe here.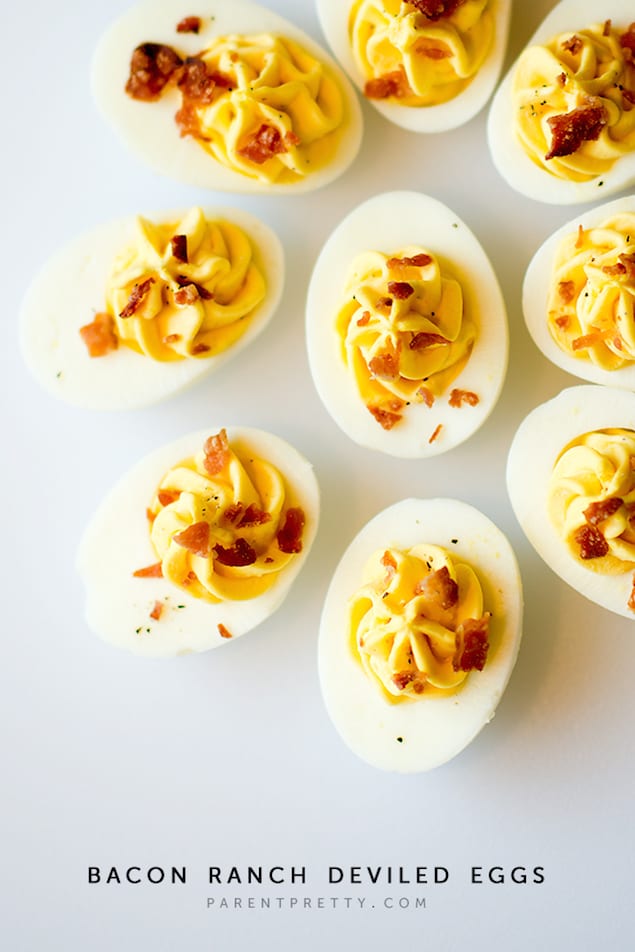 www.parentpretty.com
Bacon Ranch Deviled Eggs
Basically, we want to call this the cowboy of deviled egg recipes . I mean ranch, cream cheese and bacon…that's a pretty serious combo. Ranch dressing takes plain mayo to the next level with its distinct flavor, and of course, bacon…need we say more? Find the recipe here.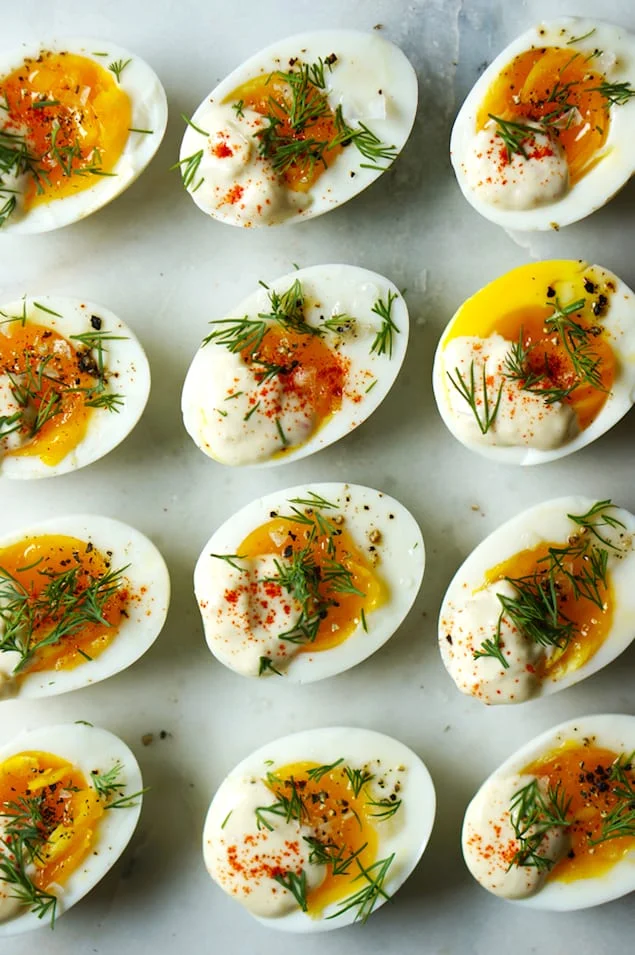 www.honestlyyum.com
Soft-Boiled Deviled Eggs
Also deemed "deconstructed deviled eggs," this recipe uses everything you love about deviled eggs, but in a whole new way. With gooey yolks left in the egg, a dollop of sauce, a sprinkle of dill and a dash of paprika, this recipe totally refashions the idea of deviled eggs—and the presentation is STUNNING. Plus, the cream sauce requires a quality mayo, white vinegar, and Dijon mustard, which, when mixed together, become tangy and packed with flavor. Find the recipe here.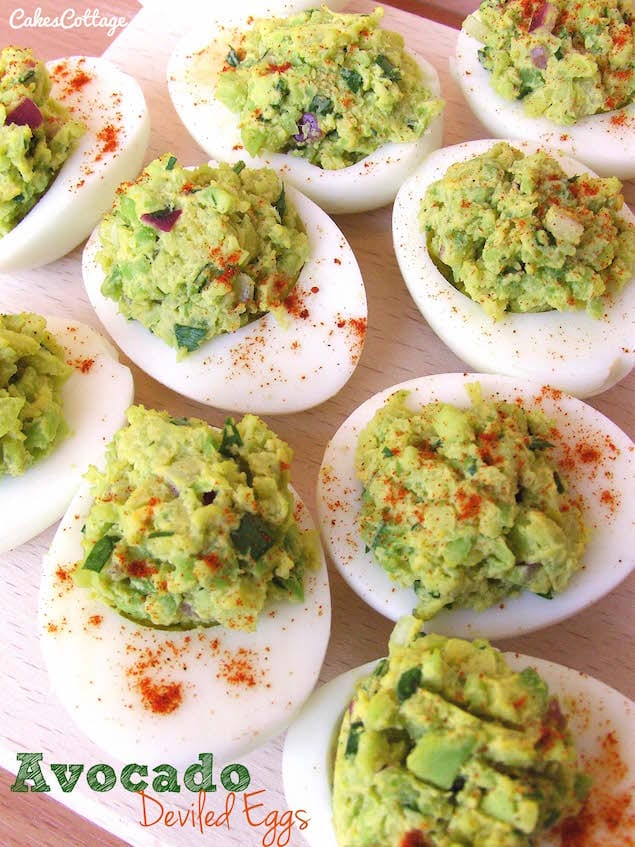 www.cakescottage.com
Avocado Deviled Eggs
Guacamole meets deviled eggs. Which is to say…yes! With fresh cilantro, tart lime juice, red onion, avocado and egg yolks, this recipe acts as a fresh take on classic deviled eggs with a perfect Tex-Mex twist. Top it off with chili powder instead of paprika for a bite of spice. Find the recipe here.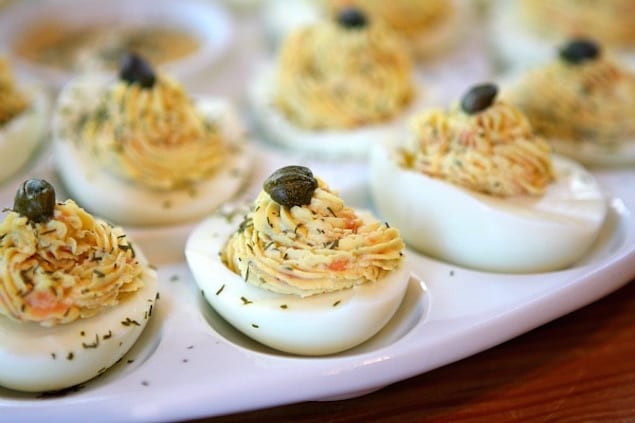 www.recipegirl.com
Smoked Salmon Deviled Eggs
Smoked salmon is a traditionally upscale ingredient that works well for any meal of the day—include party nibbles. Here, the salty, smokey flavor of the fish lends elegant flare to an otherwise pretty classic recipe. Find the recipe here.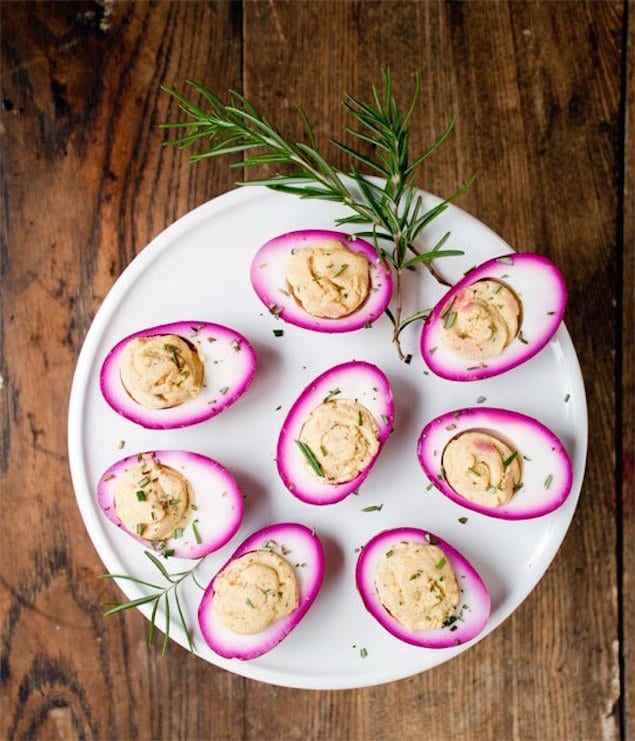 www.thekitchn.com
Beet-Pickled Deviled Eggs
While some might be hesitant to accept the vibrant hue of these eggs, the fact that they are naturally dyed in a pickled beet brine makes it a must-try. The sour, pickled taste on the outside plus the tangy, spiced curry mixture on the inside opens up a whole new world of deviled egg possibilities. Add a sprig or two of rosemary to liven up the presentation. Find the recipe here.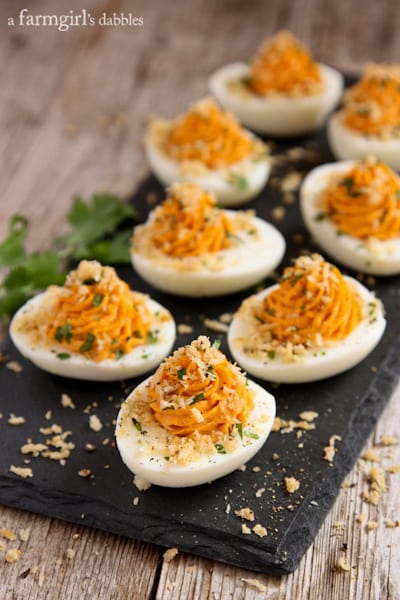 www.afarmgirlsdabbles.com
Sriracha Deviled Eggs with Garlic Toast Crumb Topping
If you like spicy, we'll give you spicy. With sriracha hot sauce and panko crumbs, this deviled egg recipe has a bit of Asian fusion going on that we totally dig. The garlic panko topping adds just a bit of crunch, similar to tempura or crunchy sushi, and of course the sriracha mayo kicks up the heat in a hurry. Sriracha fans will rejoice at the taste of these fiery deviled eggs. Find the recipe here.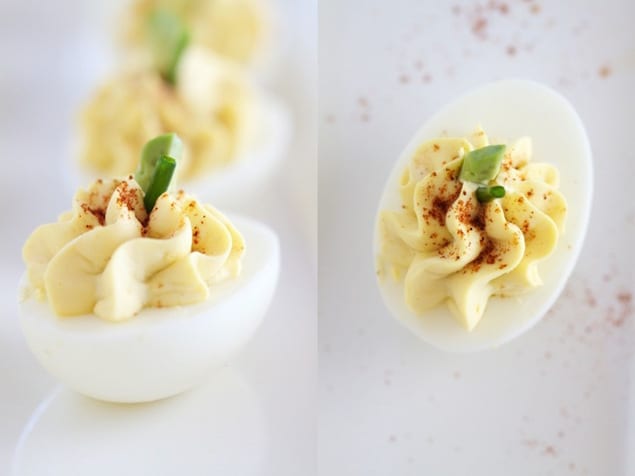 www.epicureanmom.com
Cream Cheese Deviled Eggs
On the tamer side of the spectrum, we have these delightfully creamy deviled eggs made with thick, mouthwatering cream cheese. This recipe basically thickens up and enhances traditional deviled eggs with cream cheese, tangy white wine vinegar, and a delicate garnish of paprika, chives, and avocado. If you're looking for something—but not quite ready to go rogue—this dish is the one. Find the recipe here.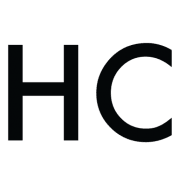 Relish
Offering more than 14,000 recipes plus features and DIYs on cooking, dining and entertaining, Relish celebrates America's love of food. Relish is about honoring cooking traditions while exploring new trends and ideas, which is why millions of people turn to both Relish.com and Relish Magazine for special occasion recipes, quick and easy weeknight suppers and culinary adventures.