This beet and feta bruschetta recipe from Bowen Close is the perfect easy to make appetizer.
By Bowen Close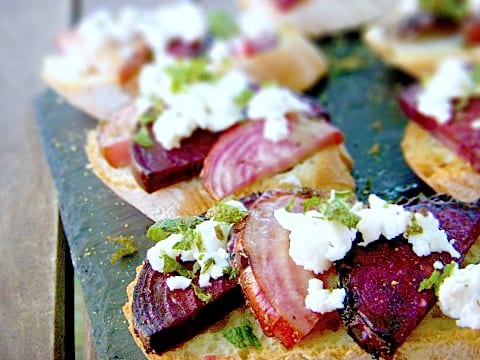 Perfect Appetizer - Beet and Feta Bruschetta
This beet and feta bruschetta recipe from Bowen Close is the perfect easy to make appetizer.
Ingredients
2 beets (we used two different colors, but I didn't even know that until I cut into them)
Feta or goat cheese
Slices of baguette or other bread
Olive oil
1 clove garlic
Instructions
Fresh mint, chopped
Slice the beets and grill until tender (checking with a fork is always a good way to tell).
Grill or toast the slices of bread until lightly golden.
Rub the bread with the raw garlic (cut the clove in half).
Drizzle the oil over the bread.
Places the slices of grilled beets on the bread, top with the cheese and mint.