Pepe Issa makes Pepe Saya, Australia's best butter. It's a handmade effort, with attention to detail and so much passion applied at every stage. The end result? The most superb product. Proof that it's the simple things done well that are one life's greatest pleasures.
By Pepper Passport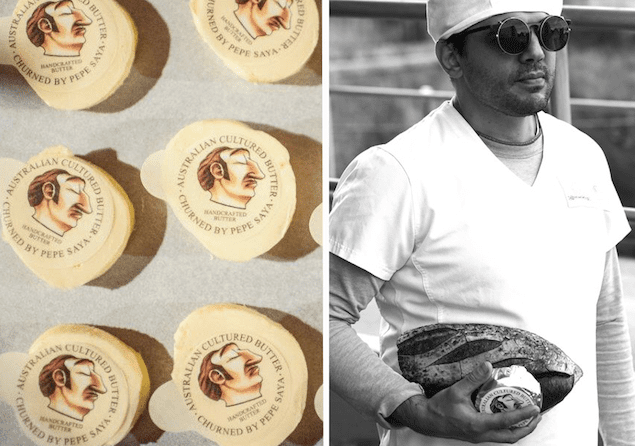 Pepe Saya
As staunch butter enthusiasts, we will be forever in debt to Pierre aka Pepe Issa. For before he and his beyond marvellous, and well, you just want to eat it by the spoonful, hand made cultured butter came along there were some pretty dire options when it came to the 'good stuff' in Australia.
"Butter" was either bought in a tub and with an eerily spreadable consistency owing to lacing of vegetable oil – foul. Or sitting in a slightly more pure form, but in a non-descript block in the supermarket. No more thanks to the creation of Pepe Saya butter, and its ever increasing presence in our speciality shops, clued in convenience stores, and if you're lucky, the pointier end of a Qantas plane.
In our books, what makes Pepe Saya butter the fine product that it is, is the love (seriously, watch this), and there's so much of it placed in this product from Pepe and his team. It's an approach that's stemmed from Pepe's childhood, when he and his family lived in Lebanon. For six of those years, and owing to the civil war, the village was cut off on all sides – what was consumed was sourced locally and made by hand – milk came from the extended family, and would be made into yoghurts and cheeses, and it's an ethos that flows through to today's operations, and embedded in the brand's history.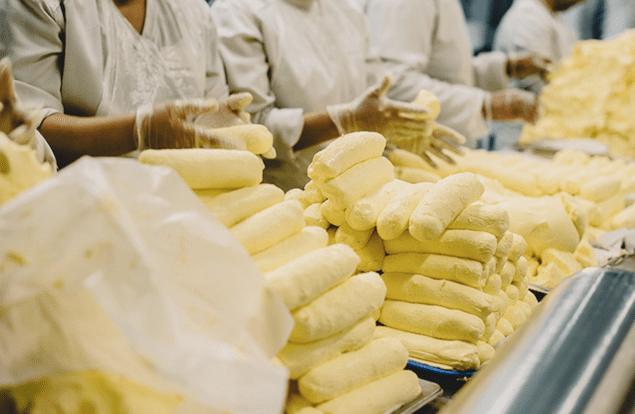 First the single origin cream is sourced from grass fed cows. It comes direct from the farm, and is ripened on site for roughly two weeks. Next it becomes creme fraiche via the inncolation of a lactic culture and fermented for 20 hours. Then aged for roughly another month before it's churned into butter. The butter is then washed, and hand kneaded until the consistency is perfect, which is when it's packaged and sent to buyers immediately. It's NEVER stored or frozen you see. Fresh as.
This is how your morning begins when you're churning out (pun intended) Australia's best butter.
I'm normally waking up… up around 6am in Winter, and 7am when Summer set in.
I am not a morning person… so prying out from under the covers is a little slow, and the first thing I get asked in the morning is, "would you like a coffee?" The answer is always YES!
Once I'm up… it's kisses for the kids and then off to work. Which is not really work at all because it's my life!
Next I… might stop for a coffee
And if I'm early morning exercise inclined… I'll walk to my car.
Then it's on to breakfast… A three egg omelette – if only I could get one of Alex Herbert's ones every day.
I really love to use… free range eggs. Because the taste is so good and they're just as what I remember them being like when a kid. I get mine from the markets.
I might try to change it up a little on a special occasion… So we'll have scones made at home, Marscapone (we make it too) and jam!
My drink is… coffee and I'll probably have two cups throughout the day, but sometimes I'll also have tea.
On a weekend, if I have a little more time… And I'm going to make a dish, it'll be pancakes, and the secret to getting them right is buttermilk. It gives great tang and helps the batter.
If I'm off for a breakfast meeting or catch up… We'll go to KITCHEN BY MIKE or the Eveleigh Markets if it's on a Saturday.
By 10am… I'm a bit peckish. So thinking about where I'll go or what I'll have for lunch. It's be a pretty good day if I could get away for a couple of hours and enjoy a long lunch at Icebergs!
And the next big thing for me and Pepe Saya is… Ghee… It's good!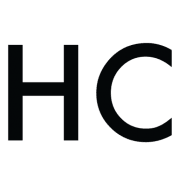 Pepper Passport
Pepper Passport delivers and shares stories that showcase 'the good' found in food and travel. We're a destination for the avid cook, discerning & curious traveler, lover & sharer of good things, both at home & while away. Australian based, but globally focused, our office dream about where we'll eat and what we'll consume long before that mealtime arrives. We love to know more and strive to be a source of information and inspiration for those who share an interest in exploring, eating and other associated delights.