A new concept in dining for the cycling enthusiasts opens in North Los Angeles County.
By Jackie Dodd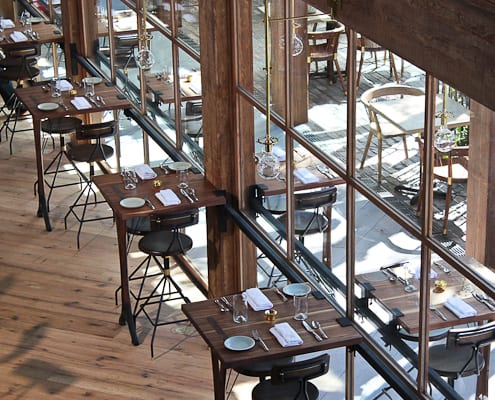 Pedaler's Fork sits at the edge of Los Angeles County in the cycling enthusiast neighborhood of Calabasas. Although it's mere miles from the hectic, fast paced world of Hollywood, the golden glow pouring though the expansive floor to ceiling windows, the symphony of bullfrogs and the trickle of the neighboring creek gives this gorgeous space a transcendent feeling, as well a reason for Los Angeles residents to brave the 101 North.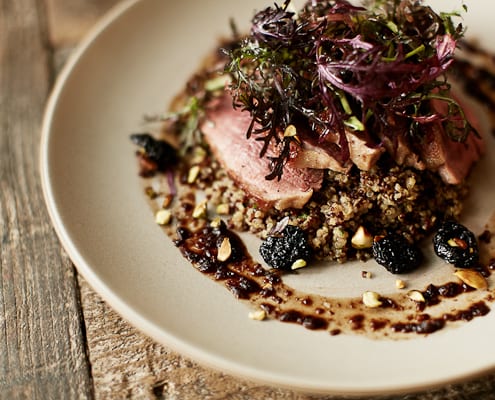 "I love the beets, those came from Alan's farm." The waitress says with a smile, referencing one of the many local farms that stock the kitchen, farms that she visited along with the rest of the team. Using their own van, the staff of Pedaler's Fork and Chef Dan Murray cultivate a menu using only ingredients that they can source within 100 miles of the restaurant. In an age when Farm-To-Table has become and overused cliché, this team brings and earnestness to the endeavor. The owners, Robbie Schaeffer and Tim Rettele show a sincere dedication to the environment, the food and the community. Trendy or not, brining food from local farms into the kitchen is as personal as it gets for these men, "I want to serve you food that I would feel good about giving to my own kids," says Tim who talks about developing the space out of a desire to find a dining experience that was comfortable for a first date, a night out with the guys, or a nice dinner with his young children. He has managed to create a place, with reclaimed materials, that accomplishes all of that and more.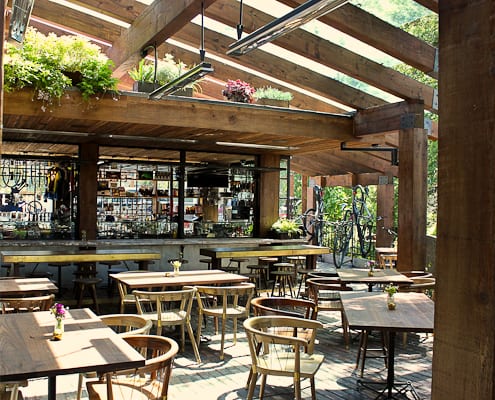 "I rode about 38 miles this morning," says Robbie, with a sincere smile and not a trace of the exhaustion most would feel at the end of a grueling day. For long-time cyclist Robbie, a restaurant dedicated to the cycling community was long over due, and placing it in the pedal pounding community of Calabasas was fate. Through the back entrance that leads to a coffee shop and bike boutique, Robbie has started to forge a unofficial headquarters for the local cyclists, a place to connect, meet up, plan a days ride or just enjoy a cup of coffee. Although created with the cyclist in mind, bikers and non-bikers alike will appreciate the gorgeous space, the locally sourced food and drinks, and the friendly staff. With an artisanal menu that changes with the seasons, provides vegetarian, vegan, and gluten free items along side the carnivorous options, this is truly a place for all.
See Also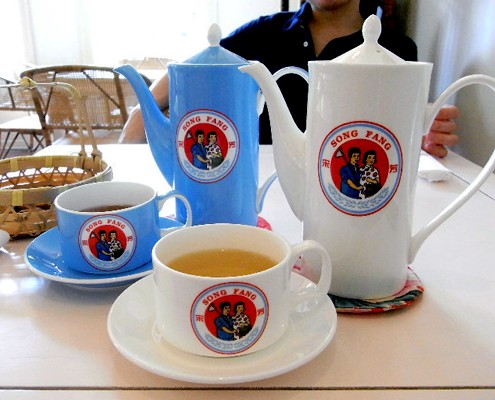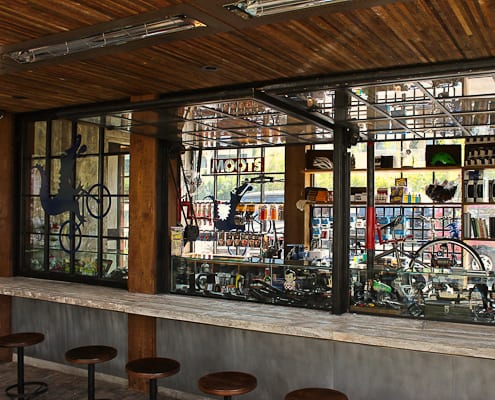 The restaurant offers well-priced, nicely portioned, locally sourced dishes as well as an incredibly thoughtful wine list curated by the in house Sommelier who draws on smaller craft wineries. The expansive bar also boasts an impressive craft beer menu, well-made cocktails and small batch liquors. Beyond the dinning room, with a back entry of it's own, is Ten Speed Coffee, an Oregon based coffee roaster dedicated to small batch roasting geared toward the cycling community. Just next to the coffee shop is an impressive bike boutique, which serves as a certified dealer of one of the most prestigious cycling companies in the world, Moots.  The marriage of these three business: restaurant, coffee shop and upscale cycling boutique, all in one space is shockingly seamless, each endeavor in harmony with the others like different parts of the same body. With a ambiance of rustic elegance, an embracing warmth and a thoughtful staff, this is a place that is hard to leave. Pedaler's Fork opens to the public April 22nd, and with a team you just want to root for, it's sure to be a huge success.
Pedaler's Fork
(818) 225-8231
23504 Calabasas Rd
Calabasas, California 91302
Jackie Dodd
Jackie Dodd is a California based food blogger who's passion for local ingredients began during her years growing up on farm in Eastern Washington surrounded by apple orchards and peach trees. She is now happy to focus on California produce, and has a passion for baking. Along with her websites, www.domesticfits.com and www.thebeeroness.com, she also writes a column for the Glendale Examiner.