Peas and Pistachio Chelow Rice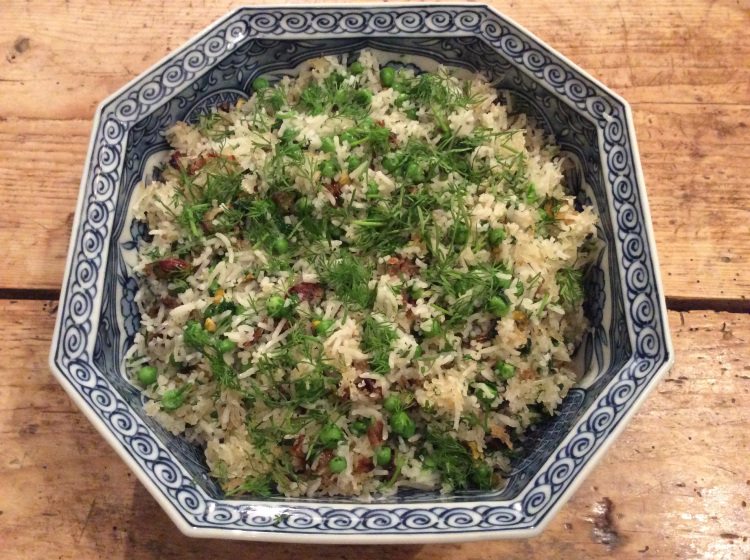 Try this flavorful vegetarian recipe to step up your rice game.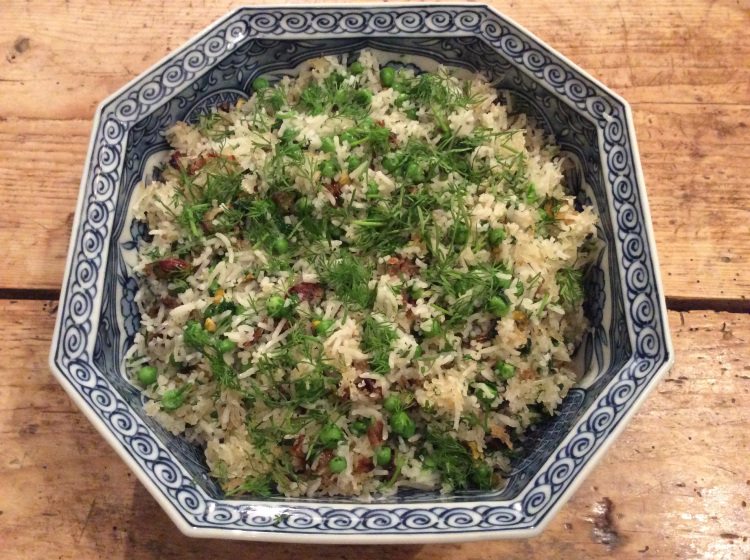 Lately, I have started to experiment with different ways of cooking rice. I'm in my thirties, so it seems like the right time. I can no longer get away with experimenting with blue hair, cocktails made from whatever bottles of drink were left behind from the last party or unsuitable romantic partners, so I have to make my own fun and embrace my sad hobbies. This chelow rice is a traditional Persian dish from Greg and Lucy Malouf's beautiful book Saraban and it's simply a foolproof way to cook perfect rice. There are quite a lot of instructions, and it's a bit more complicated then your standard plain boil approach, or even Anna Jones' lovely 'high heat, low heat, no heat' method, but it is worth it for the fluffy but defined rice with the slightest bite that it yields. You can just use the method to make plain rice, with the butter and oil, and it will still be an outstanding dish.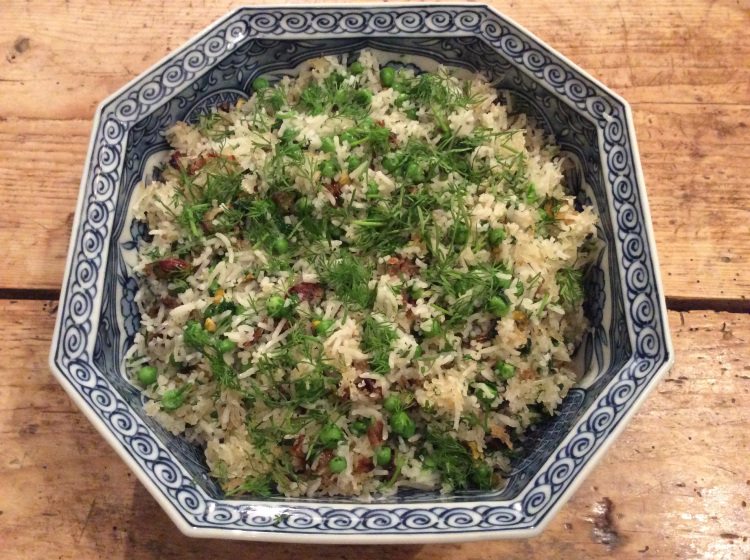 Jess Lacey
Ingredients
300

g

basmati rice

2

tablespoons

sea salt

350

g

peas

70

ml

rapeseed oil

1

large Spanish onion

chopped

1

tablespoon

flour

1

bunch of dill

chopped

100

g

pistachio nuts

40

g

unsalted butter

1

garlic clove

1

strip of lemon peel

Neutral oil e.g. sunflower or rapeseed
Instructions
Wash the rice in cold running water, and then leave to soak for 30 minutes in a large bowl of lukewarm water, stirring occasionally with your hand to loosen the starch.

Strain the rice and rinse again with warm water.

Boil two litres of water in a large saucepan, add the salt and then the rice.

Boil, uncovered, for five minutes.

Quickly blanch the peas in boiling water in a separate pan for thirty seconds then drain.

You can test the rice by biting into it, it should be soft on the outside but still hard in the middle.

Drain the rice in a sieve and rinse with warm water, then shake and toss it a few times to try and drain as much water out as you can.

Melt the butter in a small saucepan and add two tablespoons of warm water.

Heat the saucepan again over a medium heat and add the oil and two teaspoons of water (be careful, it might spit a bit).

When the oil begins to sizzle, carefully spoon in a layer of rice to cover the base.

Quickly mix the peas with the remaining rice and then gradually, spoon by spoon, build a pyramid of rice over the base of rice in the saucepan.

Poke five or six holes into the pyramid using the handle of a wooden spoon to allow the steam to escape.

Sit the garlic and lemon peel on top of the rice.

Drizzle the melted butter and water evenly over the rice.

Wrap the sauce pan lid in a tea towel, being careful to tuck it in so none of the towel ends up burning on your stove, and cover the pan with it.

Leave the rice on a high heat for two to three minutes until steam is escaping from the sides of the pan, then turn the heat to low and leave for 40 minutes without opening the lid to check on it.

Meanwhile, season the flour with salt and pepper, toss the onions in it, and fry in a tablespoon or two of neutral oil over a medium heat for 20-25 minute until golden brown and crispy.

When you are ready to serve, put the saucepan into a basin of cold water to separate the crispy rice from the pan.

Stir through most of the pistachios and the chopped dill, saving a bit of both for the top.
Jess Lacey
Jess Lacey is an Irish food blogger and soon to be lawyer. She has found a home in London, Dublin, Leiden, Melbourne and Aarhus. After a brief foray into the world of Michelin starred cooking, she decided to keep cooking and food as relationships based purely on passion rather than income. She travels frequently, and justifies this by writing about it. More of her musings and recipes are available on her blog, Canal Cook.