Let's remember that a good risotto doesn't demand a lot! It just needs your constant presence, your time and fresh ingredients.
By Kankana Saxena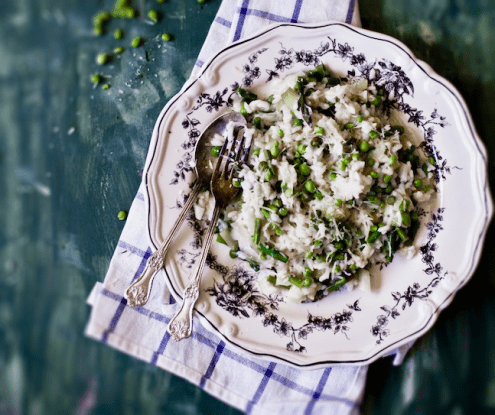 Some dishes cannot be rushed through. It needs extra time, more love and a cook's unbroken attention. Gently mixing with a wooden spoon, allowing the white sticky rice to bathe in flavorful broth, observe as it absorbs all the moisture and grow in size. Give it another bath, another quiet stir and watch it get fluffy with time. Risotto is not a weekday feast, unless you have ample time in hand to stand by the stove. It's a heartening classy dish that fulfills your soul at every spoonful. It's an art to prepare risotto and after numerous flopped shots, I can now gladly say that I am close.
Peas and Asparagus Risotto
Let's remember that a good risotto doesn't demand a lot! It just needs your constant presence, your time and fresh ingredients.
Ingredients
1 cup arborio rice
4 cups vegetable broth or water
1 leek, finely chopped
1 clove garlic, finely chopped
¼ cup white wine
½ lb asparagus, cut in half in length
2 cups fresh peas
½ cup freshly grated parmesan cheese
1 tablespoon butter
juice of half lemon
oil
salt
pepper
Instructions
In a deep saucepan, bring the broth or water to boil. Reduce the heat to medium low and let it simmer.
Simultaneously, heat 1 tablespoon oil in a wide pan and sauté garlic along with chopped leek for about 2 minutes. Make sure the heat is medium. Pour rice and give a stir to mix everything. Cook for a minute. Season with salt, pepper and next, add white wine. Give another mix and let it cook for 2 minutes.
Then, pour half cup of the warm broth on the pan and stir. Watch the bubbles. It shouldn't bubble away too fast or too slow. Once you notice the broth is almost absorbed, add another half cup and give a stir. Continue this step until the rice looks cooked. Taste in between to check the rice. It should have a very light crunch when you bite it in but it shouldn't be too hard. It took me about 40 minutes.
Once the rice is almost done, add lemon juice, chopped asparagus and peas. If you are using fat asparagus and frozen peas, I would suggest blanching it before adding to the risotto. Since the ones I used were very tender, I added it directly to the risotto.
At the end, add butter and parmesan cheese. Stir and check for salt. Add any, if required. Serve immediately with little bit more parmesan cheese on top.
Kankana Saxena
Kankana Saxena shares culinary journey, travel stories and passion for photography in her blog 'Playful Cooking'. Her cooking style is mostly nutritional with little bit of indulgence here and there. She believes in the mantra 'homemade is happiness'! She is a native of India but currently resides in Santa Clara, California with her husband.