Pear Honey Buckwheat Bread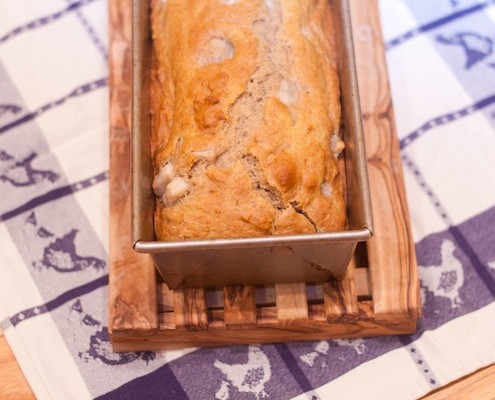 This is the perfect breakfast bread. Sweet, but only just. Interesting enough to wake up your taste buds, but with flavors that are familiar enough to feel comforting when you're just rubbing the sleep out of your eyes.  And healthy enough to feel like you are starting the day off right.
By Sara Clevering
I have a lot of flours.  All-purpose, of course, but also bread, cake, whole wheat, and whole wheat pastry.  (I should talk about that last one someday.  It's not as bizarre a product as it sounds).  And then there's those milled from more unusual grains:  rye, spelt, barley, and buckwheat.  It's satisfying to have a pantry stuffed with such variety, but it is often intimidating to contemplate.  Using bins of flour is much more of a challenge than buying them, and there's a gnawing sense of urgency when you consider that whole grain flours have a much shorter shelf life compared to white flour.
It being fall, I've been buying a lot of pears.  And it occurred to me that the nutty taste of buckwheat might pair nicely with, well, pears.  And while I was at it, that using honey to gently sweeten the combination would make a bread that was as warm and golden as the colors of fall (though after last weekend's nor'easter I fear we may already be on the other side of the divide and heading into an early winter).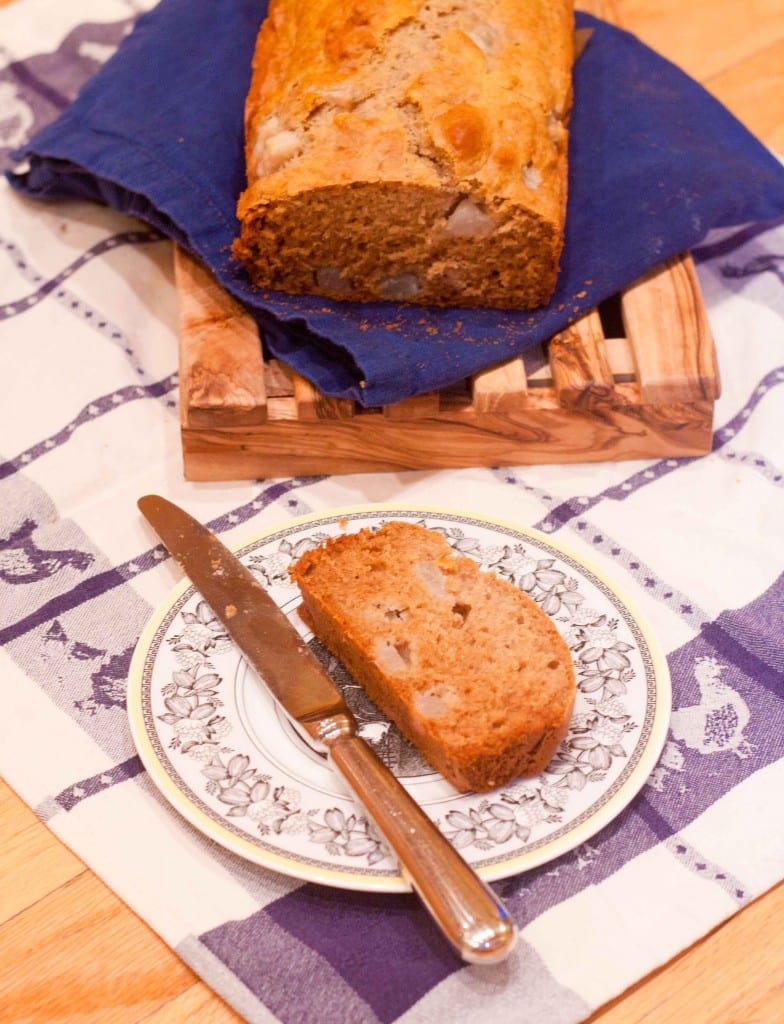 As I worked out the proportions on this recipe, I wanted to ensure that the bread held its shape and to avoid any cratering, however slight–something that happened to me the last time I baked with honey.  I did a bit more research and learned that excess moisture in a batter can also result in a cake or bread that collapses in the center.  Pears can be, as you know, very juicy, so I was careful with my proportions, but I think I hit upon something that works.
Because breads made with honey darken very quickly, a gentler oven is required:  I baked this  at 325F, 25F lower than your standard "bake at 350."  Even so, if you look closely at the slice above, you might even notice the deeper coppery brown gradations at the base.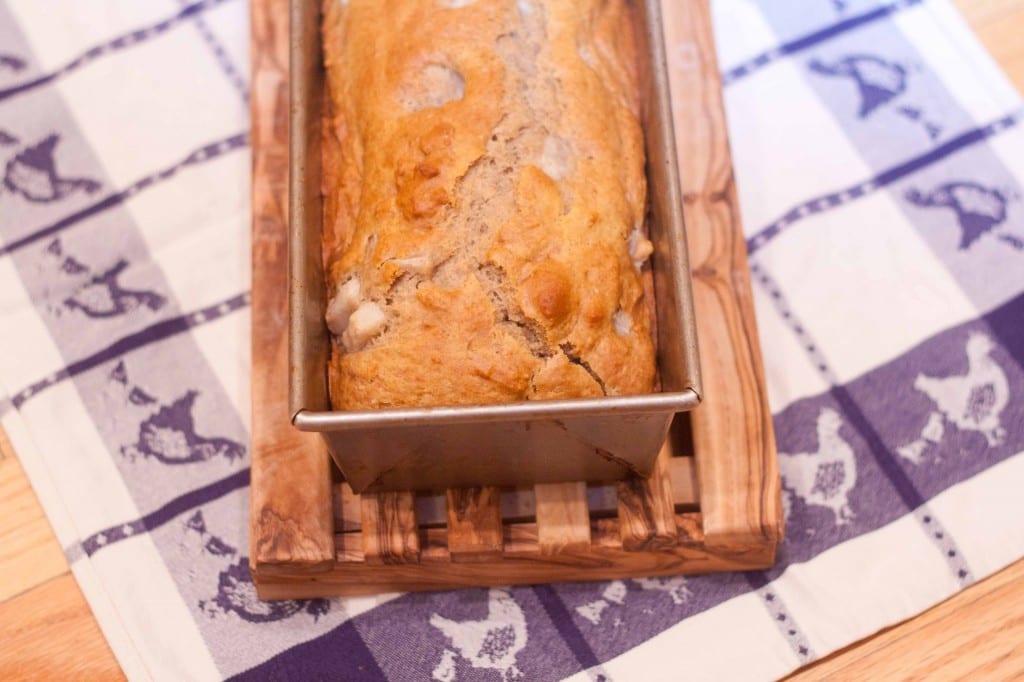 I baked this in the evening, as I usually do, and tucked myself into bed, cozily dozing with thoughts of the wholesome but sweet breakfast awaiting me.  (But if you are wondering, of course the loaf was taste-tested before I went to bed, just to prevent any stunning disappointment the next day).
This bread is exactly what I like for breakfast.  Sweet, but only just.  Interesting enough to wake up your taste buds, but with flavors that are familiar enough to feel comforting when you're just rubbing the sleep out of your eyes.  And healthy enough to feel like you are starting the day off right.
This recipe only uses a small amount of buckwheat, so it didn't make too big of a dent in my stash of flours.  On the other hand, pears will be around for a while yet so I'm not too concerned.

Pear Honey Buckwheat Bread
This is the perfect breakfast bread. Sweet, but only just. And healthy enough to feel like you are starting the day off right.
Ingredients
2 cups (about 9 ounces/250g) all-purpose flour
½ cup (about 2.3 ounces/65g) buckwheat flour
½t salt
1t baking soda
1t baking powder
½c (250mL) neutral oil
½c + 2T (280mL) yogurt
1 egg
½c (250mL) honey
1t vanilla
1 pear, peeled and cut into ½ inch dice
Instructions
Preheat the oven to 325F (160C). Butter a 9 inch loaf pan and line the base with parchment paper (an 8 inch pan would probably work too).
Stir the dry ingredients together in a medium bowl. Whisk the wet ingredients together in a large bowl and add the dry ingredient mixture in 2 additions, stirring until just barely combined. Fold in the diced pear.
Scrape into the prepared loaf pan and bake for 55 minutes, or until a tester comes out clean. Tent with foil if it starts to brown too quickly.
Allow to cool for 10 minutes in the pan, and then finish cooling on a rack.
Sara Clevering
Sara sees cooking and baking as a delicious way to connect with the past and travel the world from her kitchen. She is commited to preparing homemade, unprocessed meals for her family and is always looking for tricks to fit this into a busy schedule. Sara is currently in the Boston area after several years living in London, Spain, and the Czech Republic, and travelling extensively in Eastern and Western Europe, always making sure to experience local culture through food. She also blogs with her sisters at www.threecleversisters.com