Pear and Hazelnut Cake with Ginger Syrup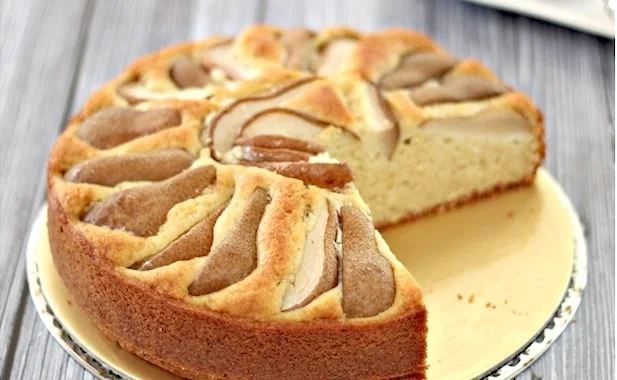 Get creative with the delicious pear cake. Try combining almond, hazelnut, or walnut flours for a nuttier taste. Add ginger syrup immediately after baking to instill flavored moisture into the finished product.
By Ann Low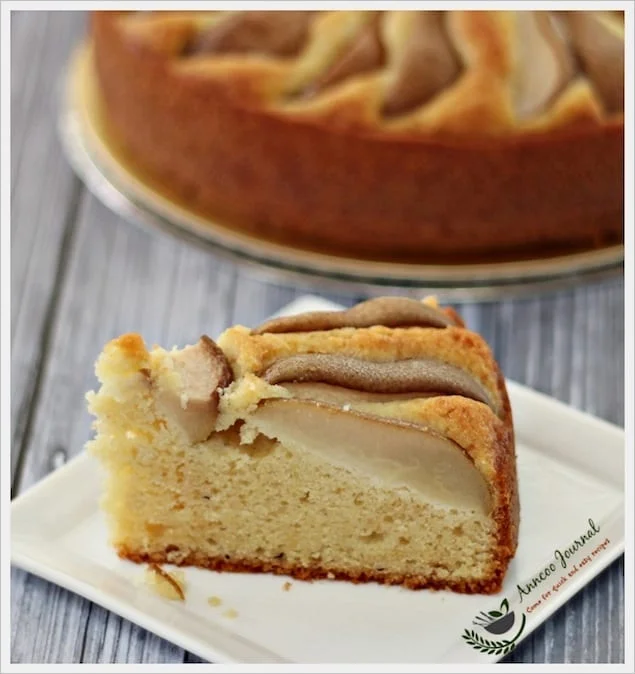 The recipe is Pear and Hazelnut cake with ginger syrup but feel free to try walnut or almond meal. The cake was very fragrant while baking and you could smell the sweet aroma of the pears and hazelnut. The texture wasn't dry and the pears still stayed crisp even after being baked. Definitely an easy keeper recipe.

Pear and Hazelnut Cake with Ginger Syrup
Get creative with the delicious pear cake. Try combining almond, hazelnut, or walnut flours for a nuttier taste. Add ginger syrup immediately after baking to instill flavored moisture into the finished product.
Ingredients
185g Butter, at room temperature
1 tsp Vanilla
110g Brown sugar
3 Eggs (70g each), lightly beaten
65g Hazelnut meal (ground), you can use ground walnut or almond
250g Self raising flour
½ cup Milk
3-4 Pears (ripe and firm), cut in wedges
Ginger Syrup
8 ounces (225g) fresh ginger, unpeeled
4 cups (1l) water
2 cups (400g) sugar
pinch salt
Instructions
Syrup
Roughly chop the ginger into small slices.
Combine all ingredients in a sauce pan and bring to a boil.
Simmer for ten minutes.
Allow to cool.
Cake
Preheat oven to 180C. Grease a 22cm (9inch) springform pan. Line the base with baking paper.
Use an electric mixer to beat butter, vanilla and sugar in a bowl until light and creamy. Add eggs, bit by bit until mixture incorporated.
Use a spatula to fold in hazelnut meal. Fold in half the flour, then the milk, then remaining flour until combined. Transfer to the prepared pan and smooth the surface. Arrange the pear on top, pressing down slightly into the batter.
Bake for 55-60 minutes or skewer insert into the center of the cake comes out clean. Immediately brush with syrup.
Cool in pan for 5 minutes, then remove cake on wire rack to cool.
Ann Low
Ann Low is the author of Anncoo Journal, and loves to bake and cook for both family and friends. She acquired a strong passion for culinary skills from a very young age by watching her grandmother prepare delicious meals for the family. Ann believes that baking is an art and she wants to share her baking and cooking experiences with everyone in the world.