A simple loaf cake that can be ready quickly is a great winter afternoon snack. Crystallized ginger creates a special flavor that can be paired with other mix-ins, such as nuts, too.
By Natalie McLaury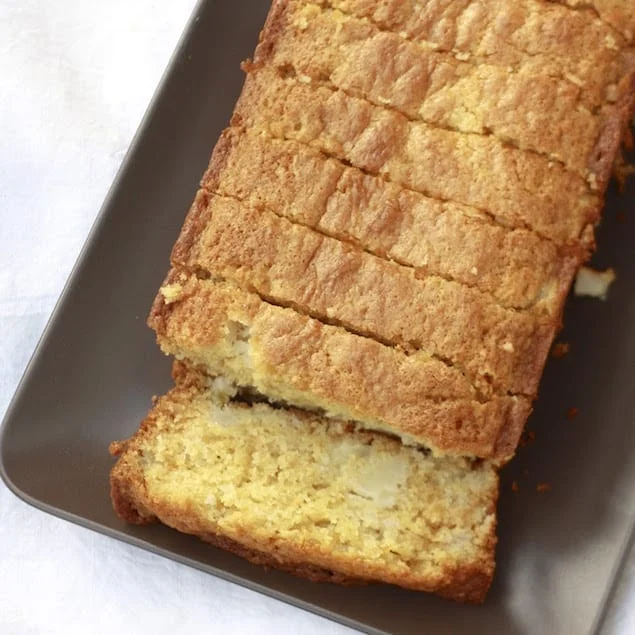 This snack cake is far from extravagant. I'm willing to bet you already have most of the ingredients, except maybe the candied ginger. The base recipe is slightly sweet and yields a blank canvas perfect for incorporating your favorite mix-ins. I was partial to the pear and candied ginger, being that its both seasonal and a little nontraditional, but I could also see apples and walnuts or cranberries and pistachios also working nicely. I found the cake best the first two days after it had been made, and I'm willing to bet yours won't last much longer!

Pear and Ginger Cake
A simple, quick loaf that is great for a winter afternoon snack. Crystallized ginger creates special flavor to be paired with other mix-ins, too. Adapted from Food and Wine magazine.
Recipe Type:
Baking, Dessert
Ingredients
1½ cups all-purpose flour
2 tsp baking powder
½ tsp baking soda
½ tsp salt
1 cup sugar
1 stick unsalted butter, melted and cooled
⅓ cup plus 2 tbsp buttermilk
2 large eggs, at room temperature
2 tsp pure vanilla extract
1 large ripe pear, peeled, cored, and coarsely chopped
1 tbsp minced crystallized ginger
Instructions
Preheat oven to 350F. Grease a 9 x 5 inch loaf pan and set aside.
In a large bowl, whisk the flour with the baking powder, baking soda, and salt.
In a separate bowl, whisk the sugar with the butter, buttermilk, eggs, and vanilla. Use a wooden spoon to mix the wet ingredients into the dry ingredients, then fold in the pears and the ginger.
Pour the batter into the prepared loaf pan. Bake for 50-60 minutes, until an inserted toothpick comes out clean (loosely cover the top with foil in the last 15 minutes of cooking to prevent overbrowning).
Allow cake to cool in pan on a wire rack before inverting onto plate, slicing, and served. Store cake wrapped well in the fridge for up to 3 days.
#mc_embed_signup{background:#fff; border: 3px double black; clear:left; font:14px Georgia,serif;  width:635px;}
/* Add your own MailChimp form style overrides in your site stylesheet or in this style block.
  We recommend moving this block and the preceding CSS link to the HEAD of your HTML file. */