Peanut Butter and Pretzel Chocolate Tart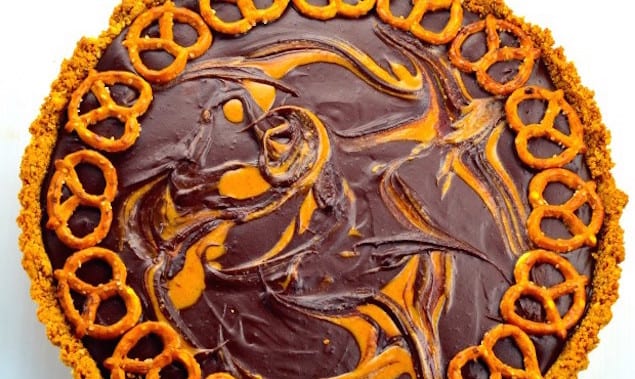 A salty pretzel crust is filled with a rich chocolate and peanut butter filling brought together by creamy coconut milk. A dessert dream that is easy to make, but hard to wait for as it sets.
By Vicky Cohen and Ruth Fox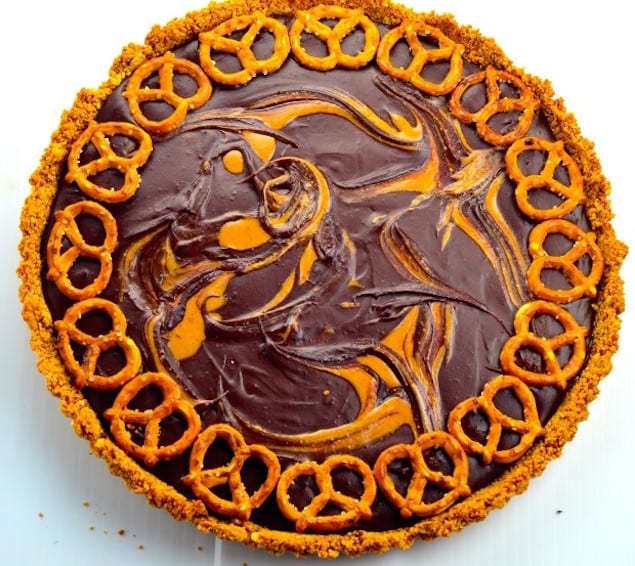 This post is dedicated to everyone out there who thinks baking is a daunting task. To everyone who thinks baking "isn't for them". To those who think making a beautiful dessert is extremely complicated and requires professional chef type skills.
This decadent, fool proof Peanut Butter and Pretzel Chocolate Tart, is for all you. Why? Because all you need are 6 ingredients and a little bit of patience. Mainly because you need the filling to set for a few hours before digging in… which is basically the hardest part of this process.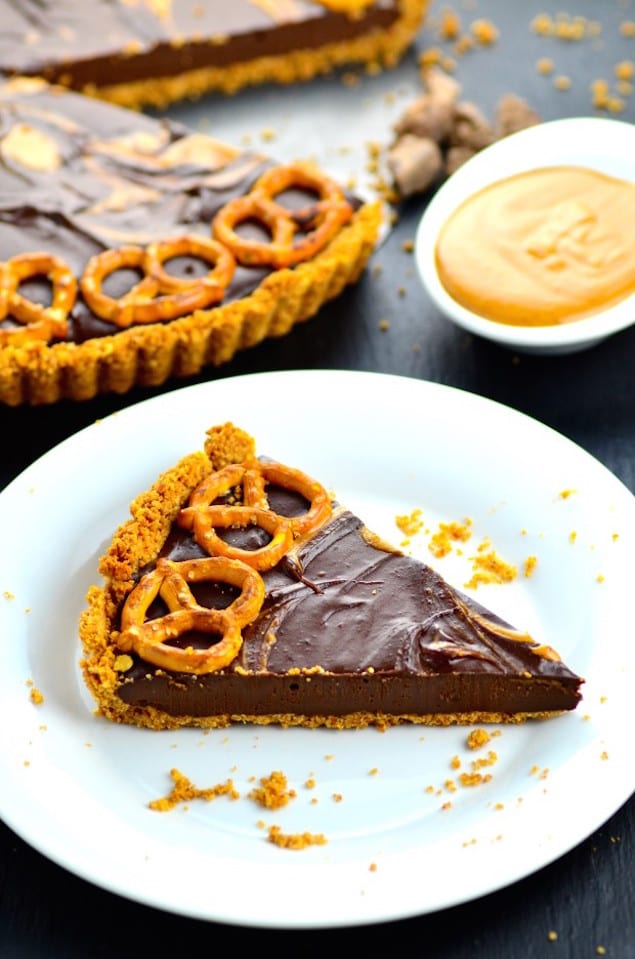 Peanut Butter and Pretzel Chocolate Tart
A salty pretzel crust is filled with a rich chocolate and peanut butter filling brought together by creamy coconut milk. A dessert dream that is easy to make, but hard to wait for as it sets.
Author:
Vicky Cohen and Ruth Fox
Ingredients
Crust
3 cups salted pretzels (the twisted kind) plus a few extra to decorate to top (SEE NOTE)
3 tbsp coconut oil, melted (here we used Nutiva)
3 tbsp all natural peanut butter, at room temperature (here we used Justin's All Natural Peanut Butter)
2 tsp maple syrup
Filling
1 cup vegan chocolate chips (here we used Enjoy Life dark chocolate morsels)
1 cup full fat canned coconut milk
¼ cup all natural peanut butter plus 2 tsp to swirl at the top (optional), at room temperature
Instructions
Preheat oven to 350 F
Place pretzels in a food processor and pulse until ground. Add melted coconut oil, peanut butter and maple syrup and pulse until well combined
Transfer the pretzel mixture into a non-stick 11"x1.5" with removable bottom tart pan. Gentry press it evenly onto the pan, so it comes up the sides (using the edge of a measuring cup to press the sides will help you get an even thickness). Bake at 350F for 8-10 minutes. Let it cool slightly and place it in the refrigerator until it cools completely and the crust hardens
To prepare the filling, place chocolate chips in a large heat proof bowl. Heat coconut milk in a sauce pan over medium heat, until bubbles start to form on the sides and pour over the chocolate chips. Whisk gently until all the chocolate has melted. Whisk in peanut butter until well incorporated
Pour chocolate mixture over cooled tart shell. Decorate with pretzels and 2 teaspoons of peanut butter ( drop about 5 dollops on the surface and very gentry, swirl using the tip of the whisk)
Refrigerate for at least 3 hours
Notes
For a gluten free tart, use gluten free pretzels
Prep time includes refrigeration time
Vicky Cohen and Ruth Fox
We are two sisters born and raised in Barcelona, Spain, with Sephardic and Middle Eastern roots. We grew up eating the best, most flavorful, comforting home-cooked meals prepared by our mom, who taught us everything we know about cooking. When we moved here to the U.S. we felt it was really important to keep our traditions and background alive, and we've done so by sharing it with everyone we've met throughout the years. After all, what better way to make new friends and share our love and culture than through food, right? Our friends have come to enjoy our food and gatherings so much that are always asking us for our recipes. That inspired us to start a cooking blog called "May I have that recipe" where we share recipes we've created inspired by our multicultural background.