Soft, chewy peanut butter blondies are filled with smooth Nutella for a heavenly dessert that can't be resisted.
By Jillian Hatsumi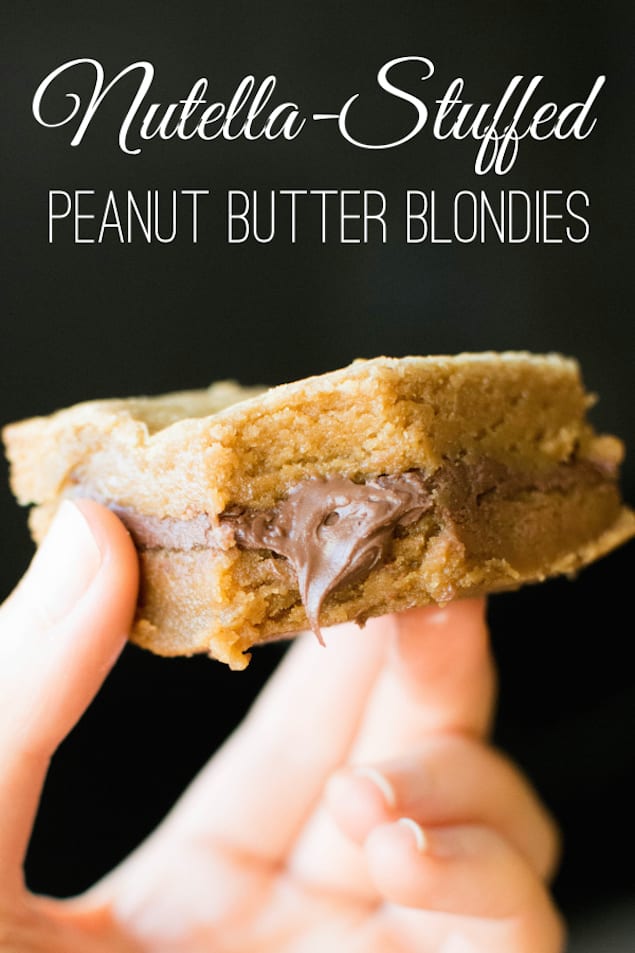 For me, Heaven is a place where we can eat endless supplies of peanut butter and Nutella.
But since I don't plan on kickin' the bucket any time soon, I guess I'll just have to settle on these Peanut Butter and Nutella Filled Blondies.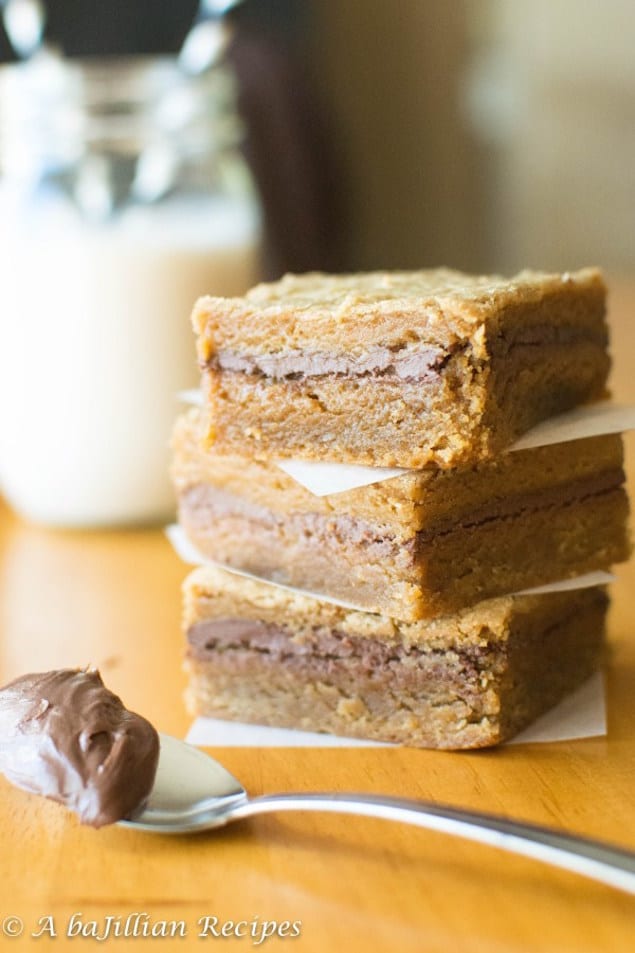 I can't say it's a bad compromise…
I don't know anyone who doesn't love peanut butter and Nutella together. And if I do, I don't wanna hear it. *Ears plugged*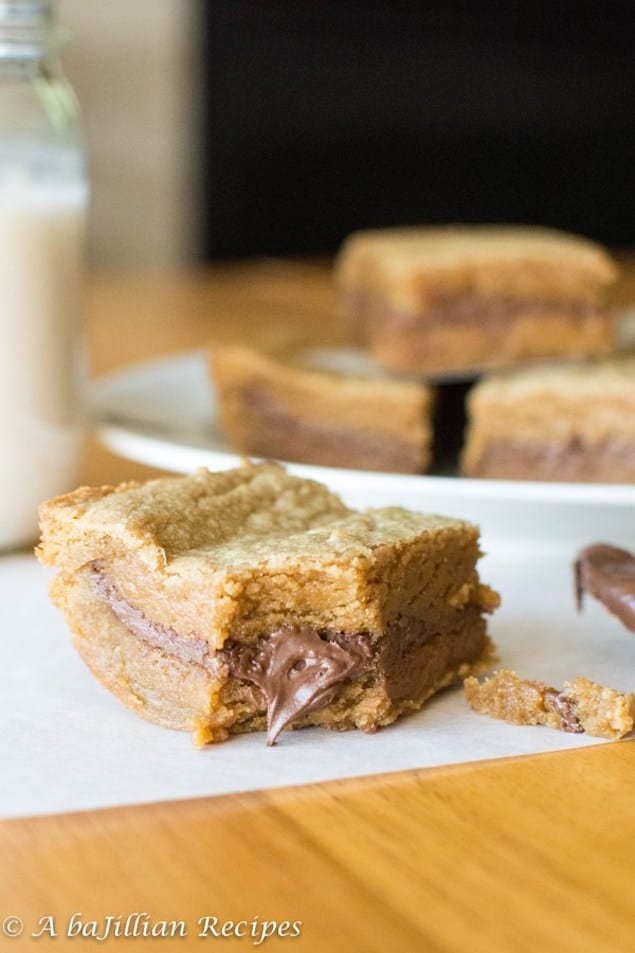 I was on the fence of whether to call these blondies or cookie bars. That is until I came to the conclusion that blondies are basically tan brownies, so they tend to be fudgier and ooey gooey-er than cookie bars. These peanut butter blondies are super soft, dense, slightly chewy, and plenty buttery. In fact, if one didn't like Nutella, these blondies would be great with chocolate chips, butterscotch chips, or white chocolate chips (OR ALL THREE!!!) baked in. The blondies are slightly under baked, with a tender golden crust and a soft middle, flowing with hazelnut-infused chocolate.

Peanut Butter and Nutella Filled Blondies
Soft, chewy peanut butter blondies are filled with smooth Nutella for a heavenly dessert that can't be resisted.
Recipe Type:
Baking, Dessert
Ingredients
½ cup unsalted butter, softened
⅔ cup creamy peanut butter
1½ cups brown sugar, packed
2 large eggs
2 teaspoons vanilla extract
1¾ cup all-purpose flour
1 teaspoon baking powder
½ cup Nutella
Instructions
Preheat oven to 350F degrees and spray an 8x8" baking dish with nonstick cooking spray.
In the bowl of a stand mixer fitted with the paddle attachment, beat the butter, peanut butter, and brown sugar together until smooth, about 30 seconds. Add the eggs, one at a time, beating well after each addition. Mix in the vanilla. Add the flour and baking powder and stir until just combined, don't overmix.
Pour half of the batter into the prepared pan, smoothing out the top. Measure out Nutella in a glass measuring cup and microwave for 15 to 20 seconds, then spread evenly over the batter. Top with remaining batter by dropping spoonfuls evenly over the Nutella and gently smoothing out the top.
Bake for 23 to 25 minutes, or until the top is no longer glossy and the edges are golden brown. Cool completely before slicing. Blondies will keep airtight at room temperature for up to 1 week, or in the freezer for up to 6 months.
Jillian Hatsumi
I'm Jillian, the writer, baker, chef, recipe creator, and amateur (very amateur) photographer of A baJillian Recipes. Though I'm not a classically trained chef, I like to think I know my way around a kitchen pretty well. Aside from baking, cooking, and EATING, I also enjoy acting, couponing (I LOVE saving money!!), running, working out, photography, and playing with my little fluffernutter, Olivia. She's a dog, if you're wondering...