Peanut Butter and Flax Granola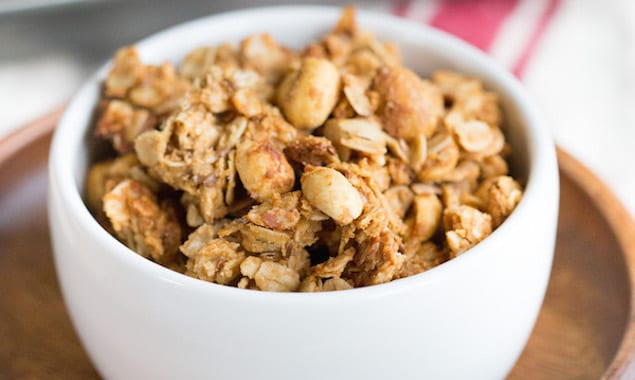 Filled with healthful oats, whole wheat flour, peanut and honey, this granola forms into perfect crunchy chunks that tastes like a peanut butter cookie. Serve at breakfast with Greek yogurt for a sweet start to the day.
By Taylor Kadlec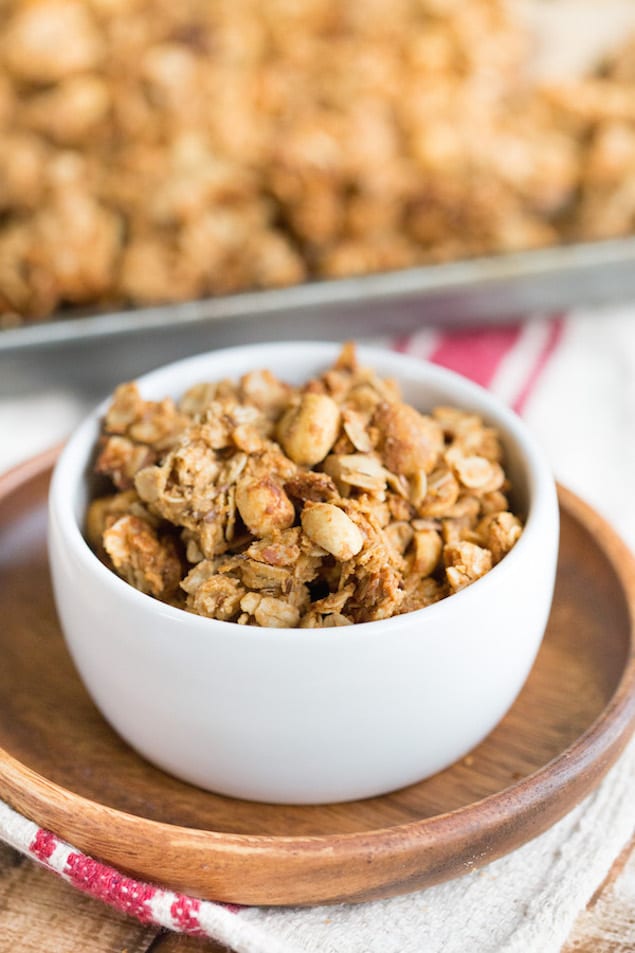 In this recipe, the addition of whole wheat flour binds the granola together into chunks, making it feel like you're eating a peanut butter cookie. The best part? This is pretty healthy stuff! It's filled with oats, whole wheat flour, peanuts, honey, and coconut oil – not a refined sugar to be found!
My favorite way to eat this is on top of plain Greek yogurt with sliced bananas or berries, but it's also great with milk or by the handful.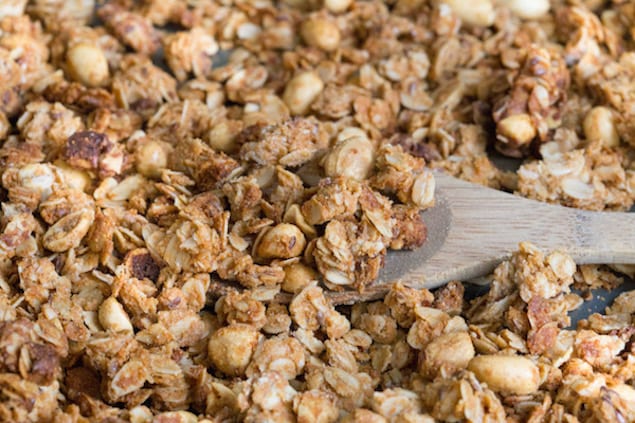 Peanut Butter and Flax Granola
Filled with healthful oats, whole wheat flour, peanut and honey, this granola forms into perfect crunchy chunks that tastes like a peanut butter cookie. Serve at breakfast with Greek yogurt for a sweet start to the day.
Recipe Type:
Granola, Breakfast, Snack
Ingredients
4 cups old fashioned oats
½ cup whole wheat flour
1 cup chopped peanuts
2 tablespoons flaxseed
1½ teaspoons baking powder
½ teaspoon salt
½ cup honey
¾ cup peanut butter
¼ cup coconut oil, measured in liquid state
2 teaspoons pure vanilla extract
Instructions
Preheat oven to 275 degrees F.
In large bowl combine oats, flour, peanuts, flaxseed, baking powder, and salt.
Stir to combine.
In medium microwavable bowl, combine honey and peanut butter.
Microwave for 30 seconds, then stir well to combine.
Stir in coconut oil and vanilla extract.
Pour peanut butter mixture over oat mixture and stir well to combine.
Spread out on a baking sheet lined with parchment paper.
Bake in preheated oven for 20 minutes, stir, and then bake another 10-15 minutes, until it is slightly golden.
Let cool completely.
Break into chunks, and serve over milk, yogurt, or eat by the handful!
Store in airtight container.
Taylor Kadlec
Taylor Kadlec is a lover of all things food including baking, cooking, and of course, eating. She is a self-taught baker and cook, and she shares her kitchen adventures on her blog Greens & Chocolate, where healthy cooking meets sinful indulgence.