Peach, Raspberry and Basil Pie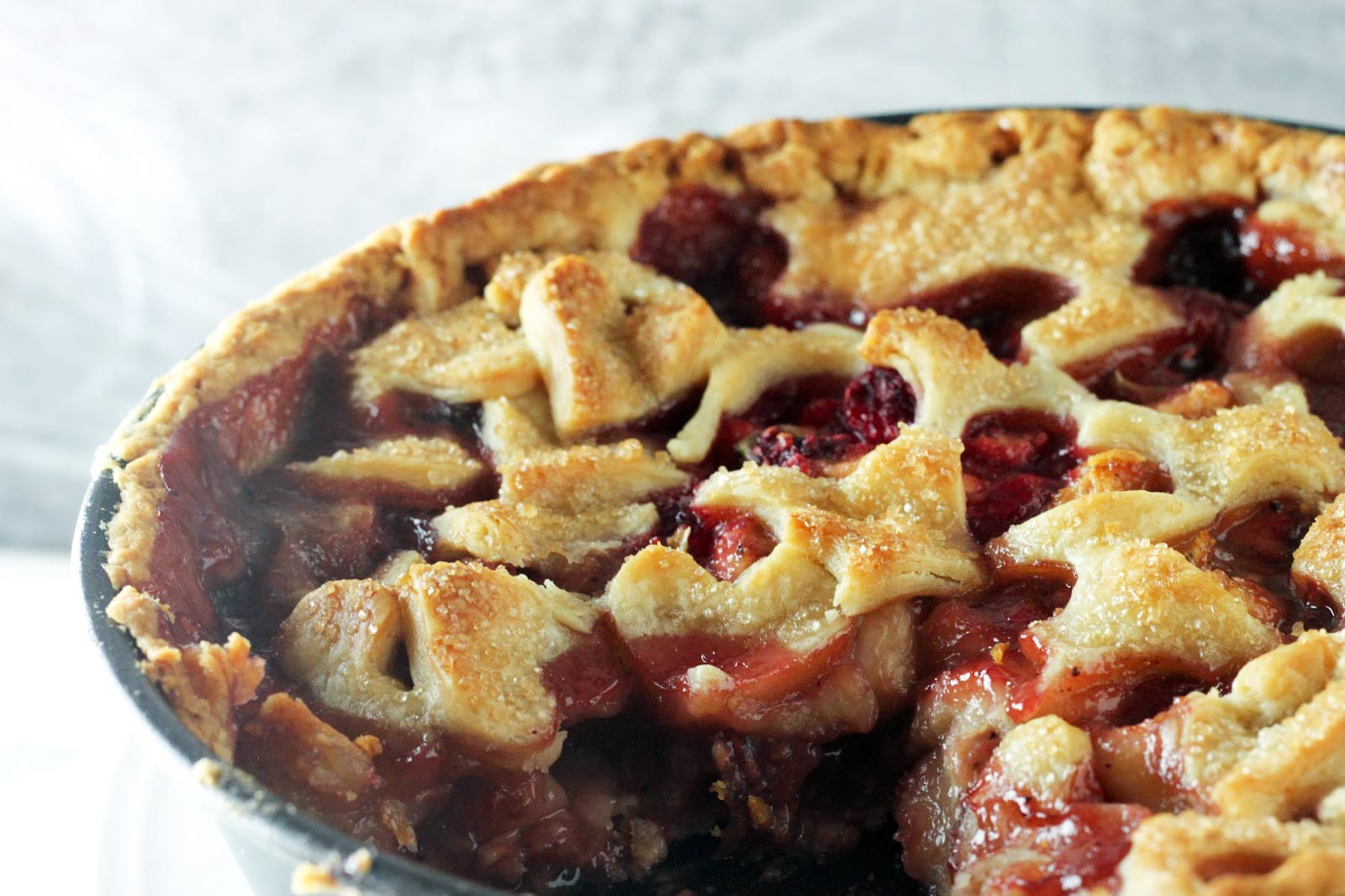 Basil adds an herbal flavor that kicks the sophistication of this rustic dessert up a few notches.
By Amrita Rawat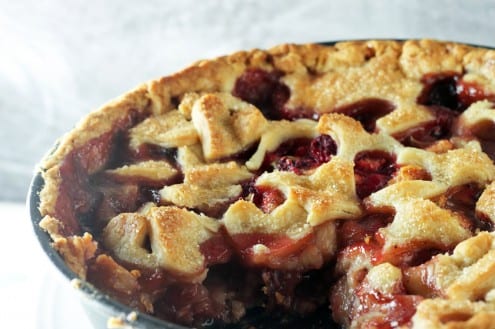 Peach, Raspberry and Basil Pie
Basil adds an herbal flavor that kicks the sophistication of this rustic dessert up a few notches.
Author:
Amrita Rawat, adapted from Smitten Kitchen and Zoe Bakes
Ingredients
Crust
2½ cups flour
1 Tbsp. sugar
½ tsp. salt
2 sticks (8 oz.) butter, cubed and chilled
¾ cup ice cold water
Filling
1 pint raspberries
6 ripe, firm yellow or white peaches, peeled, pitted and chopped *
Juice of ½ lemon
¼ cup plus 1 Tbsp. brown sugar, divided
3 Tbsp. cornstarch
Pinch of salt
A handful of basil, roughly chopped
1 pie crust (recipe follows)
1 egg white, beaten
Instructions
Crust
In a large bowl, whisk together the flour, sugar and salt.
Sprinkle the butter over the flour mixture. Use a pastry blender or your hands to mix together until the pieces of butter are the size of small peas.
Drizzle half of the ice water over the mixture, and use a rubber spatula to gather the dough together. Add more ice water 1 tablespoon at a time until the dough comes together in a ball.
Divide the dough in half and wrap each dough ball in plastic wrap. Let chill for at least 1 hour.
Roll out each dough ball separately to a 13-inch round and an 11-inch round between two sheets of parchment paper.
Use the 13-inch round to line a greased 9-inch pie pan, leaving ½-inch overhang around the edges. Reserve the 11-inch round to top the pie after adding the filling.
Filling
Toss raspberries and peaches together in a bowl with the lemon juice.
Combine ¼ cup brown sugar, the cornstarch, salt and basil in a small bowl and then pour it over the fruit, mixing well so it's coated. Add more sugar to taste.
Pour the fruit mix into prepared a 9-inch pie pan lined with the pie crust.
Place the top crust round over the filling, crimp the edges together, and make small slits in the top (I cut little shapes in mine.).
Brush the crust with the egg white.
Sprinkle with the remaining 1 Tbsp. brown sugar and then freeze for 15 minutes.
Place the oven rack on the lowest possible level and preheat oven to 400 degrees.
Place the pie on a baking sheet to catch any drippings. Bake for 20 minutes. Lower the temperature to 375 degrees and bake another 40 minutes. If the crust is browning too quickly, tent the pie with foil and continue baking.
Let the pie cool before serving (The filling may not completely set if it's still warm.).
Amrita Song
Amrita Rawat is the author of the blog Chai and Dumplings. Born in India and a lifelong resident of Atlanta, she recently moved to Saint Louis. Her love for food stems in part from its ability to bring cultures together and in part from how darn good it feels to eat a delicious meal. She loves traveling and has eaten her way through cities like Hong Kong, Paris, Budapest, Mumbai, and Shangri-la. Amrita is also a contributor to Sauce Magazine in St Louis.