A crunchy, buttery topping meets sweet peaches and a creamy cheesecake center for a wonderful summer sweet.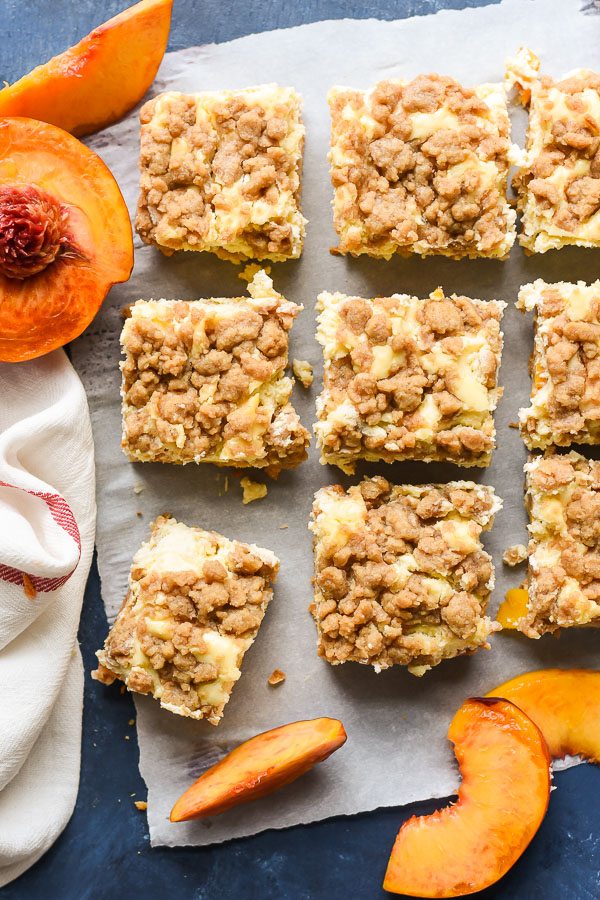 It's not often that reality matches my expectations. Sometimes what I imagine will be a beautiful and romantic stroll around the pond turns out to be an adventure in dodging angry geese and hopping over poo piles. And sometimes what I think will be a mundane trip to Sam's Club turns out to be a laughter and fun filled date night with the hubby.
Then there are those rare occasions when all the wishful hopes you had for something actually come to fruition. It doesn't happen often, but when it does, it feels like magic. And magic is exactly what happened with these Peach Cobbler Cheesecake Bars.
When I set out to make these, I had a very specific vision in my mind. I wanted something that would have the comforting warmth of a crumbly peach cobbler combined with the cool creaminess of a bowl of fresh peaches and milk. I wanted warm muggy evenings, trees heavy with fruit, umbrellas fluttering in the breeze. I wanted the feel and taste and texture of summer in a bar.
My expectations weren't high or anything.
In concept, these are just a hybrid of a cheesecake and a peach cobbler, but I hesitate to use the word "just" in this case. Because really, is anything ever "just" cheesecake and cobbler? That's like saying I "just" won the lottery last week. No biggie, right?
The recipe is broken up into three parts. First, a shortbread crust is baked until puffy and golden brown. The crust is layered with a smear of peach jam, fresh sliced peaches, and a rich cheesecake drizzle. Finally, a gently spiced crumble tops it all off. The end result? A sweet, creamy, crumbly mess of summer goodness.
See Also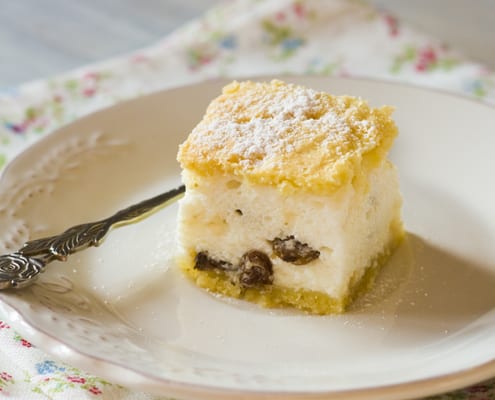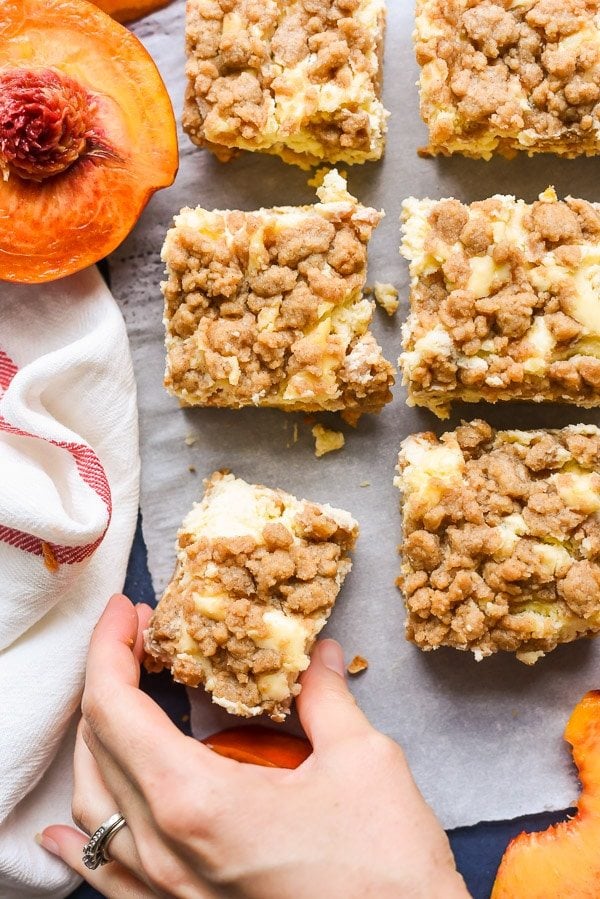 You can serve these straight from the fridge or straight from the oven (give them about a half hour to cool a bit!). I preferred them just a little warmer than room temp. That seemed to be the sweet spot where the cheesecake just started to meld into the peaches and the ginger and cinnamon really shined.
Click here for the crumble topping recipe.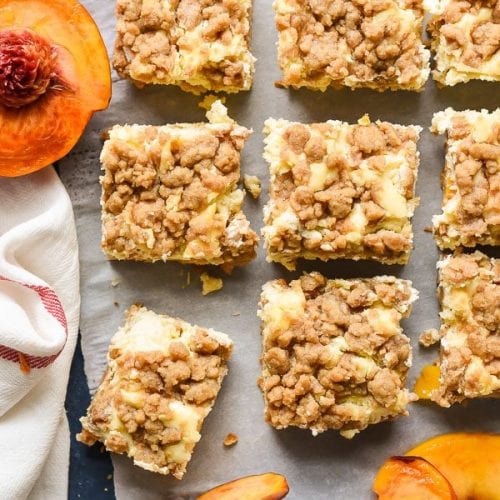 Peach Crumble Cheesecake Bars
Courtney Rowland
A crunchy, buttery topping meets sweet peaches and a creamy cheesecake center for a wonderful summer sweet.
Ingredients
For the crust
2

sticks

1 cup unsalted butter, softened

1/4

cup

brown sugar

1/2

teaspoon

salt

2

cups

flour
For the filling
1/2

cup

peach jam

3

large peaches

thinly sliced

12

ounces

cream cheese

softened

1/4

cup

sour cream

1/2

cup

granulated sugar

2

large eggs

1

teaspoon

vanilla extract
For the topping
Click the link above for the recipe.
Instructions
For the shortbread crust:
Preheat the oven to 350 degrees. Line a 13 x 9 in baking dish with foil, then grease the foil on all sides. In the bowl of an electric mixer, beat the butter until it begins to soften, about 30 seconds. Add sugar and salt and beat on low speed until just combined.

Add the flour and beat on low speed until incorporated then increase to high speed and beat until a cohesive dough is formed.

Using your fingers, press the dough into the baking dish and bake for 20 minutes or until puffy and golden brown.
For the filling:
Spread peach jam evenly over the crust, then layer with sliced peaches. To make the cream layer, beat cream cheese and sour cream on high speed until smooth. Add sugar and beat another 30 seconds.

Add eggs and vanilla and beat until smooth and thoroughly combined. Pour cheesecake mixture over peach slices. Set aside.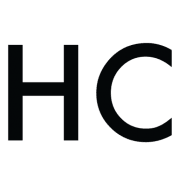 Courtney Rowland
Courtney is the author, photographer, and flour dusted girl behind the blog NeighborFood. She believes in using real butter, in season produce, and mismatched plates. She loves gathering people at the table and sharing stories, spills, and the occasional corny jokes.