Peach and Blueberry Margarita Popsicles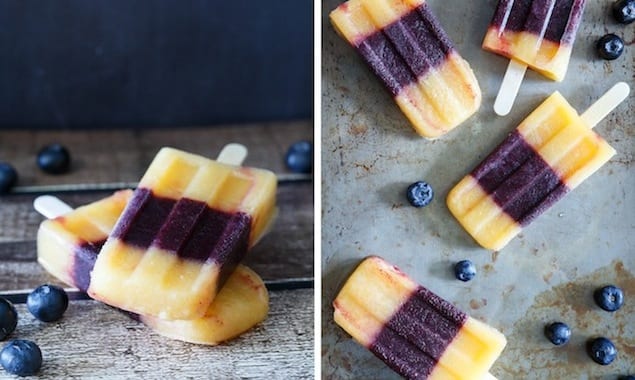 Just like the easy summer drink, these margarita popsicles are a simple and delicious. Now this is how you really cool off while you drink.
By Chris Cockren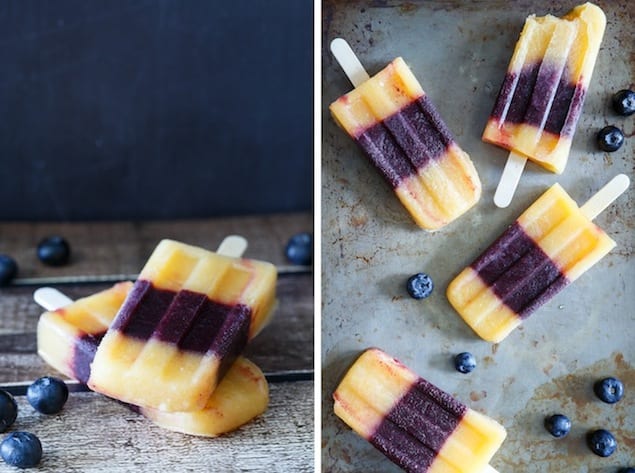 I just scored this popsicle mold and was super excited to try out some ice pop fun.
This recipe by Food & Wine totally caught my eye because I'm a sucker for the peach – tequila flavor combo. It reminds me so much of super easy summer margaritas. And if there is one summer drink I'm all in for… it's margaritas.

Peach and Blueberry Margarita Popsicles
Just like the easy summer drink, these margarita popsicles are a simple and delicious. Now this is how you really cool off while you drink.
Ingredients
3 medium ripe peaches, peeled, pitted, and roughly chopped
5 tablespoons sugar, divided
3 tablespoons blanco/silver tequila, divided
1 tablespoon plus 2 teaspoons fresh lemon juice, divided*
1 pint fresh blueberries
Instructions
Fully puree peaches in a food processor until smooth. Strain peach puree through a fine sieve into a bowl and stir in 3 tablespoons sugar, 2 tablespoons tequila, and 1 tablespoon of lemon juice.
Carefully fill four (4 to 5 ounce) popsicle molds** ¼ of the way up. I pour the peach mixture into a ziploc bag and cut a small hole in one corner to create a makeshift pastry bag. This way I can easily and accurately pour mixture into popsicle molds without spilling any on the sides. Freeze until almost firm, about 30 minutes. Poke a popsicle stick into the center of each.
Meanwhile, fully puree blueberries in a food processor until smooth. Strain blueberry puree through fine sieve into a bowl. Stir in remaining 2 tablespoons sugar, 1 tablespoon tequila, and 2 teaspoons lemon juice. Carefully pour blueberry puree into each mold another ¼ of the way up (again I used a ziploc bag as a makeshift pastry bag) and freeze until almost firm, about 25 minutes.
Repeat with peach layer and freeze for 25 minutes, and then blueberry layer and freeze until completely firm, about 1 hour.
When ready to serve, unmold popsicles. Briefly dipping molds in warm water helps molds release popsicles.
Devour immediately. Beware of brain freeze :)
Notes
1 lemon should produce enough juice
Depending upon the size popsicle molds you have, adjust amount of molds you fill accordingly.
Chris Cockren
Chris is a New York based food blogger that loves bringing friends and family together through food. On his blog, Shared Appetite, Chris chronicles his culinary adventures of eating his way in and around NYC, as well as cooking and entertaining at home.