Sweet with candied almonds, dried cherries and peaches this salad is the perfect combo with savory fried goat cheese and basil.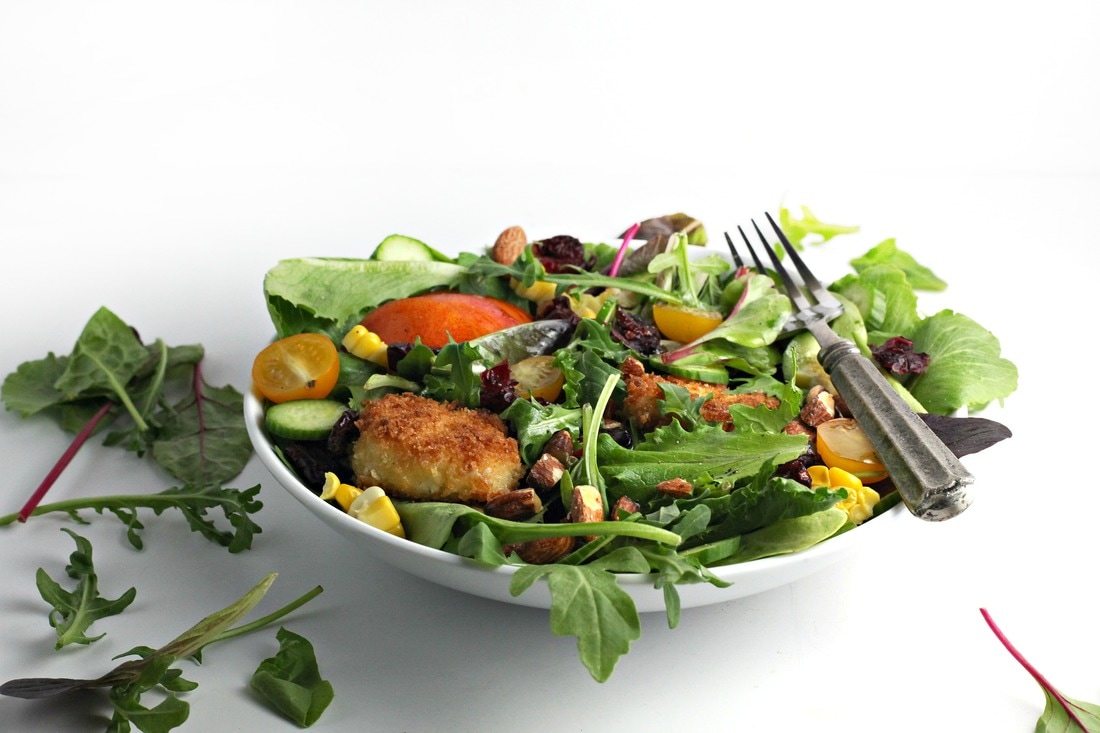 This salad is so typically me. Lots of sweetness with candied almonds and dried cherries and fruit, lots of goat cheese (it's clearly my favorite cheese), lots of summery-ness even though it's still technically spring. I've said it before and I'll say it again – I was ALL WINTER for this exact kind of salad.
For the fried goat cheese rounds, I find it helps if you sort of "pack" the rounds with your hands to form them into tighter balls (as opposed to merely cutting them from the block). Get your oil super hot and plop them in just until the breading is crispy – if you leave them in too long, they'll start to melt! (There's some room for error here, so don't feel too rushed).
I'm not a huge fan of cucumber in salad, but mini cucumbers are, for some inexpiable reason, much better. I leave the peel on for the minis, though if you're using full-sized cucumber (which are cheaper and easier to find) I'd peel the peel off. Large cucumber peels are waxy and bleh.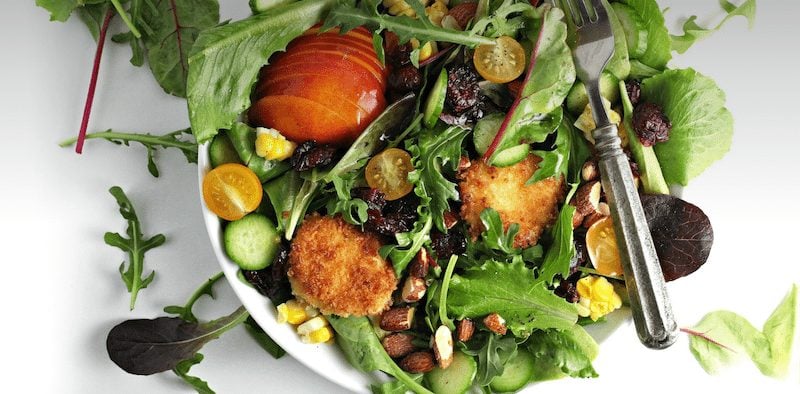 See Also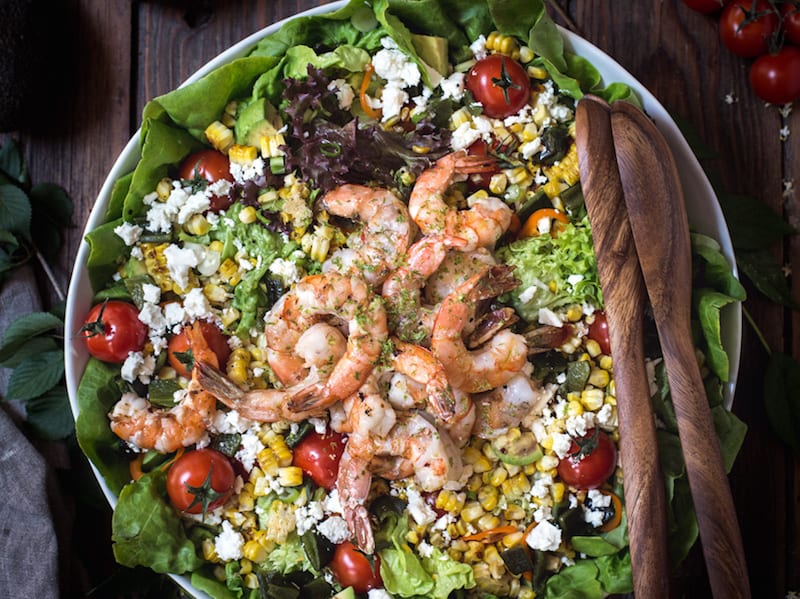 Click here for the vinaigrette recipe for this salad.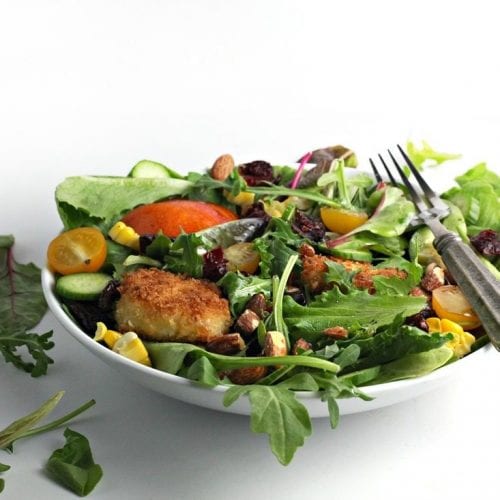 Peach and Basil Salad with Fried Goat Cheese
Sarah Mason
Sweet with candied almonds, dried cherries and peaches this salad is the perfect combo with savory fried goat cheese and basil.
Ingredients
8

cups

mixed greens

1

tablespoon

chopped fresh basil

2

ripe peaches

sliced

2

ears of corn

cooked, kernels removed

4

mini cucumbers

thinly sliced

1

cup

sunburst tomatoes

halved

1/2

cup

dried cherries

1/2

cup

caramelized almonds

I used the Blue Diamond caramel-flavored almonds
?For the vinaigrette:
Click the link above for the recipe
For the fried goat cheese:
8

ounce

goat cheese round

in a round, not crumbled

1

egg

beaten

Flour

Panko bread crumbs

Vegetable oil
Instructions
In a small bowl, whisk together all vinaigrette ingredients.

Divide all salad ingredients between four salad bowls (greens, basil, peaches, corn, cucumber, tomato, dried cherries, almonds).

Make the fried goat cheese. In a small skillet over medium heat, add enough vegetable oil to coat the bottom of the pan.

You'll need three separate bowls. In one bowl, add the flour. Whisk to egg in the second bowl and add the panko bread crumbs to the third. Slice the goat cheese round into 1/2-inch segments (and pack with your hands if needed to help the rounds stay together).

Toss each round gently in the flour to coat. Dip in the egg, turning until fully covered. Last, toss in the panko until fully covered. (Press with your fingers lightly to get it to stick).

Add the rounds to the hot oil. Fry 30 seconds (or until deep brown) on each side. Repeat in batches until all the rounds have been fried. Add to the salad. Drizzle with vinaigrette and serve while goat cheese is still warm.