These puff pastry tartlets taste just like spring with fresh peas, spring onions, herbs, and creamy goat cheese.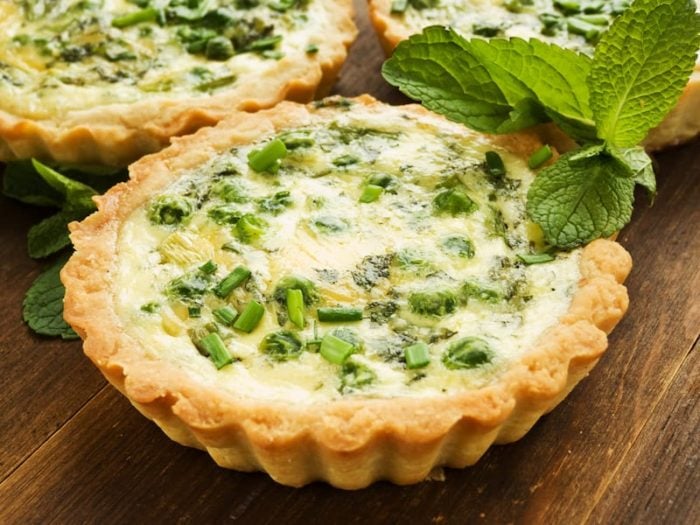 Shutterstock: AGfoto
Fresh peas and onions are the essential seasonal ingredients for these beautiful spring tarts, ideal to be served hot or cold for brunch outdoors.
You can replace goat cheese with vegan cheese, even if, in this case, goat cheese make a difference.

Pea Tartlets
Ingredients
250 g (9 oz) fresh peas
2 spring onions
1 large organic egg
2 tbsp grated Parmigiano cheese
A handful basil leaves
Extra virgin olive oil, to taste
Sea salt and pepper
250 g (9 oz) organic puff pastry, palm oil free
150 g (5 oz) Goat cheese, cut into cubes
A handful of fresh mint
Instructions
Wash and cook the fresh peas in salted water for 15-20 minutes (it depends on their size). Drain and place them in a bowl with water and ice to keep the color.
Clean the spring onions, cut into slices and fry over low heat with a little oil, salt and pepper to taste. Add the peas and let mix for five minutes.
Whisk the egg with cheese and Parmigiano. Add the peas and basil (washed and dried).
Roll out the molds in 4 ramekins, lined with pastry and prick with a fork.
Add the filling with peas, goat cheese and bake at 180° C (350° C / Gas 4) for about 25 minutes. Decorate with mint leaves.